Chicago Cubs: 10 Ways Theo Epstein Can Act Wisely on Remaining Free Agents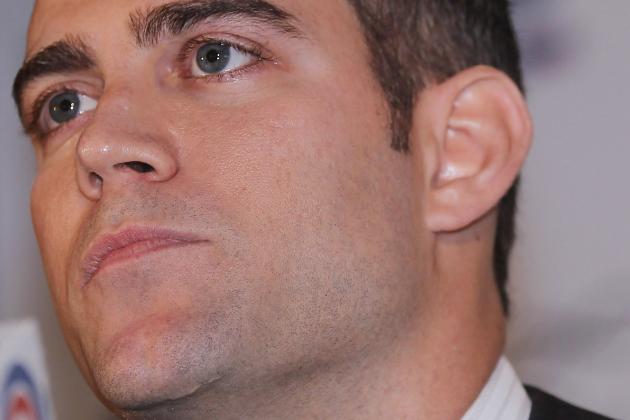 Jonathan Daniel/Getty Images

Not much remains in the free agent class of 2012. Only a few big names are left, and none larger than Prince Fielder.
The Cubs are believed to have significant payroll flexibility for next season. By some estimates, Chicago could have as much as $30 million remaining, assuming they match last year's spending totals. That's certainly enough to make a major move.
While the Cubs aren't in any hurry to write big checks, Theo Epstein prizes unpredictability. And he wasn't hired to lose—he plans to win games.
When asked about the team's chances in 2012, Epstein said the Cubs "might surprise some people."
The first surprise, of course, will be discovering someone in the starting lineup who can produce runs. Because unless Epstein can hit, the Cubs best bet for the cleanup spot is Alfonso Soriano. And they'd like to trade him.
A second surprise would be finding five good starting pitchers out of the eight likely to get a shot in spring training. And that means signing another free agent starter isn't out of the question.
But the biggest surprise would be for Epstein to waste Chicago's monetary advantage with a foolish deal. That's not going to happen.
The Cubs aren't refusing to spend, but they plan to invest wisely. They want the best chance of getting on-field production that meets or exceeds the value of players' contracts.
And there could be a few bargains in the leftover bin. So, here's a look at 10 remaining free agents and whether they're smart moves for Chicago.
Begin Slideshow

»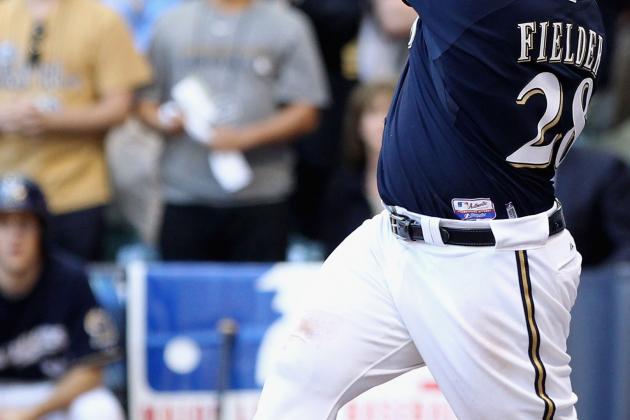 Christian Petersen/Getty Images
This was probably a homer against the Cubs.
He's not going to get the king's ransom Albert Pujols commanded. Fielder will net a princely sum, nonetheless.
He's a premier, left-handed power hitter. He'll be an All-Star, no matter where he goes. He's only 27 years old. Teams aren't handing out 10-year deals, so any contract should cover the prime of his career without paying much baggage at the end.
That all makes it difficult for Team Epstein to keep telling itself it has no use for his 40-homer, 130-RBI potential at Wrigley. Especially since he knows and mashes NL Central pitching. In addition, his signing would immediately turn the tables on the division rival Brewers, who are still reeling from the Ryan Braun suspension and hoping Aramis Ramirez can offset the loss of Fielder's production (ha!).
Avoiding big-money free agents appears to be Epstein's mantra, however, ever since the John Lackey and Carl Crawford deals were inked in Boston.
Even so, Epstein is aware that high-dollar contracts are OK for special players who produce consistently. That's why they're special: if they're on the field, they make an impact. Teams will, and should, pay for that.
Problems occur when money is spent on players who don't produce, and fail to meet the value of their contracts. Carlos Zambrano and Alfonso Soriano immediately spring to mind.
That said, everyone has a fair price.
If Soriano was hitting .285 with 35 HR, 100 RBI and stealing 20 bags a year, fans wouldn't be talking about dumping his remaining salary. They'd worry about replacing his production.
What's a fair price for Fielder? What if he values playing for former Milwaukee coach Dale Sveum and wants to be part of winning in Chicago? What if the Cubs could sign him at a small discount and for fewer guaranteed years?
That's tricky.
With the addition of Anthony Rizzo and the desire to get big-league at-bats for Bryan LaHair, Prince Fielder is a luxury even the deep-pocketed Cubs can avoid. LaHair is the perfect player to start the season at first, because he's more experienced than Rizzo, will contribute on offense and should be a capable caretaker on defense. However, when Anthony's ready to take over, it's easy to move Bryan. And if LaHair's bat is still hitting, they'll find a spot for it in the outfield.
Therefore, if Chicago does sign Fielder it has to be on the Cubs' terms, which are rumored at around six years and $22-25 million per season.
To that end, Cubs manager Dale Sveum said reuniting with Fielder is "just not going to happen."
Prince is almost certain to get more from another team. And even though the Cubs can afford him, if they believe in LaHair and Rizzo it's wiser to invest in other positions.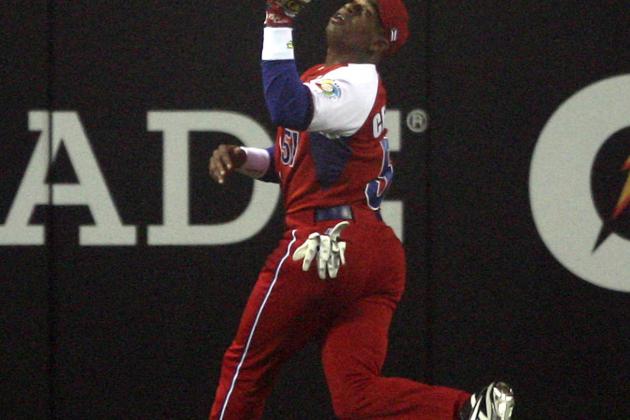 Donald Miralle/Getty Images
Wait, is Yoenis doing Soriano's Hop-Step Catch?
Cespedes is potentially the last—and only—big-ticket item on Chicago's offseason shopping list.
And he said he's drawing the most interest from the Cubs.
Theo Epstein even traveled to the Dominican Republic, in part to watch Cespedes play.
Asked about his visit, Epstein responded, "It was a nice trip. We were scouting some players that might become available. I can't comment on these guys specifically, but what I can tell is I did visit our academy and what we heard about it is true. It's a really well-run operation."
Although several teams are expected to bid on Yoennis, the Cubs and Marlins seem to be logical choices to make the biggest push.
The unknown part of the equation is whether Team Epstein thinks Cespedes will be ready to take over an outfield position sooner rather than later.
If they believe he will quickly transition to MLB, expect the Cubs to continue courting the 26-year-old and make a competitive offer for his services.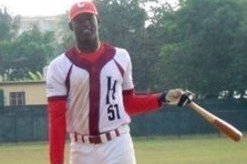 The 19-year-old Jorge Soler will agree to a lesser deal than fellow Cuban-free-agent-to-be, Yoennis Cespedes.
He's a greater risk because of his youth and inexperience, but his upside is thought to be higher, potentially making him a bigger reward for less initial investment.
If signed, Soler would immediately become one of the top prospects in the organization.
Phil Rogers of the Chicago Tribune points out the Cubs already signed two other young Cubans, 19-year-old center fielder Yasiel Balaguert and 20-year-old right-hander Carlos Martinez, who were teammates of Soler.
Is Chicago gambling that a 19-year-old player coming to America, can't easily rule out the team his friends play for?
And how long would he consider the Cubs if they don't have the highest bid on the table?
Whether the Cubs sign Cespedes or Soler, it's clear the organization is looking carefully at Cuban players with an increased emphasis.
Hopefully, that research represents time and resources wisely invested. If Soler ends up in Cubbie pinstripes, we'll have a chance to find out.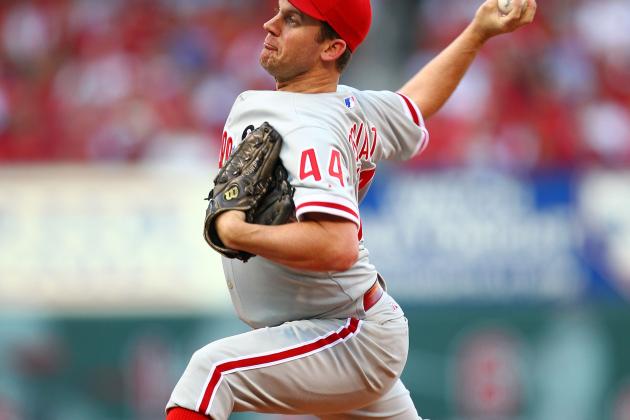 Dilip Vishwanat/Getty Images
See how healthy he looks?
Though a longshot, Oswalt would be an intriguing possibility.
The Cubs are ready to go to spring training with eight pitchers competing for five starting spots.
Matt Garza
Ryan Dempster
Travis Wood
Chris Volstad
Paul Maholm
Randy Wells
Casey Coleman
Andy Sonnenstine
If Garza is traded, however, injuries occur, or two (or three) of those guys can't do the job, what's left?
The depth chart still lists Jeff Samardzija in the bullpen.
Even Epstein admitted:
We need starting pitching. You can't just take your chances of being looked at seriously as a club with just five guys. You have to point to six, seven or eight guys. And you'd better know who your ninth starter would be because you are going to need him. We are going to have to build our starting pitching staff. We don't have a ton of depth and that's a priority.
No kidding—if Casey Coleman is one of the top nine starters on the club, he better be the ninth.
Oswalt wouldn't be a long-term investment. He seems limited to a one-year deal wherever he goes in order to prove his back is healthy.
However, if he can't find a suitor elsewhere, still has something to prove, and is healthy enough to make 25 starts, the Cubs could snag a solid short-term starter on the cheap.
Best-case scenario, he plays well enough to be trade bait at the deadline.
Worst-case scenario, he breaks down and the Cubs continue searching for starting pitching.
In any scenario, you have to think his determination and grit make him an attractive player to keep around young pitchers for the right price.
He's been mentioned in connection with the Royals, so the price must be nearing the floor.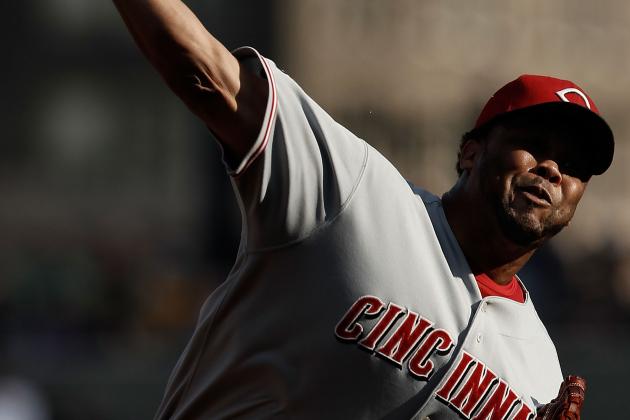 Jared Wickerham/Getty Images

Cordero doesn't seem to fit the Cubs plans.
Of course, he doesn't appear to fit many other teams' plans, either. The lone free agent closer left is still looking for work.
However, the veteran righty collected his fifth straight season of at least 30 saves and posted his best WHIP, 1.02, since a limited appearance with Texas in 2002.
He's still effectively missing bats, getting outs and notching saves, even at the age of 36.
The Baltimore Sun reports the Orioles are interested, despite signing Kevin Gregg to a two-year deal last season.
Others potentially interested include the Blue Jays and Angels, who are looking to stock their bullpens using excess cash reserves. And don't discount the Astros, who traded away last year's closer, Mark Melancon.
Any scenario that sees Cordero sign with Chicago is unexpected for a few reasons: it means he's run out of options elsewhere, and the Cubs have moved Samardzija to the rotation and/or traded Carlos Marmol.
Sure, the Blue Jays or Angels might show interest in Marmol and offer more than Team Epstein can refuse. And it could be a good short-term solution to net decent prospects by trading Carlos and signing Francisco to finish games for a year.
Even in that case, though, it's possible the Cubs ask Cordero and Kerry Wood to share the closing duties. And Cordero might prefer a team willing to annoint him the primary closer.
That said, it's hard to imagine a scenario where this move makes sense for Chicago.
If Cordero still wants a job, he should get the Houston Astros on speed dial and drop his asking price.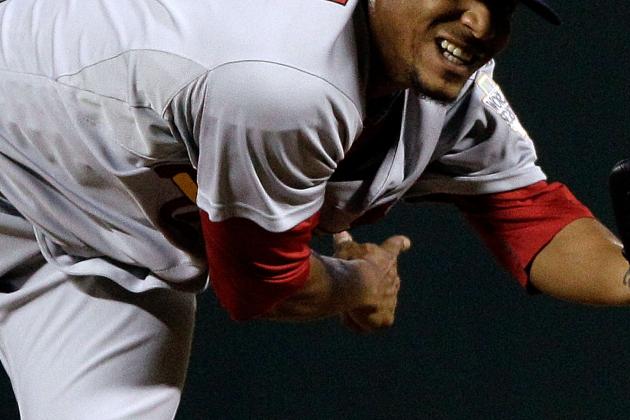 Pool/Getty Images

Epstein is wise to avoid Edwin Jackson.
Period.
For one thing, Jackson is looking for a five-year deal worth in excess of $70 million that even the Yankees find too expensive for their taste.
And for an inconsistently average starter who's been with six teams in seven years, that's unthinkable.
Recent history has seen the Cubs throw money into black holes (Carlos Zambrano, Alfonso Soriano, Kosuke Fukudome, Milton Bradley and Carlos Silva, just to name a couple hundred million).
But those days are over.
If Epstein signs Jackson, someone needs to find out when Jim Hendry was hired as an advisor.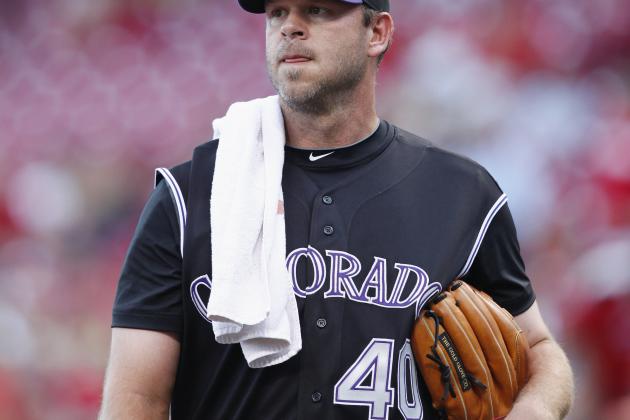 Joe Robbins/Getty Images
Is he throwing in the towel?
Believe it or not, the Cubs are thought to have kicked the tires on Kevin Millwood this offseason.
Maybe it's just the usual contact, learning the market and doing a thorough job of gathering information.
However, if there's any truth to the rumor, it underscores how badly the Cubs believe they need starting pitching depth.
Millwood showed excellent control in limited appearances with Colorado last year. If signed, he would get a chance to compete in the spring.
And at the right (low) price, he could add depth and leadership.
It's also unclear if he's willing to be one of Chicago's cheap gambles, even if there are rotation spots available for the taking.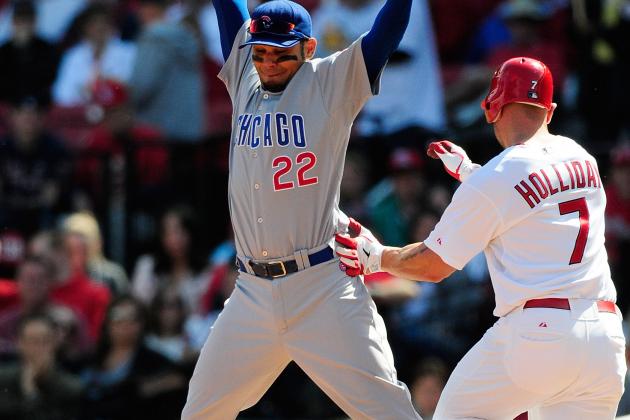 Jeff Curry/Getty Images
Always having fun out there.
It's true—Team Epstein respects what Carlos Pena brings to the clubhouse and the field.
His fielding is excellent, his career OBP is .352, he shows consistent left-handed power and his attitude is ideal.
He might also win the award for the shortest-tenured-but-most-likable Cub in team history and was one of the few players worth watching in 2011.
However, there hasn't been talk of Carlos returning to Chicago since Anthony Rizzo was acquired. The Cubs appear poised to run with Bryan LaHair at first, working in Rizzo when he's ready.
And for all the reasons signing Prince Fielder doesn't compute, signing a cheaper alternative at first base isn't likely, either.
Pena could end up in the Bronx if the Yanks cough up the money. Cleveland is another option. But his days in Wrigley are almost certainly over.
Kent Horner/Getty Images
They'd rather have Carlos Zambrano than me? Ouch.
Hard to say what happens with Clay Hensley this season. He was non-tendered by the Marlins and became a free agent.
In 2010 he was excellent, striking out 77 batters in 75 IP, with a WHIP of 1.10.
Last year's numbers don't do him justice, when he struck out just 46 in 67 IP, with an ERA of 5.19 and WHIP of 1.36. Because he was good out of the bullpen and struggled when asked to become a starter.
Even though the Cubs may not be looking to add another arm to the pen without moving someone else, Hensley is a candidate to sign for less than market value. That alone makes him the kind of commodity desirable to Team Epstein.
The grand irony is he may have been made expendable by the Marlins due to the addition of Carlos Zambrano. What other reason does he need to get a shot?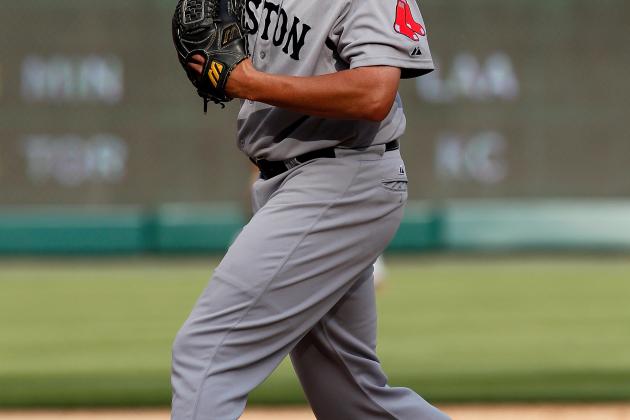 Tom Pennington/Getty Images
Peek-a-boo.
Dan Wheeler is another potential buy-low bullpen arm.
He's a known quantity to Epstein because of his days with the Rays, facing Theo's Red Sox, and because he spent 2011 pitching for Boston.
He was shut down last year with forearm tightness, which contributed to an average campaign. But he doesn't walk batters, and boasts a career K/BB ratio of almost 3:1.
Before that, he pitched well for the Houston Astros and thus has familiarity with the NL Central, too.
The Red Sox declined his $3 million option for 2012. But if he signs for close to $1 million he could provide cheap relief for the Cubs.
Assuming he's healthy, his presence could also make it easier to trade Carlos Marmol, experiment with moving Jeff Samardzija to the rotation and he'd be a capable substitute during Kerry Wood's Annual Trip(s) to the Disabled List.
At the right price, Wheeler could be a shrewd move.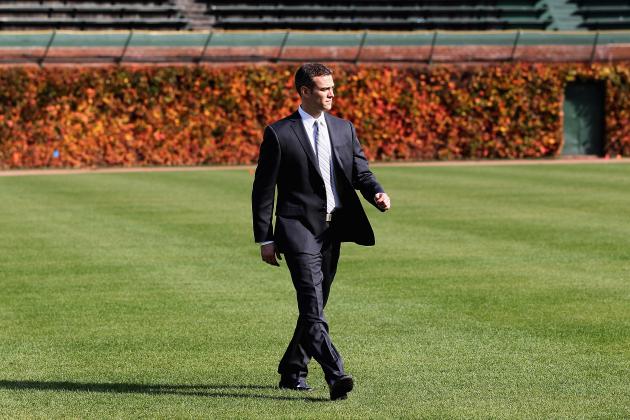 Jonathan Daniel/Getty Images
See? This is not a Hop-Step. I bet he could play left field.
There are other free agents, but the pickings are slim.
Luis Ayala, Chad Qualls and Jon Garland could be worthwhile in the right situation at the right cost.
And while predicting Team Epstein's moves is a futile exercise, it's January—when speculation and imagination are part of the game.
Just don't expect the Cubs to do something stupid.
For once.