AFC: Flacco and Ravens Are Done If They Aren't Perfect Against Patriots
January 17, 2012

Patrick Smith/Getty Images
This one's gonna be down and dirty!  Sunday's AFC Championship between the Baltimore Ravens and New England Patriots is sure to be a snot-knocker, and anyone who says differently is mistaken.  
The Ravens will show up to Gillette Stadium on Sunday with a self-imposed chip on their collective shoulders.  Baltimore enjoys, almost relishes the role of the underdog, and this week will have them firmly entrenched as such.  At first glance it looks pretty good for a New England team that has been there, done that and bought the T-shirt.  
Tom Brady had a record-setting first half against the Denver Broncos last week with five TD passes, and nobody can blame that on Tim Tebow.  And for the New England defense—much maligned all season long as the league's worst—they have to feel good about where they are after last weekend.  
The beauty of Tebow lies in his ability to keep his team close and then will them to victory at the end of the game.  He did it time and again this season, but the Patriots weren't having it—not during the regular season and definitely not in the playoffs! Brady struck early and often, and New England's D confounded "The Mile-High Messiah" from the coin toss on.
Gunning for their fifth Super Bowl under future Hall of Famer Bill Belichick, the Patriots look hard to beat. Teams battle it out all season long for the chance to secure home-field advantage throughout the playoffs, and New England has it. Playing in front of the home fans, sleeping in their own beds and basically sticking to routine is what it's all about for a Patriots team that expects to be in the Super Bowl every year.  
This year Brady has had All-Pros Wes Welker and Rob Gronkowski at his disposal as well as Aaron Hernandez and Deion Branch.  The defense is playing well, and Baltimore's offense against the Texans was suspect.  The question is: Can the Ravens put it all together and shock the world and, in doing so, advance to their second Super Bowl in team history?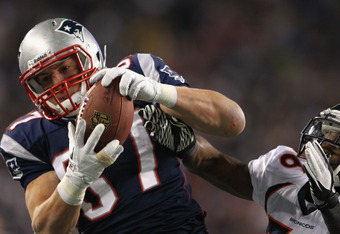 Al Bello/Getty Images
First off, and this must be said, the Baltimore Ravens do not fear the New England Patriots.Though they may be 1-6 against the Patriots, Baltimore matches up well with New England.  In fact, the Ravens scored their first victory in the last game these two teams played, and it couldn't have come at a better time.  
It was January 10, 2010 in Foxboro, and Baltimore put it all together, beating New England 33-14.  Ray Rice broke an 83-yard run for a touchdown, and they never looked back.  It will take that type of effort if the Ravens plan to play another week.  
All season Baltimore seems to have matched their opponents' level of play, beating Pittsburgh twice yet losing to Jacksonville in humiliating fashion.  This team is seriously hard to gauge, but one thing is true: The "window of opportunity" is slamming shut with this crew.  How many years does Ray Lewis have left in him?  Is Ed Reed through after this season?  This may be the last time Baltimore gets this far, you just never know.  Best to get the job done now.
And that means getting Ed Reed on the field.  He suffered a sprained ankle on the final play of the Houston game but is set to play.  It means getting after the QB as Terrell Suggs has done with fervor all season long.  It will take Ray Rice and Joe Flacco moving the chains and running the clock.  The best way to beat Tom Brady is to keep him off the field.  
If the Ravens play one of their best games of the season, they will beat New England.  But I don't see it.
Prediction:
New England Patriots 28, Baltimore Ravens 21