Sacramento Kings: Report Card Grade for Each Player so Far
Ezra Shaw/Getty Images

The Sacramento Kings aren't the "Greatest Show On Wood" anymore.
Even if you're a die-hard Kings fan, it's really hard to watch all four quarters because some of the guys do things that you would see in pick-up games at your local park.
People have a lot of different opinions on the roster, the coach, and management, but that's for another day.
They haven't looked pretty, but if you had to put a letter grade based on the expectations coming into the season, what would they be? Remember, it's based on expectations!
Chuck Hayes, Tyler Honeycutt and Hassan Whiteside have been left out of the article because they really didn't play much or at all.
Begin Slideshow

»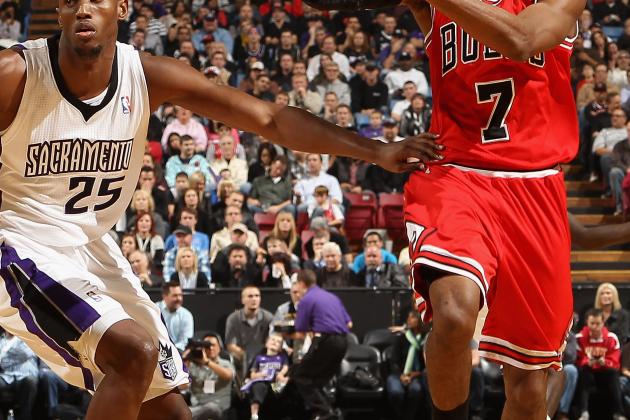 Ezra Shaw/Getty Images

I don't think many people were jumping for joy after the Kings picked him off the waivers, but Travis Outlaw was supposed to be a breakout player a couple years ago, so I think people still had some expectations for this guy.
He's not the guy we thought he would be. He's not a spark off the bench or a veteran presence the Kings probably thought he would be. He's been horrible on the floor in terms of offense (24 percent field goals) and he now seems like he's out of the rotation until Donte Greene or Fransisco Garcia play themselves out.
Kings fans better hope he picks it up and returns to his Portland Trail Blazer form because we have him for at least three more years under contract!
Luckily, he's only going to take around $2 million off the cap space, which isn't bad for a guy who can bounce back and really solidify the bench.
Grade: F
Most people probably thought he was going to see a lot of "DNP—Coach's Decision" next to his name on the box score, but he's been putting up good numbers ever since Keith Smart took over as the head coach.
In the month of January, he's been in the game for around 14.7 minutes shooting 35 percent from the field. Although the 35 percent is a bit discouraging, he's been rebounding well off the bench, which is always great, and most fans know that he can really light it up on any given night.
Of course, those given nights don't come as often as the coaches probably like, but right now he's playing well enough to not get thrown out of the rotation.
He's also playing for a new contract, so maybe the numbers will get better as the season progresses, and if they do, the Kings might have a very reliable guy off the bench who's 6'11" with athleticism.
Considering no one expected him to even play a minute until there was an injury to one of the small forwards, he deserves a little boost in the letter grade, but he's still not the most reliable guy.
Grade: C-
It was surprising to see Francisco Garcia not get any minutes early in the season, but he's been playing ever since Keith Smart became the head coach.
He might even get a start soon because Keith Smart hinted at a rotation change after the loss to the Timberwolves Monday night.
For the past five games, he's been getting more than 20 minutes per game off the bench. He's been putting up around 10 points when he took more than three shots. The problem is that he, like every player on this roster, is really struggling with his three-point shot, which is what the Kings really need out of him.
He's 20 percent from the three-point line, and fans better hope this guy finds his shooting stroke because the Kings need it badly. The Kings need space for Tyreke Evans and DeMarcus Cousins to work inside, and the only way to really create it is if the guys nail their outside shots.
He's been decent off the bench for the Kings, but he's in the game to play some defense and knock down open jumpers and three-point shots, and he's just not doing it right now.
Grade: C
Whether you liked the trade or not, John Salmons is probably the best small forward the Kings have had in years. He's a "blackhole" on offense because he sometimes takes shots that you'd expect guys like Kobe Bryant to take.
Either way, up until this season, he's been consistent in scoring and defending and that's what the Kings needed at the small forward position last year. Unfortunately, he's been nothing like what he was the past seasons of his NBA career.
He's shooting 35 percent from the floor, 18 percent from the three-point line and scoring 7.7 PPG. He's always been a decent three-point shooter and averaged above 38 percent the past five seasons in the league.
He is in a shooting slump, and he'll overcome his struggles and help this team offensively and defensively. He'll provide the consistency at the forward spot the Kings have been lacking for many years since Ron Artest left this team.
He may not be a good fit to this team, but once he finds his stroke back, the Kings should have better chances to win ball games. But based on the expectations coming into this season, he doesn't even deserve to start right now. Surely it'll change at some point in this short season.
If he never gets better, the Kings are stuck with his salary. On the bright side, the Kings will probably be getting Harrison Barnes to play the small forward spot next year.
Grade: D+
Most people in the Kings' community were excited to see this guy come, and people aren't particularly thrilled with his production now, but it's not like Omri Casspi is exactly tearing it up in Cleveland, so I'll take his athleticism, length and work ethic over Omri Casspi any day.
J.J. Hickson hasn't been great on the floor. He's shooting just 33 percent on the floor in the month of January, and his stats remained the same even though he was moved to the starting rotation after the injury of Chuck Hayes.
Although Paul Westphal praised him for his outstanding condition coming into camp, it seems as if Hickson failed to work on his post moves during the offseason.
He seems to have the work ethic, assuming his tweets of him working out every day are true, and the right attitude, but facing up down on the post every time probably doesn't give him the best chance to consistently score.
He mentioned that people will be surprised that he can now shoot a mid-range shot, which he did not have last season. But like any player who worked on the outside shot during the offseason, Hickson seems like he's too much in love with the idea that he can be a stretch power forward.
Either way, the Kings still got the better end of the trade. J.J. Hickson is an athletic big man who is cheap and can provide energy off the bench of any team in this league. He still needs to develop, but for the price that the Kings are paying him, you can't complain much. It's just sad to see a gifted athlete like him struggle.
The first-round draft pick sent to the Cavaliers is also lottery-protected, so that's another win for the Kings.
Many people were hoping this guy would crack the starting rotation and provide some great numbers. Maybe not a 20-10 average but a potential player who can provide that on any given night.
Grade: C-, He just needs to take smarter shots.
What's there to not like about Jason Thompson? A few years ago, the Kings thought he'd be a building block for the team. He's a hard worker, an energetic guy and a true professional on the team.
He's been nothing but consistent on the floor this season coming off the bench. He is shooting over 55 percent from the floor, averaging 6.5 PPG and 4.1 RPG in the month of January.
With Keith Smart hinting at a rotation change for the next game, it's likely that Thompson will replace J.J. Hickson in the starting unit.
Jason Thompson is a versatile guy who can play the 4 or the 5 in this league and many teams would love to have him on their team.
He's still struggling mightily from the free-throw line, shooting just 33 percent. Thompson, however, seems like he's comfortable with his role as being the fourth or fifth scoring option and is taking smart shots when he's on the floor.
Hopefully his numbers will increase with more playing time and he will earn a new contract from the Kings.
Based on the fact that no one expected him to be as productive as he's been, he definitely gets a surprise boost in his grade.
Grade: B+, Can't get an A without winning some games for the team!
The last pick of the 2010 NBA draft surely is raising a lot of eyebrows in Sacramento. No one outside of Sacramento may know him, but the 5'9" point guard out of the University of Washington can sure ball.
He may never be a starter in this league, unless he's playing for the 2011-2012 Sacramento Kings. Otherwise, he's a great change of pace guy who is a leader on and off the floor, a distributor and a pest on defense.
Thomas had a 20-point, six-assist game and another 13-point, five-assist game the following night.
After cracking the rotation due to Marcus Thorton's injury, the fans have come to like Isaiah Thomas. Some are now hoping that he can crack the starting rotation for the Kings as soon as Wednesday because he's sadly the only point guard on the roster that distributes the ball.
Fans are in love with his passes to the big men down low, but he is a bit turnover prone like any rookie in this league.
It's also important to note that although he's quite an annoyance to the opposing teams with his quickness on defense, he's also a liability because he's not able to close in on open jump shooters. He probably won't be able to fix the problem, unless he grows about four to five inches.
Isaiah Thomas looks like a steal for the Sacramento Kings. People may not like Geoff Petrie, but this guy can sure draft some good players. He always seems to find good value players even in the second round. Last year many thought Hassan Whiteside was a steal and this year the Kings got two guys, Tyler Honeycutt and Isaiah Thomas, that may contribute to this team for quite a while.
Based on the expectations that he was thought to be nothing but a bench-warmer, he also deserves a surprise boost. Can't help but to root for the ultimate underdog player, but fans have to hope this guy is coming off the bench more rather than starting.
Grade: B-
Jimmer Fredette has been the talk of the town since he was drafted by the Kings. He's had a wonderful training camp and surprised the coaches and the players with his ability to run the floor and obviously shoot lights-out from anywhere.
However, he's struggling mightily with his shot and seems to lack the confidence he had at BYU.
Shooting just 33 percent from the field with a three-point field-goal percentage of 29, Jimmer is not the offensive spark or the passer the Kings thought he would be. His defense has been better than expected, but no one expected him to struggle with his shots so much.
Whatever the reason is, no one should bet that he's going to continue to be this bad. He's one of the best shooters in the NBA regardless of his stats, and hopefully he'll find his stride in this league.
The real concern is his decision-making. With the lack of confidence, he's not taking the shots that he should be taking. He's pump-faking, driving into a wall of defenders and passing the ball after he leaves his feet, sound familiar?
The rookie must try to correct this mistake and be more aggressive. The lack of practice time probably hurts the rookies more than anybody on this team or in this league.
Grade: D
Marcus Thorton captured the hearts of many Sacramento Kings fans by playing lights-out during the latter part of the 2010-2011 season.
After shooting over 45 percent from the floor the first four games of the season, Thorton is averaging just 38 percent from the floor in the month of January. He's missed three games due to a hamstring injury, and he's been horrible for the past two games.
The Kings thought that Thorton would be an offensive staple to this team. However, he's been very streaky and scored his points in bunches in short spans of the game. Some nights he doesn't seem to know how to miss and other nights he doesn't seem to know where the rim is.
For the long-term, Marcus Thorton is probably going to be the sixth man for the Kings. Hopefully the Kings get talented enough to push him to the bench and allow the undersized shooting guard to fire at will. His streaky performances won't hurt the team as much since he'll be coming off the bench.
Long story short, it's safe to say that his performance thus far is no surprise. He's always been an inconsistent performer. Sadly, he's the only guy who can light it up from the outside, and the Kings badly need a guy who can stretch the floor and take over games whenever he pleases.
Not really surprised by what's been shown on the court, but at least he's scoring unlike the other guys.
Grade: B
Say what you want to say about his "character issues," but this guy is a talented monster.
If you expected him to turn into an angel this season, you're definitely full of it. On the court he's definitely improved his attitude and approach. He's no longer whining or complaining to the referees, rather he just smiles or blames himself for the mistake.
In the month of January, he's shooting 49 percent from the floor, shooting 81 percent from the free-throw line, grabbing 9.1 rebounds, 1.8 blocks and 1.1 steals.
He's slowly developed into one of the better defenders in the NBA. He's a hustling big man who's not afraid to take chargers, although it sometimes is confusing why a 6'11", 270-lb big man would not just throw his hands straight up against a six-foot tall guard.
He's definitely shown more consistency this season, especially after the departure of Paul Westphal, but he needs to improve his conditioning even though he came into training camp 15 lbs lighter.
Assuming he keeps up with his work and he loses some more weight, DeMarcus Cousins could be set for a fantastic 2012-2013 season with the Sacramento Kings.
Love or hate him, no one can deny his talent and his production on the court. In about a couple weeks, he might be the only reason fans even bother watching the Kings.
Grade: A
The former Rookie of the Year is still the best player on this team. He's replicating his historic rookie performance, but he's still far from becoming an All-Star-caliber player.
He needs to improve his jump shots, shot selection and decision-making to ever reach such level. But perhaps moving him to the shooting guard spot and pairing him up with a real point guard would solve the problem.
Pass-first point guards are hard to find these days. Outside of Chris Paul, Deron Williams and Ricky Rubio, who's really a "pass-first" point guard?
Tyreke Evans has amazing nights and appears to be unstoppable at times, but he also has games where he's a non-factor on offense. When no one on the team is shooting their outside shots, teams clog the paint and prevent Evans from doing what he does best, laying it up for an easy or hard two points.
On the bright side, he's been by far the best defender on the team. He's excellent in isolation plays, and he's a much more committed defender overall, blocking shots in transition and stealing balls whenever he can.
The advanced stats show that he's not a very good defender when closing in on open shooters, but that may have more to do with team defense than his ability to close out.
He definitely needs to be more consistent on the offensive side of the ball. Perhaps it'll take some time getting used to the new coach and the teammates or he might just be like this for the rest of his career.
Most fans probably expected a huge breakout year from the young guard in his third year. He's failed to do that so far, but maybe a coach who actually plays his guys in a system will help him.
Maybe a midseason acquisition of a distributor may help him as well.
Nonetheless, he's been putting up decent numbers, but decent numbers aren't what the fans expected out of him this season.
Grade: C