Todd Haley's Bugging Allegations: Do Claims Hurt His Chances of Getting Hired?
January 20, 2012

Jamie Squire/Getty Images
It's no surprise that former Kansas City Chiefs head coach Todd Haley is in the news right now—he is one of the hottest free agent coaching commodities on the market today—what is odd, however, are the reasons he is showing up in the papers. 
Reports by the Kansas City Star, which include allegations by Haley, tell of the levels of paranoia and anxiety on Arrowhead drive.
Haley, the most high profile former staffer named in the report, tells of his fears that his phones, both in his office, and his private cell phone, may have been tapped. He spoke of his concerns that his office, and conference rooms at the facility were bugged and monitored for audio.
Others spoke of the levels of secrecy in Arrowhead stadium, which forbid non-football staffers from visiting certain parts of the complex, and which require staff with a view of the practice fields to close their blinds during team practices. They spoke of, on occasion, having meetings and phone calls interrupted by security staff charged with enforcing the rule. 
Haley claimed that he stopped speaking on the telephone altogether during his last year in Kansas City because his concerns were so severe. However, all of this begs the question, is there any substance to Haley's claims, or are these merely the rantings of a disgruntled former employee, who is becoming increasingly out-of-touch with reality?
What do these claims say about Haley, and what, if anything, do they do to his chances of being hired? Join me after the jump, as we take a look.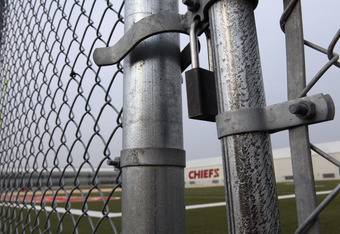 Jamie Squire/Getty Images
Scott Pioli and the Culture of Secrecy
On the face of it, Haley's claims are severe. Phone tapping is a federal offense. 
Many of the other claims, however, are only frightening until you stop to think about them. The vast majority of Americans, after all, work in offices and other environments which are "bugged." The simple reality is,most do not think about it, and do not care, because rather than "bugging" they call it "CCTV" or "security monitoring." Indeed, most Americans are now inclined to assume that their actions will be watched in most circumstances—their not being monitored quickly becoming the exception, not the norm.
Almost anyone who works in an office, call center or any other job which requires electronic communication—telephone, email, fax, Skype or anything else—is used to the fact that their conversations may be recorded, and used for training and monitoring purposes. 
Most lower level employees don't expect to be granted unmetered access and unlimited freedom to areas of the company which do not directly concern them. It would be no surprise to hear that payroll staff were not allowed into the product development and prototyping areas of a major company like Apple or IBM, or that a greeter at Wal-Mart would be forbidden from sitting in on the CEO's strategy meeting, so why is it surprising to learn that non-football staff are not allowed in the film study room, and are forbidden from seeing the secret "product development" process, when the company's only product is football? 
That a major, multi-million dollar organization like the Kansas City Chiefs would care about security, seems like a no-brainer. Perhaps the bigger shock is that it apparently didn't happen previously, and only seemed to become a priority when Pioli took over as GM.
Aside from Haley's more serious claims, and some lingering age discrimination suits, the rest of the accusations seem to be of the "the company ain't what it used to be, and I for one don't like the changes" variety.
Many of the claims, the Chiefs admitted. If there is reason to suspect security breaches, or illegal activity, phone logs, browser histories and email messages may have been requested. Any company would likely do the same thing if they believed trade secrets were being leaked, or employees were breaking the law. To simply sit by and ignore it would be out of the question. However, the team insisted that this was the exception, not the rule. 
Todd Haley's Paranoia
The question remains, however: What to make of Haley's claims? The Chiefs organization is quick to point out that there is no illegal wire tapping or monitoring anywhere in the Arrowhead facility. They chalk up the claims, it would appear, to the baseless ranting of a disgruntled former employee.
Indeed, Haley himself has come forward with no definitive evidence that any such activities actually happened, just his suspicions. The Star article claims that Haley "...repeatedly checked his office for listening devices" but never suggests that any were found.
Haley is a man clearly plagued with personal issues. Many who know him tell of his fiery temper, his perfectionist nature, and need to succeed at any cost. Fans in Kansas City saw throughout last season; a man whose look and demeanor became increasingly erratic and disjointed. They watched on as his apparent O.C.D. took almost complete control of his actions and his emotions seemingly began fraying.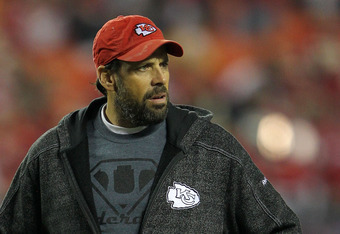 Jamie Squire/Getty Images
At times, Haley looked like a man on the verge of a breakdown. From his unkempt beard, sweat stained cap and the same oversized hoodie he wore every time he appeared in public, Haley's look was, perhaps rightly, compared to that of a homeless bum.  
To add paranoid and delusional to this list wouldn't be a particularly big stretch for most people who have watched him coach. After all, the line between genius and insanity is often blurred.
How Do These Claims Affect Haley's Job Prospects?
In recent weeks, Haley has been linked to positions on the staff of several NFL teams, most notably, a return to his former job as offensive coordinator of the Arizona Cardinals, and a place on the coaching staff of Rex Ryan's New York Jets, possibly as passing game coordinator and assistant head coach, in support of friend and new Jets OC, Tony Sparano.
Whether these allegations and negative media attention cause both positions to disappear would normally depend on whether or not they are true, but in this case, even if they are true, they don't paint a fantastic picture. 
It's no secret that the honeymoon between Haley and GM Scott Pioli has been over for a while now. Though both came in to the Chiefs at the same time, and gave the impression of a united team, the cracks began to show almost immediately after that. They didn't see eye-to-eye on hirings, firings, who to start, or who to cut. Practically every interaction between the two seemed to be full of tension and difficulty. However, in spite of this, Haley kept all the concerns of spying and wire tapping, under his hat.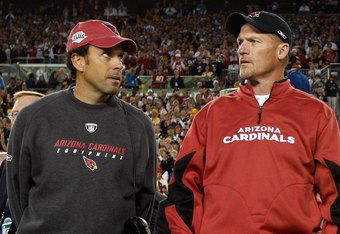 Jamie Squire/Getty Images
Things were bad, it would seem, but not that bad. Serious, absolutely, but serious enough to actually do something about it... well, I mean, not that serious.
Then there is the timing of the news. Haley reportedly spoke to the Star just days before he was fired—clearly by this point he knew that the writing was on the wall. Only when his job was on the line did these things seem important enough to mention. Perhaps it was a power play, a final piece of leverage against his employers, perhaps it was just one final "screw you" to the team who was about to fire him, but whatever his reasons, it has to give other teams pause for thought.
Whether true or not, it looks pretty bad for Haley. If it's true, though the repercussions are far more serious for the Chiefs, Haley will always be remembered as the guy who snitched on his former team because they fired him. Every company has skeletons in their closet. Every company has secrets they'd prefer not to see the light of day, and if hiring Haley means that they'll become headline news the day you get on his bad side, then there are undoubtedly teams who will think twice about hiring him.
If false, then things are even worse. Hiring someone like Haley will always be a tradeoff. You take his coaching expertise at the expense of his temper, his quirks and his abrasive personality. Adding certifiably paranoid to the list, however, may just tip the scales in the wrong direction for more than a few teams.
What Happens Next?
Both frontrunners to land Haley, the Arizona Cardinals and New York Jets, seem to have had second thoughts.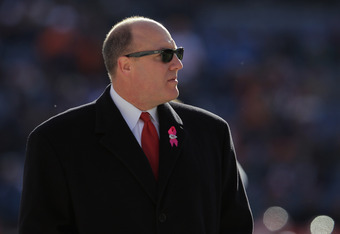 Doug Pensinger/Getty Images
The Cardinals were the first team linked to Haley, but although several informal meetings have taken place, news media in the area is reporting that Haley's hiring is increasingly unlikely. On the face of it, the Cardinals' reluctance to demote current OC Mike Miller is to blame, but early indications suggested that the Cardinals were willing to do so prior to Haley's allegations of bugging.
The New York Jets were also tipped to sign Haley, at one point considering him part of a package deal with new offensive coordinator, and fellow recently ousted head coach, Tony Sparano. Haley interviewed with the Jets, and reportedly was close to being signed, but the Jets too seemed to have second thoughts, perhaps coincidentally, shortly after the bugging reports first surfaced.
Other coordinator jobs are few and far between. Haley has been suggested as an option for the Pittsburgh Steelers, following the news of Bruce Arian's retirement, however, if teams who know Haley well were spooked by his comments, it's not hard to imagine an organization like the Steelers having some reservations about hiring the man.
In Conclusion
While there is no definitive link between Haley's comments and the sudden disappearance of two job offers, given the timing, it's hard not to make at least a casual link between the two.
Haley, already known for his quite extreme personality, may have crossed the line from eccentric and extreme, to unhinged and unhireable.
Personally, I still believe that Haley would be a great addition to any team. As a Cardinals fan and writer, I would still prefer to see Haley running the Cardinals' offense ahead of Miller, even in spite of his recent troubles. 
I am certain that Jets fans would also have been happy to see Haley brought in as passing game coordinator, and many other teams would not be too worried about bringing in Haley as a position coach or assistant.
Haley has a great amount of experience, and has already proved his ability as a coordinator, helping turn the Cardinals into playoff contenders. Any team with a struggling passing game would do well to consider Haley. Sure, he brings baggage with him, but Haley has more than proven his ability to work alongside the right head coach.
By the sound of things, the situation in Kansas City was stressful, and while some coaches and players thrive under those conditions, others—Haley included—apparently struggled with Pioli's regime. Without the target on his back that head coaching brings, Haley's paranoia and irrational behaviour will probably settle down significantly.
However, should all teams pass over Haley, his recent appearances on ESPN indicate that he could have a successful career in broadcasting, until he is ready to return to coaching.