Super Bowl 2012: Why Tom Brady Needs a Fourth Ring
January 16, 2012
Jim Rogash/Getty Images
Tom Brady already has three Super Bowl rings, and those three rings put him in elite company. Aside from him, there have only been three quarterbacks in NFL history to win three Super Bowls: Terry Bradshaw, Joe Montana and Troy Aikman.
As such, I don't blame you if you're looking at my headline and rolling your eyes. It's one thing for Brady to want a fourth ring or for us to want him to want a fourth ring. It's another thing entirely to say that he actually needs a fourth ring.
However, that's my story and I'm sticking to it. I only ask that you hear me out.
I say Brady needs a fourth ring because it's impossible to talk about his career without considering his place alongside the all-time greats the league has seen at the quarterback position. Names like Bradshaw, Montana and Aikman come up because of the Super Bowl wins, but Brady also has a place alongside statistical greats like John Elway, Dan Marino, Brett Favre and Peyton Manning.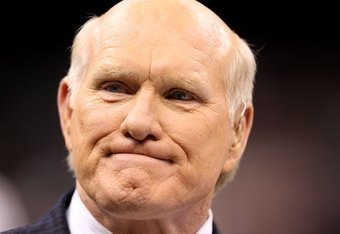 Ronald Martinez/Getty Images
There are very few quarterbacks who have a place in both camps. As great as he was, Montana's career totals don't look all that great compared to some of the other names he shares the record books with. The same goes for Aikman, and it certainly goes for Bradshaw. Take away his rings, and he was pretty mediocre.
Bradshaw, Montana and Aikman achieved their Super Bowl success in part because they knew how to win in the playoffs, but the fact that they played on truly great football teams definitely helped. They led the charge, but they did not win their Super Bowls single-handedly.
The exact same is true of Brady's first three Super Bowl victories. He definitely did his part, but he had the luxury of having great teams around him.
The strange part is that Brady's numbers during New England's three Super Bowl seasons are numbers of a good quarterback, but not of a great quarterback. He was downright mediocre when the Patriots won their first Super Bowl in 2001, only slightly better in 2003 and slightly better again in 2004.
It seems odd to consider it now, but Brady was not really one of the NFL's elite quarterbacks in those days. He was in a sense that he could win, but not in a sense that he could put up numbers.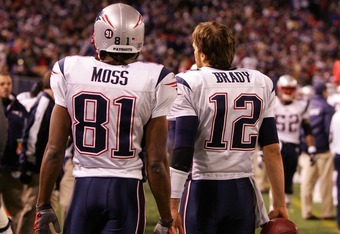 Jim McIsaac/Getty Images
Brady didn't morph into a statistically elite quarterback until 2007, when he threw a record 50 touchdown passes and posted a gaudy 117.2 passer rating. As you'll no doubt recall, the Patriots went undefeated that season, and it was mostly Brady's doing. He was phenomenal all season long.
However, then something funny happened.
The statistically elite Tom Brady could not do what the old Tom Brady used to do when he found himself in the Super Bowl. He couldn't win it. In fact, he was wildly mediocre in the process.
It wasn't until this past Saturday that Brady rediscovered his winning ways in the playoffs, and he did it in style, throwing six touchdown passes against the Denver Broncos.
That performance served to show us that the statistically elite Brady can win in the playoffs, but we still don't know if this Brady can win a Super Bowl. That will be determined on Feb. 5 if and when the Patriots get to Indianapolis.
If Brady pulls it off, he'll get all the credit, as well he should. The difference between this Patriots teams and the three Super Bowl winners is that this Patriots team is definitely not a great team. The defense is at best mediocre, and so is New England's rushing attack. Without Brady, the Patriots simply don't have too much.
As such, it stands to reason that if the Pats are going to win the Super Bowl this year, it will be because Brady won it for them. They've got this far on the strength of his arm, and the only way they're getting any further is if his arm stays strong. He needs to keep playing well in order for the Pats to win the Super Bowl.
If he does that, he will have done what very few (if any) quarterbacks before him have managed to do, and that's win a Super Bowl single-handedly. 
When the deed is done, we'll be looking at a quarterback with four Super Bowl rings and absolutely zero things left to prove.
He wouldn't just be in elite company if things panned out this way. In a sense, he would be the elite company. Instead of being one of the greatest, he would be the greatest.
Some already think Brady is the greatest quarterback of all time, but he's not. If he doesn't win another ring, he is merely in the discussion, which is something you can say about five, six, maybe seven other quarterbacks.
Brady can be better than that, and he should be better than that.