Muhammad Ali: 25 Most Memorable Moments of the Greatest's Career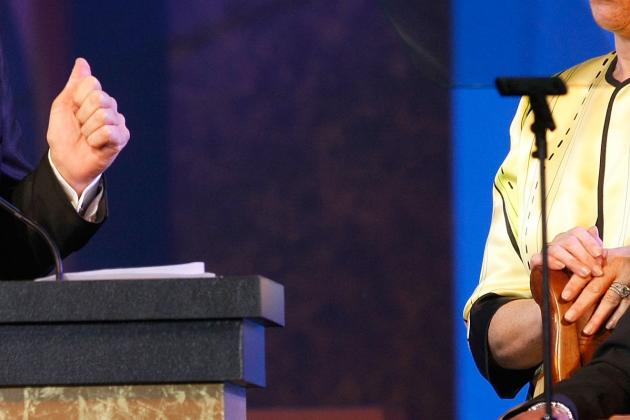 Michael Buckner/Getty Images

On Tuesday, January 17, Muhammad Ali turns 70. For a boxing writer of my generation, this is a huge event.
Ali is the mythic figure who ignited my own love affair with the sweet science. His career was reaching its conclusion in the late '70s, just as I was learning to read and was developing into an obsessive sports fan.
But Ali has been so much bigger than sports. Aside from perhaps Jackie Robinson, no athlete has ever had close to Ali's impact on society. The story of Ali's career is the story of American society from the 1960s to the present, from the era of Jim Crow to the era of an African-American president.
In today's hyper PC world, it is impossible to imagine an athlete taking the kind of stands Ali took or making the kind of statements he made. It was a different time then. But whereas it is common to say that the "times make the man," I think it is only fair to view Ali as a man who helped make the times.
Ali was also among the earliest professional athletes to realize that sports were also another branch of entertainment. He has spoken several times and wrote in his autobiography about being consciously influenced by the professional wrestler Gorgeous George. So while many of Ali's most memorable moments resonate with the big moments of 20th century American history, others are merely entertaining.
For this list I have included more non-boxing moments than actual in-ring events, though I have weighted the boxing events ultimately higher in importance.
Begin Slideshow

»
This is from the old days of the Word Wide Wrestling Federation, later to become the WWF and then the WWE. I remember watching it at the time of broadcast. I would have been five years old, and this may very well have been my first exposure to Ali.
To this day I am not entirely sure it wasn't a shoot by Gorilla Monsoon, an effort to demonstrate to Ali in a relatively gentle manner that he had no business in the wrestling industry.
It certainly made the Greatest look something a little less than great.
Dick Cavett's late night talk show on ABC from 1969 to 1975 was the hipper, more literary alternative to Johnny Carson. Along with the usual celebrities of the day, he aired noted interviews with rock stars like Jimi Hendrix, John Lennon and David Bowie and writers like Gore Vidal, Norman Mailer and Noel Coward.
This old clip of him interviewing Ali and Frazier before their second fight is pure gold. With Ali at 70 and in poor health and Smoking Joe so recently passed, it can't help but make a fan smile to see them together like this back in their glory days.
Younger boxing fans take note: Yes, this is how important the world heavyweight title once was. Even the smartest people on television wanted to talk about it.
I Am the Greatest: The Adventures of Muhammad Ali was a cartoon series that NBC put on the air in the fall of 1977. It featured Ali traveling with an entourage, solving mysteries and helping people out, kind of like Scooby Doo.
Except, whereas Scooby Doo featured a van of stoner college kids who appeared to be led by a talking dog, I Am the Greatest featured the greatest boxer in the world. To my seven-year-old mind, this made it far superior, and I was a big fan during the single season that it ran.
Realizing Ali is about to turn 70 makes me feel old personally, because I can remember watching his 50th Birthday Special in 1992 like it was yesterday, not long after I had gotten out of the army.
The Greatest had been retired over a decade by this point, and his failing health was already making his public appearances increasingly rare. So when they threw a giant gala celebration for him, pretty much every famous person on the planet came out to attend and pay their respects.
Seriously, check it out on Youtube. In addition to all-time greats like Diana Ross and Dan Aykroyd, there were early '90s phenomenons like Sinbad and the very young Raven Symone.
In my memory of the event, this linked Billy Crystal routine stole the show. Crystal's Howard Cosell is among the best ever, though I do think his Ali sounds more like Marlon Brando than the champ.
In 1989, director Dimitri Logothetis brought together the five great figures from the golden era of heavyweight boxing: Ali, Frazier, George Foreman, Ken Norton and Larry Holmes. The result was "Champions Forever," one of the most remarkable videos ever produced for boxing fans.
It was the last time these five greats would ever be together in one place again.
The Dean Martin Celebrity Roast featured the height of old school, Rat Pack-style glamour: black tie, cocktails and casual chain smoking. In 1976 Dean Martin and Frank Sinatra still ruled Vegas, then and now the top fight town in the world.
For the sake of younger readers only familiar with his son, Freddie Prinze Jr., I will note that Freddie Prinze, featured in this clip, was among the most talented comedians of his generation, starring in the classic sitcom Chico and the Man before tragically committing suicide not even a year after this linked video was filmed.
This aired on Christmas Day of 1978, just three months after Ali had won the world heavyweight title for a record third time in his rematch with Leon Spinks.
The entire episode linked above is worth watching, but the highlight is definitely when Joe Frazier comes out, which can be linked to directly here.
It is actually curious to see the two greats interact here in such a friendly manner. This is only a few years after the mean trash-talking that Ali did to promote his fights with Frazier, which Frazier has seemed so bitter about in more recent years.
In 1968, recently stripped of his titles and facing possible prison time for refusing to be inducted into the army, Muhammad Ali appeared on the conservative icon William F. Buckley's legendary Firing Line. Those who care about such things should weep at the decline in intellectual discourse that has occurred in our culture since this episode aired over 40 years ago.
Buckley was the most prominent conservative spokesperson of this era. Ali was then viewed as a walking icon for the revolutionary movement underway in the late 1960s. Here the two have a calm, well-mannered debate in which each present lucid opinions and ideas.
This conversation would never occur in 2012, at least not on television, and certainly not with a professional athlete.
This sounds almost comical, but in the early 1970's, Wilt Chamberlain really seemed to have entertained the idea of challenging Muhammad Ali in a boxing match. Eastside Boxing has a thorough write-up of it.
I suppose a guy who could manage to score 100 points in an NBA game can be forgiven for being a little delusional about his talents and abilities overall. And don't forget, if his professed calculations about his love life are even close to accurate, Chamberlain was keeping company with between three to five different women every day at this point in his life, so there may have been a shortage of blood reaching his brain.
By 1977, Ali was an aging champ, defending his belt now against men who had grown up idolizing him. And tough young contenders like Earnie Shavers checked their hero worship on the way to the ring.
Ali has gone on record, calling Shavers the strongest puncher he ever faced, ranking him even above the likes of Frazier or Foreman. Although Ali won this fight fairly easily on the cards, their was nothing easy about it in the ring.
Round 15 saw Ali fighting hard and rallying furiously against his younger challenger. It was not Ali's last great moment, but close to it.
In 1976, Ali met Japanese professional wrestling champion Antonio Inoki in a boxer vs. wrestler showdown. I actually am pretty sure this had to be a legitimate shoot, simply because if it had been a scripted work it would have been far more exciting to watch.
Inoki spent nearly the entire match on his back in the guard, attempting to kick Ali in the legs. Ali wisely refused to get down on the mat with Inoki.
This fight is often referred to as an early Mixed Martial Arts bout. If so, one can see why it took nearly 20 more years for MMA to really start to take hold as a sport.
I don't know that you will find Ken Norton on anybody's list of the top 10 heavyweights of all time. Yet when it came to fighting "the Greatest," Norton always seemed to show up ready to shock the world.
Tutored by the great Eddie Futch, Norton gave Ali as much trouble as anybody, breaking his jaw and taking a split decision from Ali in their first fight in March of 1973, before dropping a split decision rematch six months later.
When they met for a third and final time three years later in Yankee Stadium, Ali won a very close unanimous decision (the judges included Harold Lederman) that many felt he should have lost.
In 1980 Ali attempted to come back from retirement to challenge Larry Holmes, attempting to win back the heavyweight title for a record fourth time. The results were ugly.
The fight looked close to over within the opening minute. Somehow the legendary champ managed to hang on and absorb 10 rounds of unnecessary punishment before his chief second, Angelo Dundee, finally insisted that the fight be stopped.
I knew Ali was going to lose this fight, but that didn't make it any less disappointing to me. For years I kept a magazine photo of Ali from that fight on my bedroom wall, the champ clearly battered but standing in his corner, waiting to start another round.
During the 1960 Olympics in Rome, Ali, then still known as Cassius Clay, exploded onto the international boxing scene as a teenage phenom. With blinding hand and foot speed, the young Ali easily outclassed the best of the international amateurs.
Although he was still a few years away from the full development of his brash and boastful persona, his natural charisma came through in his interviews of the time, and he returned to the states an Olympic champion and a star on the rise.
When 1976 Olympic gold medalist Leon Spinks beat Ali in 1977, it was perhaps the biggest upset in the history of the heavyweight championship. Ali came back for the rematch in 1978 and gave the youngster a boxing lesson, becoming the first man ever to win the world heavyweight championship three times.
In a perfect world, this would have been it for Ali, the final triumph. He did retire as champ.
In truth, he had already taken rounds and rounds of punishment for years on end by this time. Most of the long-term damage had probably been done. But the pounding he took from Holmes, and to a lesser degree from Trevor Berbick after that, could not have been anything but detrimental to his long-term health.
Ali met Ernie Terrell in 1967, three years after he had converted to Islam and changed his name. Throughout the build-up to the fight, Terrell famously refused to refer to Ali as Ali, instead insisting on calling him Clay. Ali responded by calling Terrell an Uncle Tom.
Terrell has given interviews since claiming that his continual refusal to call Ali by his chosen name was simply due to the fact that he had already known him as "Clay" and just hadn't gotten used to calling him Ali.
But if you watch the two being interviewed with Howard Cosell, it seems clear that there was more to it, that Terrell was at the very least trying to get under Ali's skin. It was a strategy that backfired, as an incensed Ali delivered one of the cruelest beatings he ever handed out.
Ali-Frazier is the most important trilogy in professional boxing history. Ali-Frazier II was probably the least significant of the three fights, but it was still a great one.
Once again the two legendary rivals returned to Madison Square Garden, this time with a shot at newly-crowned champion George Foreman at stake. Ali evened the score, taking the unanimous decision.
First of all, I have spent a good deal of time in Lewiston, Maine, and I can report that it has got to be one of the strangest choices ever for a location for a heavyweight title fight.
It is a much bigger city now than it was 47 years ago, and still, if you told me now that they were going to hold a world heavyweight title fight there, my first reaction would be, "They are going to do what, now?"
Even Joey Gamache, a Lewiston native and former world champion at super featherweight and lightweight, never actually had any of his world title fights in Lewiston.
But somehow it was chosen for this rematch, which ended in famously controversial fashion. It is known as "the Phanton Punch" fight because people claim that Liston was never actually hit by a punch and simply went down and took a dive in the first round.
In terms of significance, this fight really wasn't very important for Ali's overall career. He had already beaten Liston convincingly the first time. But it is among the most memorable.
The iconic shot of Ali standing over a sprawled out Liston is perhaps Ali's most famous photograph. I've got a poster of it in my television room.
Ali, then still known as Cassius Clay, had campaigned hard to get this shot at Sonny Liston's title, even following the champion to public appearances and harassing him. At the time Sonny Liston was considered a nearly unstoppable force of nature. The young Olympic gold medalist was thought to be no match for him.
Going into this fight, Ali was a heavy underdog, and a lot of fans and writers wanted nothing more than to see the "Louisville Lip" get his mouth punched shut by the fearsome Liston.
Instead, Ali won easily. When Liston refused to come out after the eighth, the new champ broke into a spontaneous shuffle and than taunted the doubting ringside press with joy.
After winning the world title from Sonny Liston in 1964, Ali announced that he had converted to the Nation of Islam. Shortly after that, he changed his name from Clay to Ali.
By joining the Nation of Islam, Ali aligned himself with some of the most radical elements of the black liberation movement. He developed a close relationship with Malcolm X, one of the era's leading revolutionary thinkers and organizers. In the process Ali became a cultural figure unlike any sports star in history.
This was a bittersweet moment for Ali's fans. On the one hand, it is always tough to see the Greatest struggling with Parkinson disease.
But there could have been no more suitable choice for lighting the Torch when the Games returned to America.
In 1967 Muhammad Ali refused to be inducted into the United States Army, claiming conscientious objector status on religious grounds. In doing so he risked a sentence in federal prison. He was stripped of his world title and refused licenses to fight in the states.
Eventually he lost what would have been three of his best prime years as a competitor.
A high-profile draft resister from the world of professional sports had ground-shaking consequences throughout American society, and Ali became an important cultural figure. It is completely impossible for me to imagine any professional athlete taking these sorts of risks for moral or philosophical reasons today.
When Ali was finally able to return to the ring after his three-year layoff, he found the man who would ultimately be his greatest rival waiting for him. In his absence, Joe Frazier had ascended to the crown.
Ali had started his comeback with impressive TKOs of Jerry Quarry and Oscar Bonavera in October and December of 1970. The date was set for Ali to meet Frazier for the title on March 8, 1971.
It was billed as "The Fight of the Century," and for once that doesn't sound like hyperbole. Both were undefeated. Frazier was the reigning champ, Ali the former champ who never lost his belt in the ring. Something was going to have to give.
What ended up giving that night was Ali. Late in the fight, already winning on the cards in a very close fight, Frazier dropped Ali to guarantee himself the decision.
In a sense, the fight with Foreman was Liston 2.0. Once again Muhammad Ali was scheduled to fight a supposedly unstoppable beast with few experts giving him a chance.
Looking back on it, it is understandable that the Greatest would have been a underdog. Foreman had absolutely crushed Frazier and Norton, both of whom had victories over Ali and had given him nearly all he could handle even when losing to him in rematches.
Instead Ali employed textbook "rope-a-dope" technique, absorbing a substantial beating from Foreman early before taking control and knocking him out at the end of Round 8. This fight was famously portrayed in possibly the greatest boxing documentary ever, When We Were Kings.
This third fight between the two legendary rivals was probably the most brutal of the three. Both men hurt each other throughout the fight, but Frazier's furious body attack, dangerous left hook and overall relentlessness took a heavy toll on Ali, with the middle rounds of the fight going mostly Smoking Joe's way.
But by the later rounds Frazier's right eye was swollen shut. The severely-battered Ali managed to find the strength to take advantage and unleashed a furious attack on Frazier in the 14th, nearly dropping him.
In the corner before the final round, Frazier's trainer, Eddie Futch, decided he had seen enough and stopped the fight. Frazier had fought the previous round nearly blind, and Futch was unwilling to let him take the same risk again.
Ali has famously stated this is as close to death as he ever came. It was The Ring's "Fight of the Year" for 1975 and is on the short list for many people's greatest fight of all time.