St. Louis Rams: Jeff Fisher Press Conference to Be Held Tuesday at 1 PM
January 15, 2012

Andy Lyons/Getty Images
According to veteran local and national journalist Howard Balzer, the St. Louis Rams will introduce Jeff Fisher as the organization's eighth head coach since in St. Louis 1995 since the franchise's inception in the Show-Me State.
Howard Balzer stated this on twitter today:  
HBalzer721 Howard Balzer Jeff Fisher interviewing Brian Schottenheimer in Nashville today for offensive coordinator job. Rams press conference for Fisher Tuesday.
According to ESPN, the St. Louis Rams will introduce Fisher at 1 PM central time.  
St. Louis fans are abuzz, for the most part, over the Fisher hire.  Optimism, long in short supply amidst a 15-65 stretch, has returned in earnest.  
The former head coach of the Tennessee Titans brings a lineage of winning and experience to the St. Louis head coaching position. The last two Rams head coaches, Scott Linehan and Steve Spagnuolo, were first timers in the role.
Although success is possible and often transpires within the coordinator to head coach transition, it is a more unpredictable endeavor in comparison to hiring a proven head coach.  
For every Mike Tomlin there is a Scott Linehan. 
Furthermore, the Rams are not in the same position, as an organization, as the Pittsburgh Steelers were in when promoting Mike Tomlin.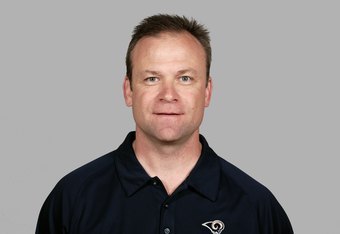 Getty Images/Getty Images
Pittsburgh was well established as a perennial playoff contender and did not have an impending lease situation hanging over the organization. 
Additionally, when considering the 15-65 stretch, the epic failures of the Linehan and Spagnuolo regimes (both hired after coordinator roles), and the need to establish "a winning tradition in and for St. Louis," the Fisher hire was the only hire that made sense. 
St. Louis Rams owner Stan Kroenke got his man in Jeff Fisher, and Fisher will be proudly introduced via Rams Park in Earth City, Missouri, on Tuesday. 
St. Louis fans are eager to hear him address the fan base and share his thoughts and overall vision for the future of the Rams.  Fans want to here his plan regarding how the organization wants to go about turning things around under his leadership in the Gateway City.  
Optimism regarding the Rams is back, in a big way, in St. Louis, something that has been yearned for and coveted intensely in recent years.
Shane Gray covers the St. Louis Rams year round. To check out the rest of his work, go here.  You are also encouraged to follow him here on Twitter.