St. Louis Rams' Kevin Demoff: 'We're Serious About Building Winning Tradition'
January 2, 2012
NFL Photos/Getty Images
In a press conference January 2 at Rams Park in Earth City, Missouri, St. Louis Rams' Chief Operative Officer and Vice President of Football Operations Kevin Demoff addressed several topics, including the changes made today.
They included the firing of Head Coach Steve Spagnuolo, General Manager Billy Devaney, and all assistant coaches other than Josh McDaniels, who will reportedly be retained, at least for now.
Demoff emphasized that the performance of the Rams in recent years has been "unacceptable", and that the great fans in St. Louis deserve better.
He also touched on the vision the Rams have going forward, and, most specifically the search for a new general manager and head coach.
In that vein, Demoff revealed that both Dick Vermeil (the St. Louis head coach who led the franchise to a Super Bowl win in 2000) and Hall of Fame running back Marshall Faulk, will serve as consultants in assisting Demoff.
Also, St. Louis owner Stan Kroenke would be "heavily involved" in the impending head coach and general manager search.
At this time, Demoff says that the Rams have not contacted any potential candidates; however, he did speak at length about former Tennessee Titans Head Coach Jeff Fisher, who has been rumored to be a target by St. Louis owner Stan Kroenke and the Rams' front office.
However, reports are now surfacing that Fisher will be interviewed later in the week.
Nonetheless, don't expect quick hires. Demoff hinted that the process of putting a general manager and head coach in place could take a few weeks. 
Beyond looking specifically for a head coach and general manager, will the Rams bring in a CEO or team President to oversee the organization?
Some interesting names that have been tossed around cyberspace include Marshall Faulk, former St. Louis Cardinals Executive Mark Lamping, St. Louis legend Dan Dierdorf, the aforementioned Dick Vermeil, former KC Chiefs General Manager Carl Peterson, and Rams' COO Kevin Demoff himself.
It is unclear, however, if St. Louis will move in this direction. 
However, what does seem to be clear is that St. Louis is heading in the right direction.
It was encouraging to see that owner Stan Kroenke acted decisively and swiftly. Demoff's detailed press conference suggests that the Rams have a big picture plan in place, and will take their time to ensure that they get things right moving forward through 2012 and beyond.
St. Louis fans needed a change. Many positive changes seem to be in order, especially with the impressive Kevin Demoff guiding the franchise going forward. 
Speaking about the fans specifically, Demoff praises the fan support in St. Louis. He asserted that the organization needs to give Rams' fans the results they deserve, which includes the Lombardi Trophy.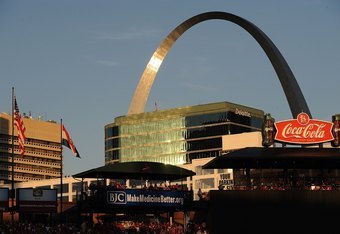 Ronald Martinez/Getty Images
The buzz is back, already, in St. Louis, with today's happenings.
With changes coming at head coach and general manager, the number two pick in the upcoming 2012 NFL Draft locked down, and the team having the most cap room in the NFL following the 2012 season heading towards the 2013 league year, hopes are on the rise.
As Demoff alluded to, it all boils down to doing what it takes to get the organization on the right track and ultimately building a—"winning tradition in St. Louis."
St. Louis' fans deserve nothing less and want nothing more.
I believe that, ultimately, today was the first step towards Rams' owner and Missouri's own Stan Kroenke doing just that.  
Shane Gray covers the St. Louis Rams year round. To check out the rest of his work, go here.  You are also encouraged to follow him here on Twitter.