New York Giants
Eli Manning Elite as New York Giants Crush Aaron Rodgers and Green Bay Packers

Hakeem Nicks beats Green Bay defenders for a Hail Mary with no time remaining in the first half.
Jonathan Daniel/Getty Images
January 15, 2012
This is not the 2007 New York Giants, but Eli Manning is doing his best to replicate the triumphs of that season.
Eli Manning put the New York Giants on his back and has carried them to the NFC Championship game. 
With 13 minutes left in the fourth quarter, the Green Bay Packers went for a 4th-and-5 attempt at the New York 39-yard line. Aaron Rodgers could not find anyone open and Michael Boley brought him down. 
The Giants took over on their own 45-yard line and drove down field to add a field goal and make it a 23-13 game.
On the ensuing drive, Kenny Phillips forced a Ryan Grant fumble that Blackburn recovered and carried to the Green Bay 4-yard line. 
Manning would connect with Mario Manningham for a four-yard touchdown to go up 30-13 and effectively end Green Bay's season.
The Giants played with more intensity, more desire and more passion than the Packers. While New York was clicking from the beginning, Green Bay did not look on its game until the second half.
Eli Manning finished the game with 330 yards and three touchdowns. Hakeem Nicks had the best receiving numbers, making seven catches for 165 yards and two touchdowns. Victor Cruz added five catches for 74 yards.
Aaron Rodgers could not get it going against the Giants defense. He finished with 264 yards.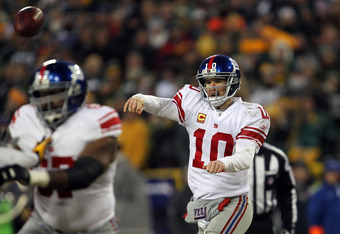 Manning dominated on Sunday against the Green Bay Packers.
Jonathan Daniel/Getty Images
The Giants as a whole played a great game, including stifling defense and stellar play from Eli Manning.
Manning took brutal hits throughout the game, but stuck in the pocket and executed on almost every big play, completing remarkable passes and guiding his receivers as though he controlled them on strings.
Manning received remarkable amounts of criticism in the preseason when he told ESPN Radio New York that he was an elite quarterback.
Manning was on a mission this season: To prove he was right.
He compiled fantastic numbers this season, but more importantly, he has led the Giants down the stretch when it mattered most.
The numbers mean nothing if there are not enough wins associated with them.
Manning has now led the Giants to victories in four must-win games in a row, including two playoff victories.
No longer should anyone doubt Eli Manning being elite.
He outplayed the MVP of the NFL on Sunday. He might soon face Tom Brady again, the quarterback he told reporters he was in the same class as.
Eli has more work to do, but right now, the Giants are headed to San Francisco to play in the NFC Championship Game.
As for the Green Bay Packers, they could not make plays when they had to, including many dropped passes in a pivotal first half.
The Giants executed nicely in the first half, including a completed Hail Mary attempt.
After Ahmad Bradshaw ran for 23 yards, cutting completely across the field to get out of bounds, Manning launched a prayer towards the end zone. Hakeem Nicks went up and pulled it down, giving the Giants an important 20-10 halftime lead.
In the first half, Manning had 272 yards and two touchdowns while Nicks caught five passes for 152 yards and two touchdowns. 
A key to the Giants' success in the first half was third-down efficiency. New York was 5-for-9 in the first half on third down. 
New York entered the game hot and left Lambeau Field on fire after beating the Green Bay Packers.
The Giants are one win away from a potential Super Bowl XLII rematch against the New England Patriots. 
Read why the Giants can win the Super Bowl here and why Victor Cruz is so important to their run.
Like the new article format? Send us feedback!