Peyton Manning Trade Rumors: Colts Shouldn't Even Consider Trading Franchise QB
January 15, 2012

Andy Lyons/Getty Images
Forget how much money Peyton Manning will earn next season and just think about what he has done for the Indianapolis Colts' organization.
Manning won the Super Bowl for a franchise that was in a 36-year drought. He's put his team into the playoffs in every season but his rookie campaign. He is an 11-time NFL Pro Bowler, 4-time AP NFL MVP, Super Bowl champion and Super Bowl MVP. He has started every game in every season but this past one.
The Colts shouldn't even consider trading Manning given how much he has done for the organization.
There are reports that the New York Jets would be a team that could be interested in his services, according to Rich Cimini of ESPN New York. Aside from the money issue, there would be about 28 teams that would take a run at him.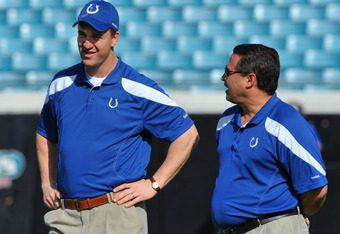 Al Messerschmidt/Getty Images
Indianapolis was nothing before Manning got there. I realize that his injury is serious but doesn't he deserve the benefit of the doubt?
Manning's situation is similar to Pittsburgh Penguins superstar Sidney Crosby. Both make a big sum of money, both turned franchises around and both have lingering injuries that could jeopardize their future.
Why not give these stars every opportunity to come back given everything they did for their respective franchise? It's a business and I realize that, but I wouldn't hesitate giving Manning an opportunity to return.
Manning, 35 years old, still has game left in the tank if he can stay healthy. He passed for 4,700 yards and 33 touchdowns last season on what we know now was a horrible 2-14 team.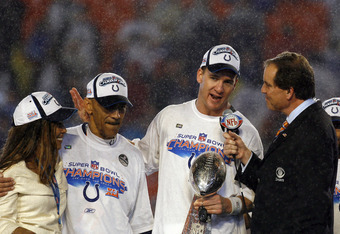 Kevin C. Cox/Getty Images
Would Andrew Luck, their potential first-round draft pick in 2012, be able to give them a better chance of winning with this group than Manning?
Not even close.
Luck is going to need time whether it's on the field or off the field to improve as a starting quarterback. The Colts can't afford to wait two or three more years for Luck to develop into what everyone believes he can be. They need production as soon as next year.
Jeff Saturday is 36, Reggie Wayne is 33 and Dallas Clark is 32. The offensive side of the football is getting up there in age and they need to have production from their quarterback as soon as possible if they want to compete for championships.
Manning gives them their best option to win next season if he can stay healthy. They should draft Luck to solidify a future at the most important position in sports but keep Manning under center to give him another opportunity to win a Super Bowl.