Chris Paul Injury: Latest Update on Clippers Star's Status
January 15, 2012

Harry How/Getty Images
Update: Monday, Jan. 16 at 2:35 p.m. EDT
The Clippers aren't going to take any chances with Chris Paul tonight and reportedly have inactivated him for the game tonight against the New Jersey Nets.
Stefan Bondy of The New York Daily News just reported the news via Twitter.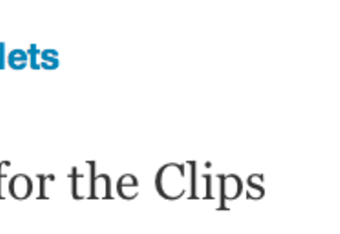 The Utah Jazz host the Clips tomorrow and Paul is officially day-to-day, so he could be reactivated in time for that 9:00 p.m. EDT game. 
Keep checking back here for the latest news on CP3 and the status of his hamstring injury.
Update: Monday, Jan. 16 at 9:00 a.m. EDT
NBA.com's John Schumann confirmed the results of CP3's MRI were negative and got a little more in depth information on the injury.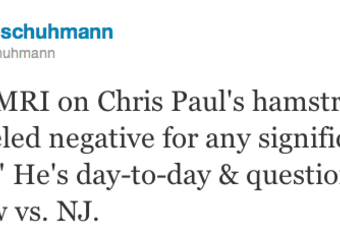 He was told their were no significant findings and is still listed as questionable for today's game against the New Jersey Nets. 
Update: Sunday, Jan 15 at 8:00 p.m. ET
Good news for the Clippers. CP3 doesn't have a serious hamstring injury after all. ESPN's Marc Stein is reporting that despite the positive outlook, the team is still being cautious: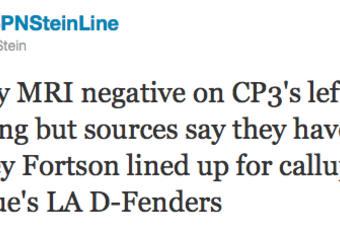 I wouldn't read too much into the Fortson call up. The Clippers don't need to rush Paul back until he's ready. For now, the LA Times is reporting that he's questionable for Monday's game against the Nets and is day-to-day.
Expect him to be a game-time decision, but more than anything else, Clipper fans can take a sigh of relief. Their point guard is not seriously injured.
Update: Sunday, Jan 15 at 3:45 p.m. ET
Chris Paul may miss tonight's game against the New Jersey Nets after an MRI revealed a hamstring strain, according to Colin Stephenson at the Star-Ledger.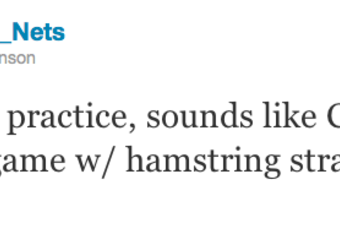 The Los Angeles Clippers took care of business in the Staples Center last night, but they may have something to be worried about going forward.
Against their biggest rival, the Los Angeles Lakers, Paul put on a masterful performance and helped to prove that the "other" team in town is finally legitimate.
He finished the night with 33 points, six assists, four rebounds and three steels.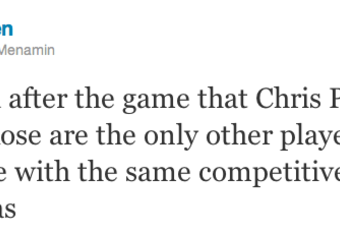 Unfortunately, he had to leave the game near the end of the fourth quarter with a "strained hamstring," according to Pedro Moura of ESPN.com
With 4:01 remaining in the game, CP3 nailed a smooth step-back jump shot over two defenders, but he came down awkwardly and had to leave the floor.
The point guard and his coach seem relatively unconcerned about the issue.
"I don't want to speculate," coach Vinny Del Negro said in his postgame press conference. "His leg got tight. We'll see if it's a cramp, a strain, whatever it is, and we'll evaluate it.

"Chris is a fighter. He's competitive. If he can get out there, he will, and we'll be smart about it because we have a lot of games still left."
CP3 said he doesn't even know how the hamstring was pulled, and it certainly seemed like he did not even care.
When asked about it, he responded,
"I'm so focused on everything else," he said. "I just know it was sometime in the fourth quarter."
The Clippers won, 102-94, despite not having their best player in the final minutes. The team had a commanding 95-82 lead when he came off the floor.
Paul felt he could have returned, but it would have been unnecessary given the score and circumstances.
According to Moura, Paul said he told the coaching staff he was ready to go back in shortly afterward, only to have head trainer Jasen Powell tell him he could worsen the injury by returning.
"He said it was in my best interest not to go back," Paul said.
With the game in hand, it would have been crazy for CP3 to return to the floor and risk further injuring his hamstring.
The Clippers' next game is against the New Jersey Nets tomorrow, and his status is unknown as of this time. But knowing Chris Paul, the competitor and floor general, we will more than likely see him out there on Monday night,