2012 MLB Free Agents: Ancient Bartolo Colon Provides Little Hope for Oakland A's
January 14, 2012

Jim McIsaac/Getty Images
The Oakland Athletics are reportedly negotiating with journeyman pitcher Bartolo Colon, but the 38-year-old right-hander won't change Oakland's fate in 2012.
Colon resurrected his career in 2011 with the Yankees, pitching better than his 8-10 record suggests. Prior to last season, he hadn't thrown a pitch in the majors since July 2009. Striking out 135 and posting a 1.29 WHIP in 26 starts however, he had a solid year for New York.
Colon was reliable for the Yankees, and with Gio Gonzalez and Trevor Cahill leaving in recent trades, the A's need to bring in someone.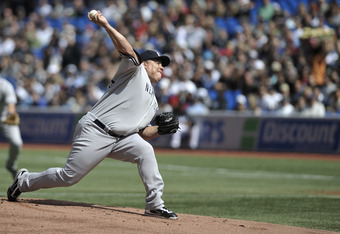 Brad White/Getty Images
Oakland's rotation has weakened and they have done little to improve a lineup that finished 20th in runs, 22nd in on-base percentage, 24th in batting average and 25th in slugging percentage last season.
Meanwhile, the Angles have added Albert Pujols and C.J. Wilson, and the Rangers will be as dangerous as ever. Sure, the A's can beat up on the Seattle Mariners again this season, but I would be shocked if they win more than 66 or 67 games.
Again, Colon was decent last year, but A's fans would be foolish to expect him to return to greatness. The 2005 AL Cy Young winner is just 22-31 since 2006.
He can still be productive and it's never bad to have a veteran option at the back of your rotation. Still, there is a bleak cloud hanging over Oakland's 2012 season, and the addition of Colon will do little to change that.