Will It Be Mike Zimmer or Rob Chudzinski for Tampa Bay Buccaneers?
January 14, 2012

For the time being, I'm actually proud of the Glazers.
The Tampa Bay Buccaneers owners are really taking their time with the coaching search, bringing in candidates from all walks of life.
Mike Sherman was a fired man from a disappointing Texas A&M. Jerry Gray was the...wait, who?
Brad Childress is an offensive mind who the Minnesota Vikings booted, while Marty Schottenheimer is the aged leader that would probably whip these young Bucs into shape. 
Jeff Fisher just signed with the St. Louis Rams, and Rich Bisaccia appears to have just been a radio caller's dream.
Now the Glazers have turned their attention to some very successful coordinators.
One on offense. The other for defense.
Rob Chudzinski from the Carolina Panthers has proven to be a genius on the offensive side of the football.
Or maybe it's just Cam Newton.
On defense, Mike Zimmer turns his attention from the Cincinnati Bengals to all of the phone calls.
His squad ranked in the top 10 in all major defensive categories this season with the No. 7 defensive unit overall.
Now, this is truly a battle of back and forth.
Rob "Chud" Chudzinski and Mike Zimmer bring very different philosophies to the table.
The Bucs could use all of them.
Chudzinski led a Carolina offense that was third in rushing, seventh in total yards, and fifth in total points. I'm not sure of Chudzinski's personality. He could be a pushover or possibly a take-no-bull type of guy.
If he coached up Cam Newton this well, it is probably the latter.
Even with a guy like Chudzinski, a young offensive coordinator with plenty of experience, the Glazers might lean towards a defensive mind.
Most Bucs fans are aware of the lack of toughness and ability on the defensive side of the ball. Most Bucs fans understand that a coach like Zimmer would probably revamp the defense and make it into something worth watching.
The Glazers appear to be going older with the coaching search. Much older.
But maybe, just maybe Chudzinski can give a good interview and convince the Glazers of his offensive prowess. For a young quarterback like Josh Freeman, Chudzinskis influence could be the push that sends Freeman into Pro Bowl-type seasons.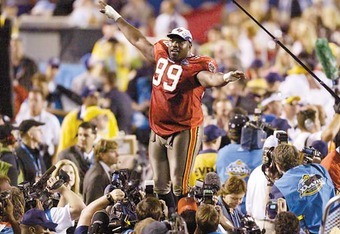 Or maybe, it'll be a seasoned vet like Zimmer that can mold and shape young players like Adrian Clayborn, Daquan Bowers and Mason Foster.
Whatever the Glazers do, they should take their time.
But not too long.
Young guns like Chudzinski and vets like Zimmer have that special something that teams crave.
In 2003, Super Bowl XXXVII featured the top-ranked defense in Tampa Bay and the top-ranked offense in that of the Oakland Raiders. 
Just as Warren Sapp used to tip and balance the scales, who will the Glazers go with?
Offense. Defense. Offense. Defense.