Tennessee Volunteers Basketball: Jarnell Stokes Is the Real Deal
January 14, 2012

When Jarnell Stokes subbed in for the first time in his collegiate career, fans of the Tennessee Volunteers were just excited to see the 5-star forward play. What they didn't expect was to see him immediately improve the team enough to give Kentucky a major scare, 65-62.
The 6'8", 250-pound forward has garnered comparisons to Ohio State's Jared Sullinger and the San Antonio Spurs' DeJuan Blair. What's the connecting factor for these three players?
They're all bulls under the goal. They have incredible touch in crowded spaces. They can pass from the low post. How the heck did Cuonzo Martin get him??
First Game...Kentucky
Talk about baptism by fire! To face Kentucky in your first college game is like facing Muhammad Ali in your first heavyweight bout (don't take that as a compliment, Wildcat fans).
The Memphis native got the packed house at Thompson-Boling Arena on their feet with a nice hook shot to begin his Tennessee career.
Of course, we all thought it was just a good start for a young player.
After his swish from behind the free-throw line, we laughed at how he was just having one of those special days.
But after he posted nine points and four rebounds on 4-of-5 shooting and in just 17 minutes of play, we came to the realization that Jarnell Stokes is the real deal.
He ripped tough rebounds down behind the backboard, leaned back and punched it in the basket more than once. Contrary to popular opinion on big men in basketball, those quick lay-ups take tremendous touch.
A Different Kind of 5-Star
Tennessee's last two 5-star recruits were Tobias Harris and Scotty Hopson.
Harris, a first-round pick in the 2011 NBA Draft, was a very polished player who could contribute to all areas of the game. He didn't, however, have the ability to completely take over and dominate a game.
I liken Harris' future NBA career to that of former Kentucky player Tayshaun Prince: an important guy for a winning team but never an All-Star himself.
Hopson was absolutely terrible as a Volunteer. Once considered a lock for "one-and-done" status, he spent three full years at Tennessee before leaving early for the NBA. Unfortunately, he didn't get drafted. Shame on whoever convinced him to leave, and I mean that.
Scotty never broke 46 percent shooting in any season and scored just 17 points on 13 shots per game in his final year. He also averaged more than two turnovers per game in his career.
Clearly, Vol fans had the right to be wary of a highly-touted recruit. Two 5-stars in more distant memory were Ramar Smith and Duke Crews, who both got kicked out of the program.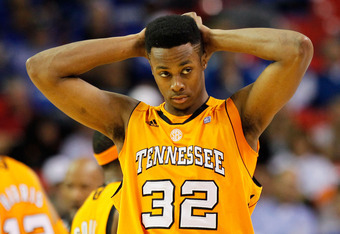 Kevin C. Cox/Getty Images
How'd He End Up on Rocky Top?
The circumstances regarding Jarnell Stokes' recruitment to Tennessee are wild.
He transferred high schools last year but apparently misread an eligibility rule and wasn't able to play his senior year. Instead of sitting around, Stokes graduated early in December and began looking for colleges.
The usual suspects—Memphis, Kentucky, Florida—had used all their scholarships, which meant Stokes would have had to pay his own way for the spring semester.
Memphis had an extra scholarship, but because of the way they recruited Stokes, he would have been considered a recruited walk-on, which made him ineligible to play at Memphis this spring.
Thanks to Bruce Pearl's cheating, Tennessee had plenty of scholarships to give. Cuonzo Martin appealed to Stokes and sold the program. The rest is history.
Future for Stokes
Jarnell Stokes has the skill set to become a lottery pick one day.
Until then, he'll have to play a full season in college with the NBA's draft rules, which means Stokes could be the first ever "one-and-a-half-and-done" player.
If the Vols can improve their guard play and add a solid point in next year's recruiting class, Stokes and Tennessee could reap huge rewards.
In the meantime, let's get #stokedforstokes trending on Twitter.