LeBron James: What the Miami Heat Star Could Learn from Tim Tebow
January 13, 2012

Ezra Shaw/Getty Images
Shocking as it may seem, LeBron James and Tim Tebow actually have quite a bit in common.
They're both high-profile athletes who've become polarizing figures in their respective sports.
They've both come under fire from fans and the media alike for their perceived shortcomings.
They're both under the massive Nike umbrella.
And neither has an all-important championship ring on his finger.
LeBron recently came out in support of the oft-worshiped, much-maligned Denver Broncos quarterback, telling ESPN:
"I love to see what a guy can do when his back is up against the wall and everybody counts him out.

"I can relate to him a lot. I see how the media plays it sometimes and how the critics go at him. To see him prove them wrong...he continues to stay positive and move forward. You respect that."
Of course, Bron and Tebow aren't exactly one in the same, and not just on account of race or the different leagues in which they've risen to prominence.
A two-time MVP and a seven-time All Star, James is arguably the best player in the NBA today and may yet prove to be the most talented player in league history, ahead of the likes of Michael Jordan and Magic Johnson.
Tebow, on the other hand, would hardly be mentioned alongside the likes of Joe Montana, Dan Marino and Peyton Manning in NFL history, save for some sort of radical offseason transformation.
Still, believe it or not, there's far more about sports and life that LeBron could learn from Tebow than the other way around.
Four Quarters For a Full Baller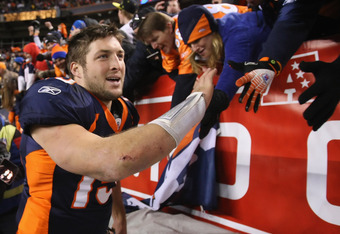 Jeff Gross/Getty Images
When it comes to decorum in the arena of play, Bron-Bron could stand to play pupil to Master Tebow in the fourth quarter. King James has developed a reputation for shrinking down to a pawn in clutch situations, with his paltry performance in the Miami Heat's overtime loss to the Los Angeles Clippers this week serving as a reminder of his failings in the 2011 NBA Finals.
Heck, James has been so unreliable in the clutch that even Chris Bosh, his own teammate, would rather have Dwyane Wade take the last shot, though, to be fair, Wade has never been one to shy away from the spotlight in that regard.
Meanwhile, Tebow has made a name for himself by coming up big seemingly only when the game is on the line. In fact, Tebow's already led the Broncos to more comebacks in 15 NFL starts than John Elway—the patron saint of Mile High Stadium—did during his entire career.
And remember, Elway was the guy who orchestrated "The Drive".
Tebow has demonstrated a knack for rallying his teammates to the cause, using relentless positivity to instill hope and belief, where most other on-field leaders would be hard-pressed to get their sullen compatriots to do so much as brush the dirt off their shoulders.
That's not to say that LeBron can't be, or hasn't been, a leader of men on the court, but rather that he could stand to be more of one when the pressure is on.
Where Tebow plays his best, LeBron too often appears to come up with his very worst.
A Class Act, Win or Lose
LeBron's need for poise under pressure is hardly limited to his shortcomings on the court. He's also proven to be a bit uncouth when it comes to dealing with the criticism that comes with struggling on the biggest stage.
At least, that was the case after he and the Heat lost to the Dallas Mavericks in the Finals, when he responded to his doubters by pointing out that his quality of life is still much better than theirs.
Hearing and seeing a professional athlete berate members of the press with smugness is nothing new, though doing so certainly didn't help LeBron's image during a time when legions of basketball fans still resented him for leaving the Cleveland Cavaliers.
As for Tebow, he's shown himself to be equal parts gracious and well restrained when it comes to withstanding tough questions from the sports media. Tebow has had nary a disparaging or discouraging word for anyone—teammate, opponent or inquisitor—when posted at the post-game podium.
Now, it's difficult to say at this point whether LeBron has truly corrected his own unflattering tendencies, though if he hasn't, he'd do well to pour over some Tebow press tape to see what an exceptional professional looks like. 
Coach Always Says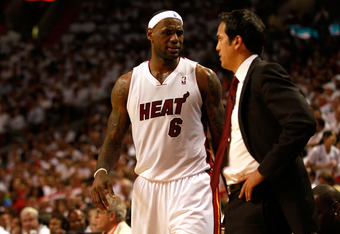 Marc Serota/Getty Images
Back on the field of play, LeBron hasn't always been particularly receptive to coaching or guidance or really anyone telling him what to do in much any regard. Whatever the source of that entitlement streak may be, it proved to be enough to drive Mike Brown out of Cleveland and land Erik Spoelstra on the hot seat with the Heat a few times last season.
LeBron's problem? Like the prettiest girl at a party, he knows how desirable he is and, as such, tends to walk around like he's God's gift to the world and should be bowed down to as such.
I won't get into Tebow's piety here, save to say that he's just a tad bit more humble than the average superstar. To be fair, Tebow was rather un-Tebow-like this summer, when he thought he'd sewn up the Broncos' starting gig coming into the season, only to see Kyle Orton outplay him in training camp.
Tebow ultimately checked his ego at the door for the good of the team and was rewarded for his good behavior with an opportunity to play when Captain Neckbeard faltered. Tebow's usurpation of his own entitlement has worked wonders for Denver, a team that jumped from 4-12 with the No. 2 pick in the 2011 NFL Draft to 8-8 with an AFC West title and a Wild Card playoff win.
As with the previous point, LeBron seems to have adapted himself better to the coaching staff in Miami.
Rather than floating on the perimeter and using his superior speed to dominate his opponents (and the ball) as he sees fit, James has taken to operating in the post, thereby using his strength and quickness to even more devastating effect against typically over-matched defenders.
Whether LeBron made the shift solely (or even mostly) on Coach Spo's recommendation remains to be seen, though it's not difficult to imagine that the Heat boss pulled a John Fox and told 'Bron how best to put his particular talents to work for the good of the team.
Who knows? If LeBron keeps this up, he may yet reach Tebow's level of clutch, grace and coachability.