Cleveland Cavaliers vs LA Lakers: TV Schedule, Live Stream, Spread Info and More
January 13, 2012

Stephen Dunn/Getty Images
The Cleveland Cavaliers and the Los Angeles Lakers will be doing the time warp (again) at Staples Center on Friday night.
Lakers head coach Mike Brown will face the Cavs—the team he once coached to the NBA Finals and back-to-back 60-win seasons with LeBron James under his wing—for the first time since he was fired by owner Dan Gilbert in the summer of 2010.
L.A. has won its last four games in a row, including a 90-87 overtime victory over the Utah Jazz in Salt Lake City for its first positive road result of the young season. Cleveland currently sits at 5-5, with a somewhat surprising 101-90 win over the Phoenix Suns under its collective belt.
Where: Staples Center, Los Angeles, CA
When: Friday, January 13th at 10:30 p.m. EST
Watch: FOX Sports West, FOX Sports Ohio, NBA League Pass
Listen: 710 ESPN/1330 ESPN (Los Angeles), WTAM 1100 (Cleveland)
Betting Line: Lakers -10.5 (according to sportsbook.com)
Go with the Lakers here. They rank fourth in the league in points allowed at just under 90 per game and will be up against a team that sits in the bottom half in field goal percentage.
Key Injuries
The Cavs have no significant injuries on their roster as of yet. 
The same cannot be said for the Lakers, who are still without second-year big man Derrick Caracter on account of a knee injury suffered in the preseason. They will also miss backup point guard Steve Blake, who's coping with a rib injury that knocked him out of action earlier this week.
What's At Stake?
With the season still in its infancy, there's nothing too significant at stake as far as the postseason is concerned. For the Cavs, though, this game will be a golden opportunity to measure themselves against a team that figures to be among the NBA's elite at year's end. A win in L.A. would do wonders to boost the confidence of Byron Scott's young squad.
On the Lakers' end of things, they'll look to extend their current win streak to five games and their home streak to eight games since a heartbreaking loss to the Chicago Bulls on Christmas Day.
What They're Saying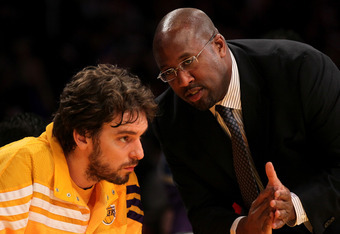 Stephen Dunn/Getty Images
Despite Kobe Bryant coming off back-to-back 40-point games, the bulk of the chatter surrounding Friday's tilt has centered on first-year Lakers coach Mike Brown going toe-to-toe with his old team.
Brown spoke about the difference between the two coaching gigs and his fondness for the Cavs with the Cleveland Plain Dealer:
"In my six years in Cleveland, I probably had two or three speeding tickets, and I don't think that even made it in the West Life news. The attention that you get as the Lakers coach is incredibly different. Every little thing that we do is a headline.

"When we got the schedule, as a family, the first thing we looked at was when we were going to go to Cleveland and play the Cavs. That would have been a lot weirder for me than coaching out here. That emotional attachment is still there. It will be a little awkward, a little weird. But not as bad as if we were back there playing."
Cavaliers Player to Watch: Kyrie Irving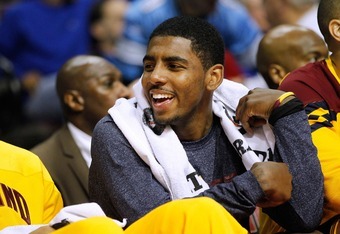 Gregory Shamus/Getty Images
He may still be a teenager, but Kyrie Irving is already running the show in Cleveland. The No. 1 overall pick in the 2011 NBA Draft out of Duke has shown improvement over the course of his first 10 games as a pro, including a 26-point, six-assist performance in his last outing against the Suns.
Of course, his six turnovers in that game left much to be desired, but such growing pains are expected with grooming a young point guard for franchise stardom.
Irving should have little trouble getting around L.A.'s point guards and to the hoop, though he'll have to do a much better job of squeezing the orange against the Lakers' stout defense if the Cavs are to keep this one close.
Lakers Player to Watch: Kobe Bryant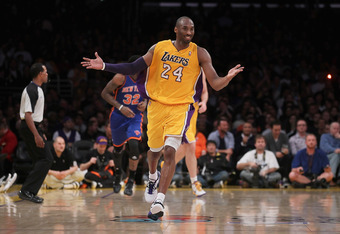 Jeff Gross/Getty Images
Who did you think I was going to say—Luke Walton?
It's impressive enough that Kobe Bryant, at the ripe old age of 33, is currently leading the league in scoring at 30.3 points per game to go along with 5.9 rebounds and 5.7 assists.
Throw in the fact that he's doing all of that (i.e. carrying the Lakers) with torn ligaments in his shooting wrist and the guy is the clear-cut MVP in the early-going of the compressed 2011-12 season.
Oh, and did I mention that he's coming off consecutive 40-point outbursts? The Black Mamba's not going to be around forever, folks, so get your tickets to see him while you can. 
Key Matchup: Anderson Varejao vs. Andrew Bynum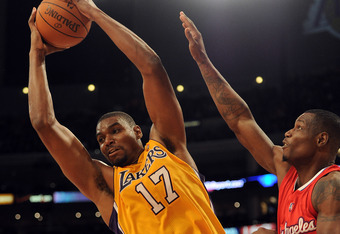 Harry How/Getty Images
While Kobe and Kyrie are busy battling in the backcourt, the real difference in the game will be left to the big boys, namely Anderson Varejao and Andrew Bynum.
At 6'11" and with a pesky streak like few others in the NBA, Varejao is no slouch at center, though he'll have as tough a time as any containing the seven-foot Bynum.
The leading All-Star vote-getter at center in the Western Conference by a wide margin, Bynum is off to the best start of his still-young career. He's averaging 17.1 points and 13.9 rebounds in eight games since serving a four-game suspension to start the season.
Seeing how hard-pressed the Cavs will be to stop Kobe, they figure to devote plenty of time and energy to subduing LA's frontline duo of Bynum and Pau Gasol. If Cleveland can somehow slow down the Lakers' twin towers, then they may yet be able to spring an upset on the Pacific Division leaders.
Prediction: Lakers 97, Cavaliers 82
The Lakers have played too well at home to let a middling Eastern Conference team like the Cavs come in and steal a win. If Bynum and Gasol don't send the Cavs back East disappointed, then Kobe certainly will.