New York Knicks: What Are the Missing Pieces to a Championship?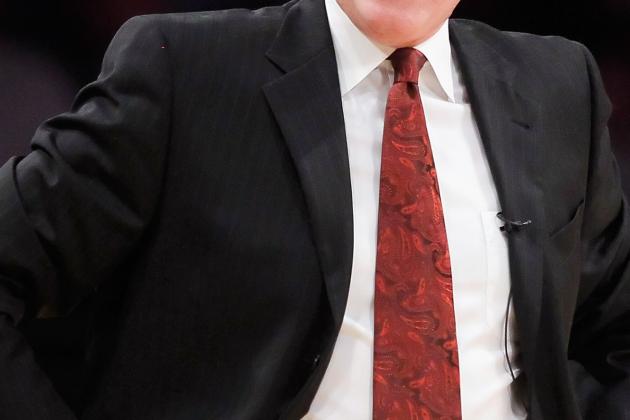 Jeff Gross/Getty Images

To say that the past decade has been disappointing for the New York Knicks would be a tremendous understatement.
Things have been rough for Big Apple basketball fans, but the team's undeniable talent this year has a buzz building around the league. The question that remains lingering around the city is, "just how much hype do the Knicks deserve?"
Standing at 6-5 with a few brutal home losses under their belt, it's clear that New York is not quite at championship caliber yet.
New York's weaknesses were on full display in last night's double-digit defeat to Memphis. This doesn't mean that the Knicks' loyal following should throw in the towel, though...
Far from it.
New York's presence as a title contender will depend on a few internal adjustments, as well as perhaps a key personnel move or two.
Here are a few things the Knicks can do to get back on track towards earning their first ring since the 1972-73 campaign.
Begin Slideshow

»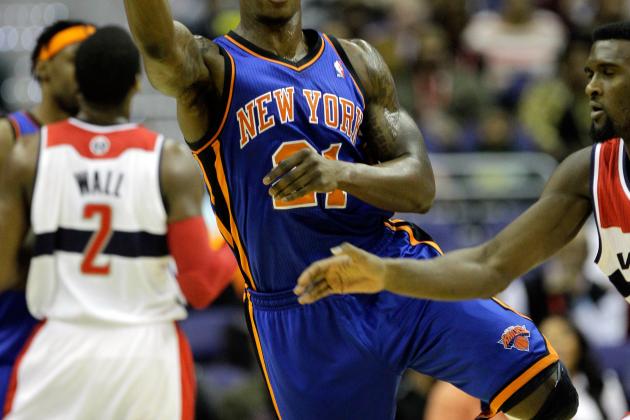 Rob Carr/Getty Images

True, Iman Shumpert's abhorrent shot selection last night deserves criticism, but the rookie point guard should remain a perennial member of the starting five.
New York has struggled immensely to find a consistent back-court, and Shumpert is a speedy, energetic player that will only improve over time. His +11.43 efficiency is far better than the team's other ball-handlers, as neither Toney Douglas nor Mike Bibby have a rating higher than +6.0.
Before the Knicks can become a legitimate title team, somebody must step up and assume the role of setup man. Thus far in 2011-12, few members of New York's roster carry a pass-first mentality.
When offensive juggernaut Carmelo Anthony leads your team with 4.3 assists per game, you know a change is in order.
If Shumpert can develop a passer's touch with veterans Bibby and Baron Davis offering guidance, a key piece of the Knicks' puzzle will be put in place.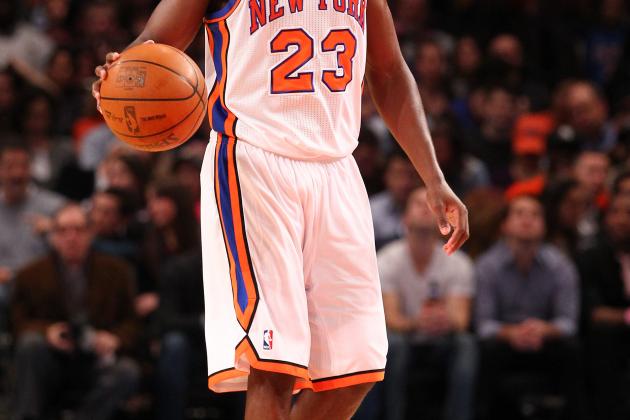 Al Bello/Getty Images

Since losing one-guard Raymond Felton to Denver last season, power forward Amar'e Stoudemire's production has declined significantly, experiencing stark decreases in scoring, field goal percentage and free-throw attempts.
The problem?
Third-year pro Toney Douglas.
Nobody can refute Douglas' offensive prowess when he's hitting his stride, but more often than not, Douglas kills the Knicks' momentum, forcing questionable shots and often being reluctant to play as a true passing guard.
Douglas is shooting 31.7 percent from the field this year while averaging just 2.9 dishes per contest. Considering how many weapons Douglas usually has on the floor with him, his play has been simply inexcusable.
With Iman Shumpert representing the team's intentions for the future, and with serviceable ball-handlers Davis and Bibby in the locker room as well, Douglas' niche is getting smaller by the day.
The up-and-down guard still shows plenty of promise, but at this point, the Knicks need to trade him if they wish to reach the upper-elchion of the NBA.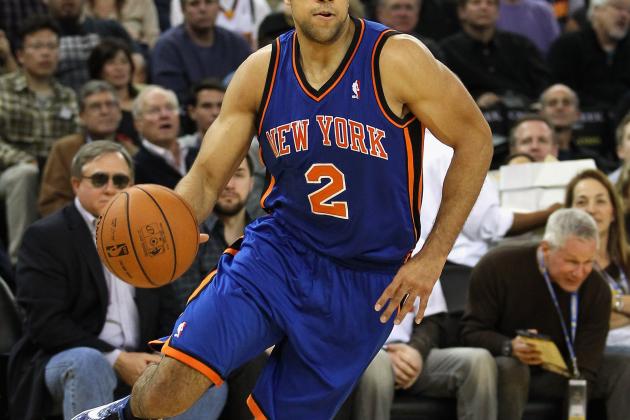 Ezra Shaw/Getty Images

And here's what interim Glen Grunwald should trade the aforementioned Douglas for: a shooting guard.
Landry Fields was a first-year phenom in 2010-11, but in January, he's been scoring just 5.4 points per game. Fields is an above-average defender, but the Knicks need a stronger presence around the perimeter if they are to contend for a ring anytime soon.
Rumors circulated this fall about a potential acquisition of SGs Jamal Crawford or Arron Afflalo. While those never came to fruition, a player with a similar skill set would be a perfect addition for New York.
The Knicks are a measly 22nd in the league in shooting behind the arc, and the developing .222 three-point field goal percentage this year will only make matters worse. The Knicks can score from the interior with Stoudemire and center Tyson Chandler—they are a phenomenal mid-range team under Anthony.
All they lack now is a true deep threat. Maybe someone like Toronto's Leandro Barbosa—who becomes an unrestricted free agent next season—would be a sensible quick fix.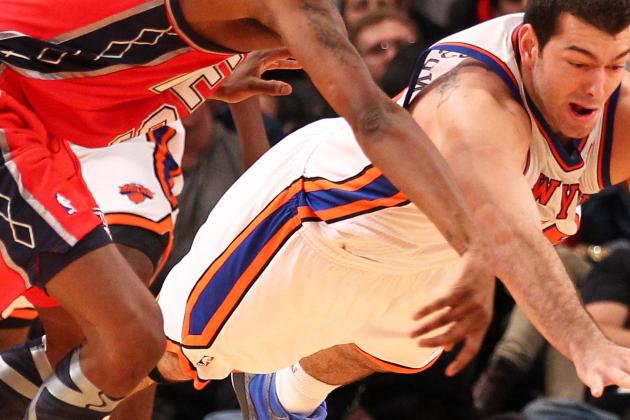 Al Bello/Getty Images

Thursday's loss to the Grizzlies in FedEx Forum did illustrate a few positives for the Knicks, primarily in their bench play.
Swingman Bill Walker scored 14 points, while backup center Josh Harrellson nearly put up a double-double. As current NBA Champions, the Dallas Mavericks demonstrated that a strong bench is a key to victory—and the Knicks should look to these two players in particular to help establish a deeper roster.
Harrellson provides a needed rest for the injury-prone Tyson Chandler, and Bill Walker can help relieve 'Melo, who will now have to nurse a sprained ankle.
Adding Dwight Howard or another prime-time superstar is not the solution for improvement. Rather, to get to the finals and beyond, the Knicks need to find balance in their line-up.
More playing time for Walker and Harrellson will subsequently lessen the pressure on New York's "big three."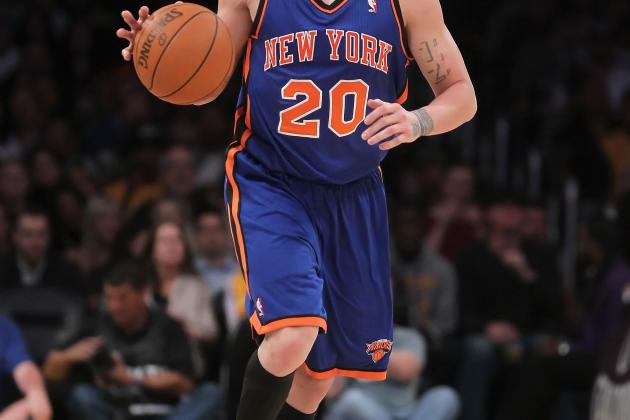 Jeff Gross/Getty Images

It seems as if every year, the team hoisting the NBA Championship also possesses a key veteran who finally won a well-deserved ring. Last year, it was Dallas point guard Jason Kidd. In San Antonio's mid-2000s dynasty, it was Bruce Bowen.
The Knicks are a young team, and in professional sports, youth tends to be evaluated by record.
If the Knicks were 9-2 through eleven games this year, they would seem athletic and full of fresh legs. But because they're struggling to stay above .500, the Knicks suffer from inexperience.
This year's shortened offseason saw signings of players like SGs Vince Carter, Richard Hamilton and PF Jerry Stackhouse. True, the Knicks signed Mike Bibby, but his role on the team has been severely limited with both Shumpert and Douglas ahead of him on the depth chart. Aside from him, the Knicks' veteran presence is non-existent.
There are several free agents with experience on the market, all waiting to become potential role-players for a team making a title run. Two-time NBA champion James Posey and long-ball specialist Eddie House come to mind, and even Gilbert Arenas would be a sensible signing if he were to agree to the league minimum.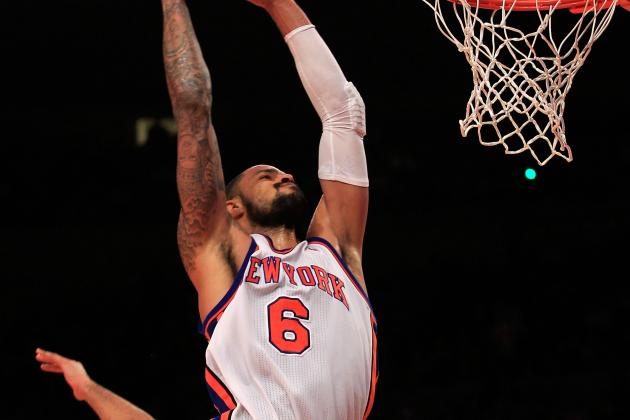 Chris Trotman/Getty Images

I've stated before that defensive-aficionado Mike Woodson is the key to defensive improvement in New York, where under head coach Mike D'Antoni, shot contention and rebounding have been a serious liability.
Through eleven games this year, the Knicks are a lousy 26th in the league in differential on the boards. Perhaps the biggest step that needs to be taken is an augmented focus on interior defense.
The Knicks have won two NBA titles in franchise history, both with Hall of Fame center Willis Reed. And with all-time great center Patrick Ewing down low in the '90s, the Knicks were contenders in the East year after year. History goes to show that New York will go nowhere without a strong rebounding game.
Every elite squad in the Eastern Conference has a dominant big man, be it Bosh in Miami, Garnett in Boston, Howard in Orlando, or Boozer and Noah in Chicago. The Knicks don't need a personnel change in the frontcourt, as they clearly have the talent necessary to match up with or even claim an advantage over a given opponent.
All they have to do is execute.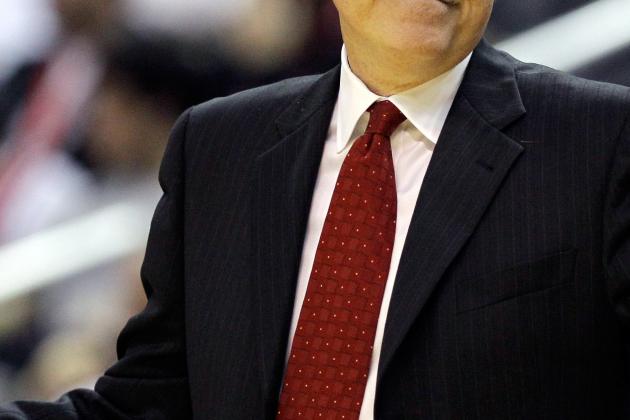 Rob Carr/Getty Images

Building off of the previous slide, execution is largely the responsibility of a coaching staff. While it seems almost cliche at this point to suggest a firing of Mike D'Antoni amidst insurmountable criticism from the New York media, the Knicks need a head coach who will get them on the right track defensively.
D'Antoni is not that guy.
In three seasons with the Knicks, D'Antoni has had just one winning season, and is 0-4 in the playoffs. In both New York and in Phoenix, D'Antoni has employed a system that prioritizes fast-pace offense. But, as the infamous sports adage goes, "defense wins championships."
A lack of defensive improvement with D'Antoni will be the Knicks' demise, and perhaps Mike Woodson will finally instill some changes—as an interim head coach.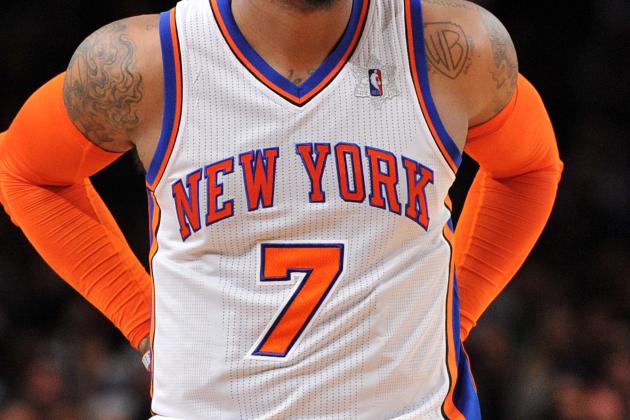 Christopher Pasatieri/Getty Images

The Knicks came into 2011-12 with lofty expectations, and when Chandler was acquired via sign-and-trade, many fans expected a title banner for the Garden rafters by the end of spring.
Between marketing campaigns that depicted this year as "their time," and a shortened 66-game season, the Knicks were pressured to look good, and fast.
The team and the New York media alike need to recognize the fact that success is a gradual process in the NBA, and with a bit of patience, the Knicks can begin to take each game one at a time.
It is vital for the Knicks to manage the pressures and expectations that encompass them, otherwise, they will end up mirroring last year's Miami Heat squad and fall flat in the playoffs.