Dallas Cowboys: Jason Garrett's Title Questioned Following Bill Callahan Hire
January 13, 2012

Handout/Getty Images
Just prior to this weekend's divisional playoff games, the Dallas Cowboys are making moves that might cause one to scratch their head.
In a move that might have been seen as fiction just 24 hours ago, the Cowboys have added not just a new offensive line coach to replace retiring Hudson Houck, but also an offensive coordinator.
ESPN's Calvin Watkins reports that NFL veteran coach Bill Callahan will not only serve as offensive line coach, but will also carry the title of offensive coordinator, apparently relieving head coach Jason Garrett of that responsibility.
Or does it?
While it would certainly be appropriate to bring in an offensive coordinator with much, more experience than Garrett, it seems to really pale in significance when it's also understood that Garrett will continue to call the plays.
Can somebody explain this to me?
Obviously, Garrett is arguably a terrible play caller and game manager. Some in the national media have referred to him as having been way over his head as a head coach in 2011.
You think?
Aside from what analysts and even fans think or say, there is truth to this dilemma seeing as how Callahan was hired in the first place.
Now, I'm not writing about this if Callahan is simply hired to replace Houck, a longtime NFL assistant head coach who played a role in the careers of Larry Allen and Erik Williams and Dallas Super Bowl wins in the 1990's.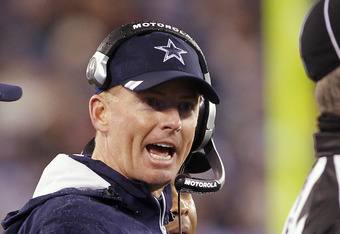 Rich Schultz/Getty Images
But the OC part is where I'm really confused.
To start with, having an offensive coordinator that does not call plays seems pretty strange to me. Unless you're a proven offensive mastermind like Bill Walsh or Mike Shanahan, I can understand.
But the mere fact that Garrett, hired as a completely inexperienced OC in 2007 with no significant coaching experience of any kind, has been stripped of that title kind of calls into question why he's even employed in Dallas in the first place.
And it's also being speculated, for good reason, that having a veteran of Callahan's stature involved with the Cowboys will help Garrett manage games better.
Huh?
I've asked this question before: When did head coach of America's most valuable and visible sports franchise become some kind of on-the-job training site?
Jerry Jones has stated more than once that Jason Garrett is his boy, apparently no matter what. But do his actions speak as loud as his words?
Cowboys fans are being told, based on actions mind you, that Garrett can neither handle the offensive coordinator title and also has a long ways to go as a head coach.
So again I ask the question: Why is a guy who's been referred to as the "Red-Headed Genius" still around?
Quickly, it's worth noting that Callahan led the Oakland Raiders to Super Bowl XXXVII, where the "Men In Black—Or White That Day"—were torched by the Tampa Bay Buccaneers. But hey, that's way, way more than we can say for Garrett.
Callahan comes from the New York Jets, where he played a role in the development of linemen such as tackle D'Brickashaw Ferguson and center Nick Mangold. With the Cowboys really needing to significantly upgrade the offensive line, Callahan's input probably could not come at a better time.