Pittsburgh Steelers: Who Is at the Root of the Team's Scoring Problems?
January 12, 2012

Gregory Shamus/Getty Images
Ask any Pittsburgh Steelers fan, and you'll know that Bruce Arians is why the offense is so bad.
How could an offense with so much talent at the skill positions rank 21st in the league in scoring?
It's Arians' fault.
Why did the 10th-ranked passing offense with weapons such as Mike Wallace, Antonio Brown and Heath Miller place only 13th in touchdown receptions?
Of course, it is on Bruce Arians.
A team with Ben Roethlisberger at quarterback and one of the best deep-threat receivers in the game scored less points than the Baltimore Ravens and Cincinnati Bengals.
Roethlisberger only threw 21 touchdown passes this season. That is only one more than Joe Flacco and Andy Dalton, and fewer touchdowns than Mark Sanchez and Ryan Fitzpatrick.
That isn't exactly a group of prolific passers.
The answer is clear: "Fire Arians!"
Fans have been calling for his firing for years, but despite not reaching his full potential, Roethlisberger continues to support his play-caller.
"We've got something special here," Roethlisberger told Ron Cook of the Pittsburgh Post-Gazette. "We've got a lot of great young players. As long as they don't get crazy and change the offense—that can really set you back—the sky is the limit for this team."
The sky is the limit?
No, the end zone is the limit, and Arians has held them back—but so has Roethlisberger.
Before you scream at me for bashing Roethlisberger, I'm not. He is one of the major reasons, if not the major reason why, the Steelers have won two Super Bowls and been in a third. He is a winner.
However, that does not mean his game cannot be improved.
The NFL has evolved into a passing league, and so have the Steelers, but they have not joined the elite level of precision passing teams that you see in New England, New Orleans and Green Bay. There is a reason why they are still playing right now.
Tom Brady, Drew Brees and Aaron Rodgers are excellent at getting rid of the ball and picking apart the defense. Brady and Brees had more than 5,000 passing yards this season, and all three put up unreal touchdown numbers (Brady 39, Brees 46, Rodgers 45).
So why is it a quarterback as great as Roethlisberger only put up 21? Is it the offensive line?
Maybe, but the Packers' line isn't very good.
Is it the weapons?
Pittsburgh has some great options.
Is it the play-calling?
This certainly has an impact.
When it comes down to it, Brady, Brees and Rodgers have produced on the field this season and Roethlisberger didn't.
Granted, he had an ankle injury that slowed his production at the end of the year, but Roethlisberger is too good to not have one of the top scoring offenses in the league.
As with anyone in a changing game, Roethlisberger needs to tweak his style if he wants to reach the levels of the elite passers in the game.
That may mean that he has to lose a bit of his big-play mentality and take the safe passes.
Going for the big play has defined Roethlisberger and has helped him win.
It has also resulted in him being one of the most-sacked quarterbacks in the league.
Roethlisberger got hurt against Cleveland looking for a big play. He looked past wide open receivers to throw deep to Wallace against Denver in the playoffs.
He looks deep, well, every game.
I am not advocating against big plays, but when the running back is wide open in the flat for a potential eight-yard gain, or Miller is open over the middle for a first down, take it. There's no need to heave one up to Wallace, who is in double coverage.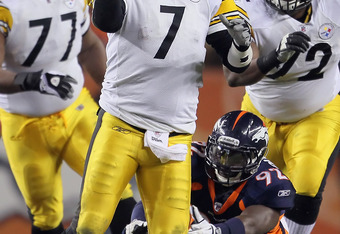 Jeff Gross/Getty Images
Roethlisberger proved he could do it earlier this season against New England when the Steelers implemented a quick passing game. Pittsburgh's wide receivers are pretty well-suited to this style.
Wallace, Brown and Emmanuel Sanders can all take a five-yard completion and turn it into a 50-yard catch and run. The big play is there, but it is there off a quick pass.
Then again, the offensive coordinator needs to call these plays.
Often times it seems as though Roethlisberger wants to do it all and pick up a score on one play. It is too difficult to do that every play, and how the league is set up with its rules, there is no reason why the Steelers couldn't methodically move the ball down the field with short and medium passes to their receivers, and by using the backs and tight ends as outlets.
Is that in Roethlisberger's make-up?
No, that is why he rarely uses them.
But if this team wants to produce to its potential, he is going to have to start.
With that said, an offensive coordinator who can step in and help Roethlisberger improve this area of his game is needed, and Arians is not that coordinator. Pittsburgh needs a coordinator who can get this offense to run an effective screen to the running back—please, no more wide receiver bubble screen!
I guess we are back to the original root of the problem: Arians. 
The simple solution?
Fire Arians!
Well, maybe not fire him—that is a bit harsh.
Instead, it is time for both sides to mutually part ways, and let's see what the true limit is.