MLB: How Will Hall of Fame Voters Treat the Class of 2013?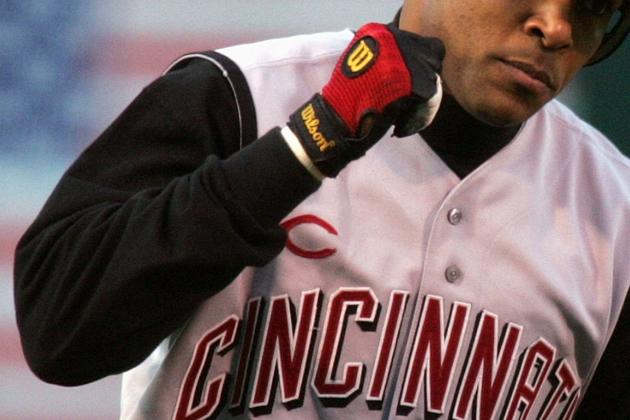 David Paul Morris/Getty Images
Who will join Larking in the Hall of Fame in 2013?
Before former Cincinnati Reds shortstop Barry Larkin's Hall of Fame plaque could be ordered on Monday, talk had already turned to the 2013 class of eligible players, but for all the wrong reasons.
Between 1984 and 2007, the names Biggio, Piazza, Bonds, Schilling, Sosa and Clemens were synonymous with greatness. There was also a period of time when a few of these names were linked to performance enhancing drugs, thus tarnishing America's pastime in the wake of their indelible mark on baseball.
On statistics and accomplishments alone, the first-time eligible players for the 2013 National Baseball Hall of Fame in Cooperstown, New York could be considered the greatest class inducted since Babe Ruth, Ty Cobb, Christy Mathewson, Honus Wagner and Walter Johnson entered in 1936. But because of the "steroid era," question marks hover over some of the game's greatest players.
Begin Slideshow

»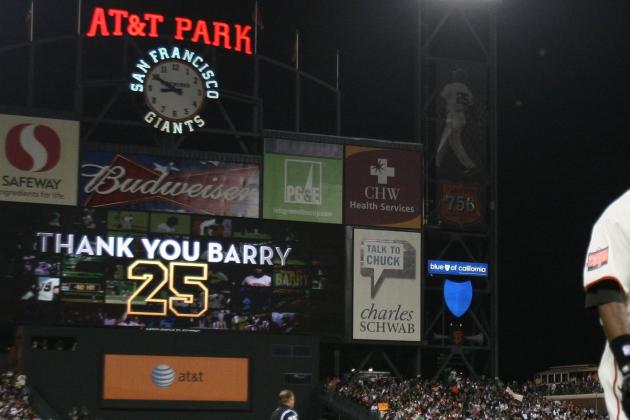 Jed Jacobsohn/Getty Images
Bonds is worthy but is that enough for voters?
In 2003, Barry Bonds was caught in the BALCO scandal. For those that may have forgotten what the Bay Area Laboratory Co-Operative scandal was about, it was about Greg Anderson allegedly providing steroids or performance enhancing drugs to athletes and Major League Baseball players. One of his most successful clients was Bonds.
Stemming from Bonds' now infamous testimony, he was charged with perjury and obstruction of justice in 2007, cutting a legendary 22-year career short; there was some gas left in Bonds' tank.
There was also a desire by the home run king to keep playing, but the controversy surrounding Bonds proved to be too much negative attention for any team to bear, and understandably so.
Bonds finished his career as the all-time home run leader with 762, the leader in walks with 2,558 and intentional walks with 688. He has the single-season home run record (73), most consecutive seasons with 30 or more home runs (13), highest on-base percentage in a single season (.609) and he is tied with his father for the most 30-30 seasons in a career (five).
If those accomplishments are not enough, he won seven National League MVP awards, including four in a row (1990, 1992, 1993, 2001, 2002, 2003 and 2004).
If one is looking for holes to poke in Bonds' career—good luck. He was 65 hits shy of 3,000 and a career .298 hitter. His career average is tied with Mickey Mantle and Jim Rice and places him ahead of newly-elected Hall of Famer Barry Larkin (.294) and soon-to-be first-ballot Hall of Famer Ken Griffey Jr. (.284).
He retired No. 4 on the all-time runs batted in list with 1,996.
Did he admit to using the "cream and the clear" ointment from Greg Anderson or did he not? Speculation still surrounds this possible forthcoming information from Bonds.
Will his conviction of obstruction of justice charge on April 13, 2011 be enough to keep voters away from one of the most feared hitters to ever play the game?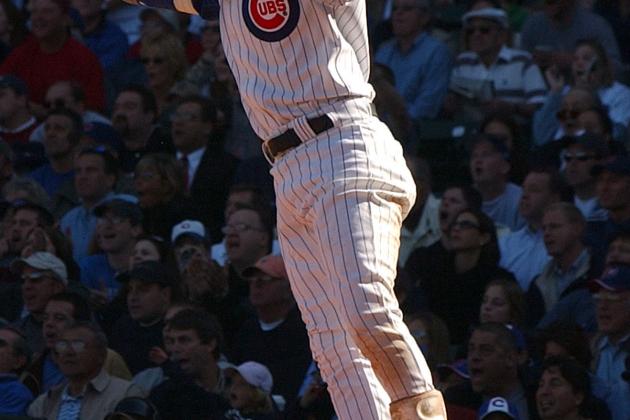 Jonathan Daniel/Getty Images
Slammin' Sammy watching one of over 600 leave the yard.
Sammy Sosa is another player who was implicated during his playing career but was never formally found guilty of failing a drug test. How will the election committee view his career?
At the time of his retirement, Sosa was one of five players with 600 home runs; at one time, 500 home runs were considered the magical benchmark needed to make into the Hall of Fame. He won the 1998 National League MVP and was a seven-time All-Star in his 18-year career.
Sosa twice led the league in home runs but oddly never during any of his 60-plus home run seasons (1998, 1999 and 2001). He led the league in 2000 with 50 and in 2002 with 49.
His career batting average of .273 is average for power hitters and his 1,667 RBI currently rank him No. 27 on the all-time list. When he retired, he was in the top 100 on the career hit list with 2,408, placing him ahead of Hall of Famers Ryne Sandberg, Larkin, Kirby Puckett and Joe DiMaggio.
He led the NL in runs three times (1998, 2001 and 2002), home runs twice, RBI twice (1998 and 2001) and total bases three times (1998, 1999 and 2001).
In 2009, the New York Times reported that Sosa failed a drug test back in 2003. Also in 2003, Sosa was found corking his bat—an illegal action in MLB.
Slammin' Sammy was also part of the Grand Jury that testified before Congress in 2005 regarding steroids in baseball. Sosa did not directly testify, claiming he did not speak English well enough to do so.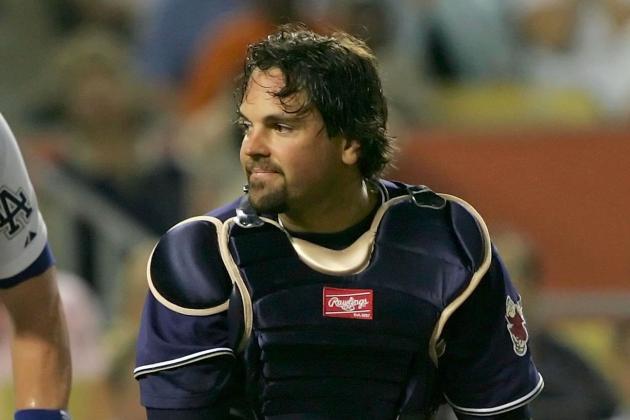 Lisa Blumenfeld/Getty Images
Is Piazza Hall worthy?
Mike Piazza is typically regarded as one of the best hitting catchers of all time. His 396 career home runs as a catcher is tops in MLB history. A .308 hitter during 16 years in the majors ranks him No. 120 for career average.
Piazza was the 1993 NL Rookie of the Year as the Dodgers catcher. He was with the Dodgers until 1998, when he was traded to the Marlins before being traded again to the New York Mets. Piazza had better overall career numbers as a Met but earned his reputation as a hitter in Dodger Stadium, a pitcher's park.
Postseason numbers do not support his place among the best players ever. In eight series played over five seasons, a total of 32 games, he hit .242.
As a defensive catcher, he allowed over 100 stolen bases eight times, topping out with 155 in 1996. From behind the plate, 23 percent of baserunners were caught stealing by the lumbering catcher and 10 times he allowed the most bases stolen in the NL.
In 1995 and 1996, he led the league in passed balls (12 both seasons). Four times he led all catchers in errors (1993, 1994, 1997 and 2002). Five other times he was in the top two to four in total errors for a season among catchers.
The most surprising statistics of Piazza's may be that he had eight triples in his career and 17 stolen bases.
Whispers of PED surrounded Piazza, but he was never openly found to violate the league's substance abuse policy.
Chances are Piazza makes it into the Hall in one of his first two attempts unless documentation surfaces about him taking performance enhancing drugs before the election committee submits their votes.
A question begs to be asked—if Piazza was not a catcher, would his career numbers be good enough for the Hall of Fame?
The followup question to voters—because a guy is an above-average hitter for his position but a below-average player in the field, does that merit a Hall of Fame career?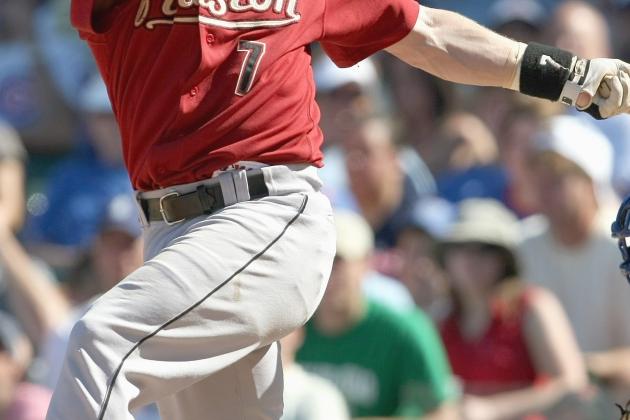 Jonathan Daniel/Getty Images
One of the Killer B's will get into the HOF.
Craig Biggio came up through the Houston Astros organization as a catcher, but he will be remembered by most as a second baseman. Biggio's rare athletic ability allowed him to play parts of five seasons behind the plate, parts of five seasons in center field, six in left field and 15 at second base.
In 20 total seasons, he was named a NL All-Star seven times, once as a catcher, and a Gold Glove Award winner at second base five times (1994, 1995, 1996 and 1997). He was nine home runs shy of joining Willie Mays as the only other player with 3,000 hits, 300 stolen bases and 300 home runs.
Biggio's true power shows in his career doubles. He retired with 668 doubles, fifth all time, and tops for a right-handed batter. A testament to his speed on the base paths as well.
A dubious honor but one that counts towards his on-base percentage is his hit-by-a-pitch stat line. He was hit 285 times, leaving him two short of Hughie Jennings (1891-1918). Five times he led the league in HBP, being hit 34 times in 1997.
At second, Biggio had great range, which contributed to his high error totals. Seven times he was among the top five in errors, but he never led the league. His effort in the field paid off as he was first in putouts five times and in the top five six other times.
He totaled 3,060 career hits (No. 21 on the career list) with 1,844 runs scored (No. 13 all time).
Biggio was a gamer and deserves a spot among the best ever. Voters will overlook his career .281 batting average and his career postseason average of .234.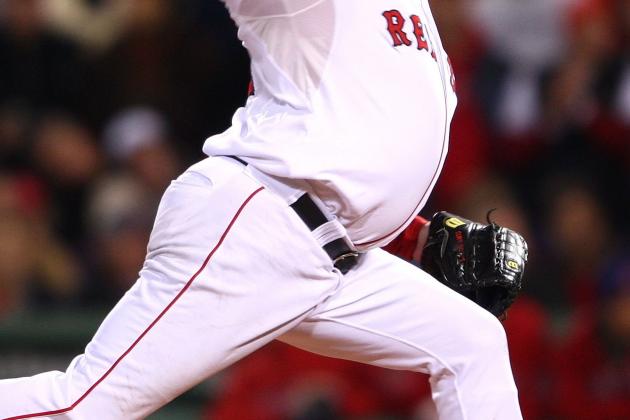 Elsa/Getty Images
Schilling made it count in the post season.
If the election committee took into account a player's birth place, then Curt Schilling may get inducted as the best major league pitcher ever born in the state of Alaska. As it is, Schilling is on a dangerous Hall of Fame line after compiling 216 career wins, well short of the mythical 300 needed by most starting pitchers.
Schilling may fall into the Jack Morris area among voters. Morris was a three-time World Series winner and a World Series MVP like Schilling. However, Morris won 38 more games over his 18-year big league career than the 20 years Schilling played.
Known as a strikeout pitcher, utilizing his four-seam fastball with a great changeup and a devastating split-finger fastball, Schilling was also a workhorse on the mound, twice leading the NL in innings pitched—1998 with the Phillies and 2001 with the Diamondbacks. Twice he led the NL in total strikeouts (1997 and 1998), placing him No. 15 on the career list.
The postseason is where one wants to shine and that is exactly where Schilling shined. He and his bloody sock won 11 games while only losing two over 19 starts. He was not bailed out by his offense, either. He posted a 2.23 ERA over 133.1 postseason innings pitched.
Schilling may have to wait around a few years if he is ever inducted into the Hall.
He led the NL once in wins with 22 in 2001 with Diamondbacks and once in the AL with the Red Sox with 21 wins. He went over 20 wins a total of three times in his career.
He was known as a good-to-great pitcher but never known as the most dominate of his era or even during any one season, most notably because he never won a Cy Young Award.
Speculation with steroids was never a problem for Schilling, but his conflicts with management, players and the media made him a notorious player during his career.
Should a starting pitcher during the steroid era get extra consideration for the Hall of Fame because of the gaudy offensive numbers compiled during that time?
Dave Sandford/Getty Images
The Rocket won two World Series with the Yankees.
Love him or hate him, Roger Clemens is among the best pitchers to ever play in Major League Baseball.
The Rocket spent 13 of his 24 years in a Red Sox uniform, winning 192 games with a winning percentage of .634 over that time. After four subpar seasons in Boston, which saw him accumulate a record of 40 wins and 39 losses, including the only two losing seasons of his career, he reinvented himself in Toronto in 1997.
Over the following 11 years, Clemens won 162 games, losing 73 times for the Toronto Blue Jays, New York Yankees and the Houston Astros. He added four more Cy Young Awards to his mantle during this time, collecting a total of seven through his time in "the show."
Here are a few of the Rocket's career accomplishments: four times he led his league in wins, seven times led the league in ERA, 16 years of 30 or more starts, six times led the league in shutouts, five-time leader in strikeouts and twice led the league in innings pitched.
It's hard enough to win seven Cy Young Awards (1986, 1987, 1991, 1997, 1998, 2001 and 2004), much less to be named the league MVP as a pitcher, something Clemens accomplished in 1986.
He was also an 11-time All-Star and won two World Series with the Yankees in 1999 and 2000.
He ranks No. 3 on the career strikeout list with 4,672, No. 9 with 354 total wins, No. 16 in career innings pitched (4,916.2) and No. 26 in career shutouts (46) with 118 complete games.
Clemens was named to the Mitchell Report, citing that he had used steroids or was connected to performance enhancing drugs. The Rocket denied his use of steroids. He was later charged with six felony counts including perjury, false statements and obstruction of Congress.
July 14, 2011, on the second day of testimony, his trial was declared a mistrial because of prosecutorial misconduct. A retrial date has not been set.
The jury literally is still out on Clemens and his usage of PEDs. The most important question is, how will the Hall of Fame voters treat one of the best pitchers to ever take the mound?
Is speculation of steroid use enough to keep Clemens from the Hall of Fame?
Are his accomplishments before the steroid era enough to vote him into the Hall?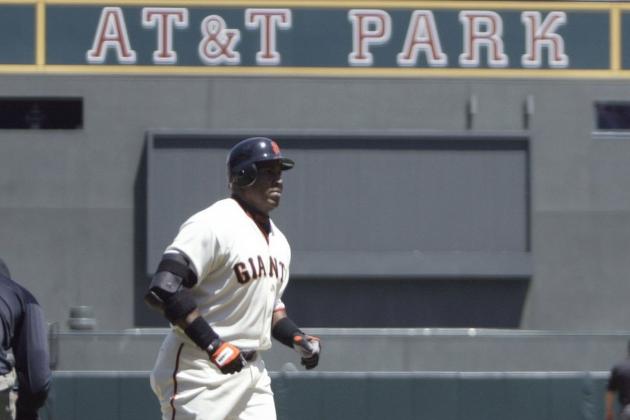 Otto Greule Jr/Getty Images
Will baseball milestones be enough for these great players?
Six players worthy of Hall of Fame consideration await their fate. Will they receive the ultimate honor bestowed to the greatest players of the game by being elected, or will the steroid era taint the accomplishments of all six players that will be eligible for the first time in 2013?
If you had a vote, which players would you elect to the Hall of Fame in 2013?