Why the Miami Dolphins Are Lucky Jeff Fisher Chose the St. Louis Rams
January 12, 2012

Andy Lyons/Getty Images
(UPDATE: ESPN is reporting that Fisher has decided to become the next head coach of the St. Louis Rams.) 
After an agonizingly long deliberation period, Jeff Fisher still has not announced whether he will become the next head coach of the Miami Dolphins or the St. Louis Rams. 
Recent speculation suggests that Fisher is leaning towards Miami, but until an official announcement is made, all rumors should be treated as, well, rumors. 
Now, let me preface this article by explaining that I would be ecstatic if the 'Fins hired Fisher. In a year where the candidate pool is dominated by unproven—and largely underwhelming—assistants and coordinators, Stephen Ross is on the brink of luring in the best and most qualified coach on the market. 
Not only would Fisher attract fans, elite assistant coaches and blue-chip free agents, but he could also bring stability and credibility to one of the most dysfunctional franchises in the NFL. 
But, empirical evidence suggests that hiring Fisher is an extremely risky move. For evidence, let's take a look at other prominent NFL coaches who retired, took a hiatus and later returned to the sidelines—much like Fisher is about to do. 
Mike Ditka cruised to a championship with the Chicago Bears but later ran the New Orleans Saints into the ground. Jimmy Johnson built a dynasty in Dallas, but only propelled Miami to two playoff wins. Mike Shanahan brought a pair of Lombardi Trophies to Denver but is already on the hot seat in Washington D.C.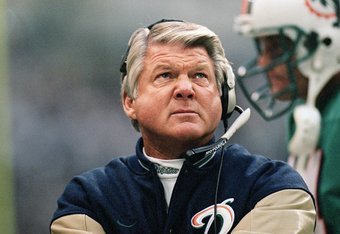 Ronald Martinez/Getty Images
And don't forget about others like Joe Gibbs, Mike Holmgren, Bill Parcells, George Seifert and Tom Flores.
All of these coaches were immensely successful in their original head-coaching tenures, but failed to duplicate their success with new teams.
This should serve as a caveat to anybody seduced by name recognition. Remember, Sean Payton, Mike Tomlin and Mike McCarthy were all anonymous assistants before they received their first head-coaching jobs. Look at them now.
However, there is good news.
Unlike all of those aforementioned names, Jeff Fisher has never won a Super Bowl (Yes, this is actually a positive). 
Consequently, Fisher belongs under a small list of coaches who lost a Super Bowl game with one franchise and later coached for another. The full list of such coaches includes Dick Vermeil, Don Shula, Sam Wyche, Dan Reeves, Bobby Ross and Forrest Gregg.
Why is this good news?
None of the 12 NFL coaches who won a Super Bowl and then moved on to coach another team managed to capture a championship with their second team. 
Meanwhile, two of the six coaches who lost a Super Bowl game and then moved on to coach another team captured championships with their second team. 
The batting average of the latter makes Fisher's lack of a championship comforting.
Still, though, the odds are stacked against him. 
So, can Jeff Fisher break the trend of big-name coaches flopping in new locations?
Time will tell.
But the man has to make a decision first. 
UPDATE: Fisher may have chosen St. Louis over Miami, but this could be a blessing in disguise for the Dolphins. The evidence shows that big-name coaches struggle in their returns to the sidelines, and the 'Fins must now settle for a "young and hungry" coordinator.