Manchester United Transfers: 10 January Deals That Would Secure Title No. 20
Jasper Juinen/Getty Images

When you think of the luxury "marquee" signings Sir Alex Ferguson has made in the past, such as Juan Sebastian Veron and Dimitar Berbatov, Kaka fits the model of Sir Alex's dream player.
So does Karim Benzema. How Sir Alex must regret the eternal pull of Real Madrid and the Spanish weather. The French striker is unlikely to feature at Old Trafford any time soon (unless as a makeweight for the sale of Wayne Rooney...and we'll take Sami Kedhira, please!)
A couple of years ago, Kaka would definitely have fit the bill. Now, although he is more likely to be available than ever before, he is unlikely to be on Sir Alex's shopping list.
Yes, he's a potential straight swap for Paul Scholes but, like Fernando Torres, he looks a shadow of the former self that commanded a £60 million fee from AC Milan. He played only 14 games last season and, although he has already made 13 appearances this year, there remain question marks about his pace and fitness for the Premier League.
What Would Persuade Fergie to Open His Purse?
Sir Alex has variously suggested: There is no value in January; he needs no signings; he would only sign a top player, but they aren't available; etc.
So what, if any, are the key characteristics that would persuade him to splash the cash?
While the Champions League exit may have dented the bottom line to the tune of £20 million, United are still in the Europa League and in any case, a highly visible, credible signing or two would add more brand value if the Singapore float was to go ahead.
The Glazers have apparently confirmed that Fergie can spend for players who would add value to the squad. There is apparently £67 million cash available.
For all that Sir Alex eschews January signings, he made two key ones in Evra and Vidic. The coup for Hernandez though, in summer 2010, came out of the blue, as did the former two. But this time any likely targets are probably already in the public domain.
The Critical Factors
In the cold light of day, United have done very well to be ahead of this time last season and only three points off the pace despite the injury crisis they are still in.
While you cannot afford to build a squad big enough to cope with any such crisis, Sir Alex will undoubtedly focus on one factor above all, whether he swoops in January or the summer—versatility.
Versatility in being able to play more than one position but also—and this is critical—any United player coming in or coming up must be able to attack as well as defend (and vice versa). We might call this adaptability.
We're not talking a utility player here, like John O'Shea, but Phil Jones, Michael Carrick and Wayne Rooney have already shown a willingness to sublimate their own preferences in favour of the team's needs.
The next, most obvious factor, based on my previous article and sheer realism, is availability.
And finally, though we won't mention it later, it is a given that any player wanting to come into the club must want to play—and stay—at United. So no gold-diggers please!
And sadly, this latter has become critically important in the case of two players who could save United a fortune in the future—Paul Pogba and Ravel Morrison.
Both have been linked with moves away, and both have incurred the displeasure of Sir Alex because they have appointed new agents to secure them the best deal. Paul Scholes never needed a "super-agent."
Sadly, Sir Alex would rather let these two starlets go than be held to ransom. The fans might get uppity, but if either decides to jump ship for more money, they are not committed anyhow, and the spectre would raise its ugly head in the future.
Ravel Morrison can simply not be trusted. Sir Alex has tried to advise the lad, following his three brushes with the law, but there is no reason yet to believe he has learned his lesson. His absence from playing—even for the reserves—suggests he has fallen from favour.
Of the two, therefore, it seems likely that Pogba would remain.
Why else is this significant? Because if they were both going to stay, bringing in new midfielders would reduce their chances; if they are not, then all the more reason for Sir Alex to look to the future, with someone like Goetze.
So versatility, adaptability, availability and hunger are key. The other commodity that Paul Scholes' return from retirement suggests is a lack of experience in the squad going forward.
Scholes' re-emergence may also be significant in a couple of other ways: He may be a stop-gap until Tom Cleverley is fit (currently not likely before mid-February), but it also suggests that no midfielder is expected before the summer.
Begin Slideshow

»
Jasper Juinen/Getty Images

So, we're only talking about players good enough to help ensure a 20th title. We're also talking of a maximum of two signings. Nothing more is needed, if all the criteria are met, and at current prices, depending on who was signed, there might be only enough cash for two at best.
Sir Alex is stubborn and will fight tooth and nail once he has made his mind up. In the summer, it looked like Wesley Sneijder was going to be another Berbatov saga, with many people believing right up to the end that the deal would go through.
If anything, the portents from Inter are even stronger. There are plenty of rumours flying around that the Italian giants would settle for a cut-price deal. Now that City have said they are not interested, with them and Inter both wanting to do the Tevez deal, it could only be money that holds it up.
Tevez is happy to move. City would probably take £25 million. Where do Inter get that sort of cash?
Enter Wesley Sneijder.
It seems perfect, but Wesley has had a chequered injury record in the last 12 months. His wages are unlikely to be below £200,000 a week. Wayne Rooney might not baulk at that, but others in the squad would have an interest.
So the question is, would Sneijder be worth the fee? If he is fully fit, it's an unqualified yes. He can play No. 10, attacking midfield or defensive midfield if required, even though he prefers the former.
His form in the World Cup suggests that he is as complete a "trequarista" as there is in world football. He would immediately up United's game and pace and has the capacity to become a United legend.
It is quite possible that Fergie is giving us all the runaround. He will only deal on his own terms. In the summer, there may be other, younger players available who he would have time to mould into his new dynasty.
If Inter do need the funds and Wesley, like Cahill at Bolton, is fed up with the uncertainty, surely £20 million or so and a £200k paycheck would swing the deal.
Mike Hewitt/Getty Images

Mats Hummels is the top defender in the Bundesliga and one of the best in the world.
He is the right age at 23, with the right experience: a total of 33 caps for Germany, of which 12 are at full international level.
Top German players don't often transfer to the Premier League, partly because Bayern Munich is the big draw. But Borussia are shaking things up. Mats doesn't need to leave them to get success, and indeed left Bayern to join them.
At the end of the day, whether Sir Alex was to get his man would depend on a mix of Dortmund's ambition and their financial resources. They have just entered into an agreement to sign Marco Reus for £14 million in the summer. If they got £30 million for Hummels, they probably wouldn't need to sell anyone else—including Mario Goetze.
However, having exited the Champions League, they will not have the cash they would otherwise—especially as they didn't qualify for the Europa League either. The Bundesliga doesn't carry the financial rewards those other two competitions do—even if Dortmund win the title.
It could also come down to personal ambition. If Hummels were to move, surely he would want to join a club likely to be Champions League contenders in future. United are no longer in the competition.
Finally, when you consider the price and—even in Vidic's absence—the centre-back resources that United already have, Mats is unlikely to arrive this winter.
Claudio Villa/Getty Images

While we're on a Borussia Dortmund tack, there are two other players who would not only help ensure a 20th title but also keep emerging in rumours—Neven Subotic and Mario Goetze.
Indeed, some sources have suggested that Sir Alex is interested in a "package deal" for the two.
Subotic is also a central defender and Hummels' "junior partner." He does come with a couple of advantages, however:
He is potentially more valuable, being comfortable as a centre-back but also scoring goals.
He is Vidic's fellow countryman and has played 28 times for Serbia, many times alongside his senior. Presumably, Nemanja could act as an encouraging factor for a 23-year-old who could eventually succeed him.
He would probably cost no more than £20 million.
This is a good time for Sir Alex to be looking at European stars. Sterling is stronger against the Euro than for some time. That may not continue if Merkel and Sarkozy can cobble together a workable deal.
Chelsea apparently had a £17.5 million offer turned down in the summer. Sir Alex dare not wait until this summer, when the competition for the Serb's signature could heat up.
Again, a January deal will be decided on whether Dortmund will sell.
Scott Heavey/Getty Images

This one is a wild card, predicated on three considerations:
Do United have enough fit centre-backs to survive possible injuries?
When is Vidic actually likely to return, fully fit?
How adaptable is Phil Jones prepared to be?
We have included Chris Samba for six other reasons:
He is available. Blackburn seem to need to sell.
At £6 million he wouldn't break the bank—he could even be sold on at a profit if he proved surplus to requirements.
He scores goals.
He is as strong as Vidic in defence.
He could replace the combative Vidic, either in due course, or if the Serb didn't return.
Gary Cahill seems likely to go to Chelsea.
Dean Mouhtaropoulos/Getty Images

All of our shortlist players add something to United's title chances—even if it's as a stop-gap until the injury crisis abates.
Most of them are already on Sir Alex's radar and could become available.
Jack Rodwell has been coveted by Ferguson for some time now. Maybe his interest cooled last season, which wasn't the best for the Everton player.
Now, ironically, he seems to have become central to his club's success, which has an ironic twist because the better he plays, the more he will be coveted.
Like Wayne Rooney for United, he has been prepared to play where the manager needs him. Like Phil Jones, some people may still not be sure what his best position is.
For Sir Alex, he would be perfect. He has youth, experience (107 appearances for Everton), can play at centre-back or in midfield. Despite his defensive qualities, he can play a more offensive role, as he has shown for England, where he is surely a star of the future.
It is rumoured that Everton are cash-strapped. For the £20 million that Rodwell would fetch, David Moyes could add at least three useful players. No doubt United would try to make Darron Gibson one of those, but they could also add a player on loan, like Pogba or Morrison.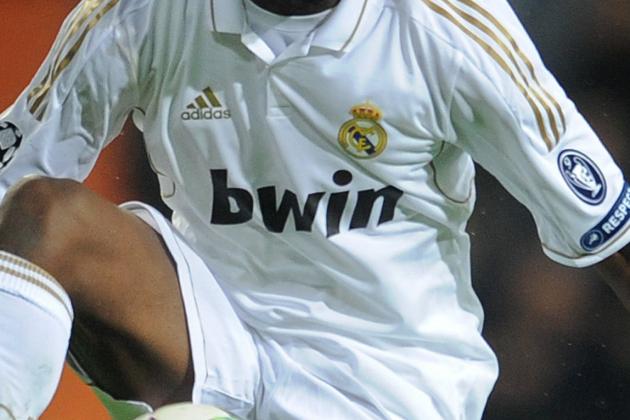 Jasper Juinen/Getty Images

If one of the reasons why Fergie is reluctant to buy anyone is the flow of bright, young prospects coming through (especially in midfield and centre-back), then he would not seem to need a creative midfielder.
Paul Scholes looks to at least have plugged that gap temporarily.
The one aspect United have definitely missed is defensive midfield—the "holding role." In truth, they haven't had a player good enough to do this job since Roy Keane—and before him, Bryan Robson and Paul Ince.
People are bulling Phil Jones up for this role, but at present, he doesn't look disciplined enough. When he has played alongside Michael Carrick, he has frequently marauded upfield rather than remaining to break up play.
United, in fact, have never really had a player like Claude Makalele, who was so useful and sometimes pivotal at Chelsea. Lassana Diarra can definitely fill that role.
Increasingly, the top continental coaches are looking to play three at the back. Typically we might think they would all be central defenders, but football is delightfully once again becoming a game played on the ground. Barcelona have no "No. 9" and don't lump balls into the box.
They have also played Mascherano at the back. Diarra, like Yaya Toure, is no mug going forward, but by signing him, Ferguson could not only plug the hole in midfield but also leave room for his wing backs to be more adventurous with Diarra sliding between the two centre-backs.
He is big, strong and fit and has done well previously in the Premiership. Imagine the "weight" United would have if they signed both Samba and Diarra!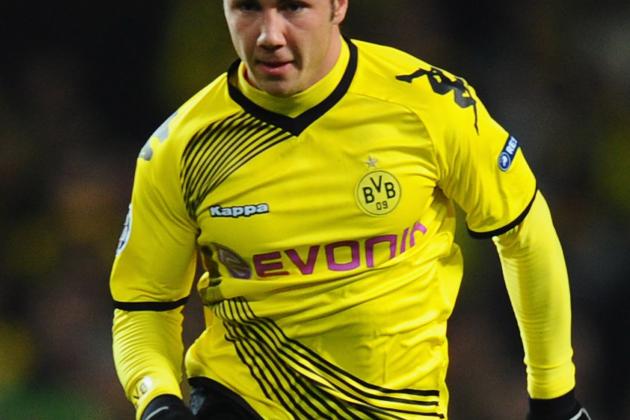 Mike Hewitt/Getty Images

And so, back to the crying need since Paul Scholes retired—creative midfielders.
There is a rumour circulating that United would offer £49 million for Goetze and Subotic. Makes sense, as it fills two possible needs going forward. One is 19 and the other 22. The likelihood of their availability must be greater since Dortmund crashed out of the Champions League.
While Goetze expects to be staying, at least for the time being, nobody has completely ruled out a move, though probably now in the summer.
The young German is rated as one of the best midfield prospects in Europe, if not the world. Unlike Neymar, Goetze can "punch his weight" in midfield as well.
Does the recent signing of Marco Reus by Dortmund signal their greater ambitions or pave the way for Goetze to move on? We shall find out no later than this summer.
There are a host of clubs with reported interest, including Arsenal. Real Madrid surely can't buy everyone?
Sir Alex may eschew buying players in January, but he knows the signings he covets will cost much more if they do well in the European Championships. A few million extra now could save a fortune in August.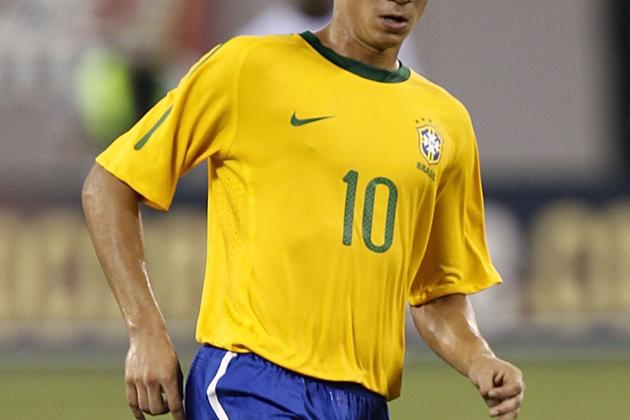 Jeff Zelevansky/Getty Images

Paul Henrique Ganso surely meets Fergie's criteria. He is a six-foot attacking midfielder, rated as one of Brazil's best prospects going forward, at only 22.
Some question whether he could stand the pace and aggression of the Premier League, but David Silva is hardly a giant and has been arguably the most effective player in the League this year.
Ganso also brings the advantage that, with his ball skill and technique, he could play anywhere across midfield—a possible replacement for Ryan Giggs?
His agent is in London, supposedly with a mandate from Santos to sell to someone who puts up £15 million. He is available in this transfer window and would surely be a snip at the price.
There are two things Sir Alex needs to keep in mind. First, that one of his major challengers may sign the player—Spurs are rumoured to be interested, so keeping him out of their hands could be a smart move.
Second, the wily Scot has missed players in the past, either because they've gone elsewhere or their price has risen to a level where he won't do business.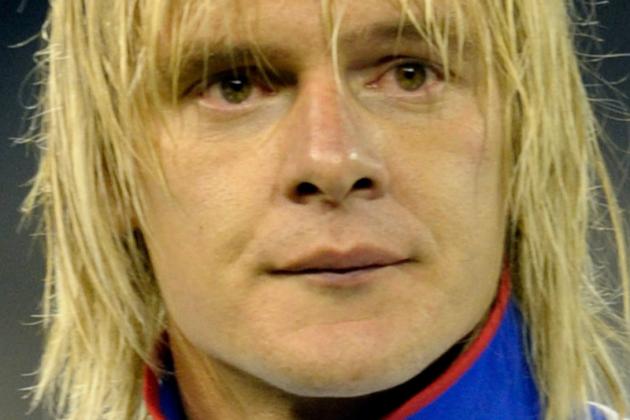 Claudio Villa/Getty Images

Milos Krasic is another player we have strongly argued for before.
As a prospective United player, he has so much going for him. He would surely be an instant favourite with the fans, with his flamboyant style.
He also has the advantage that, while basically a winger, he also could play anywhere across midfield, in an attacking role. Being Serbian he would also fit in with his fellow countryman Vidic, who again might help persuade both sides to do the deal.
Serbs have managed to combine ability with steel, and Krasic with Subotic would also be an enticing pair of arrivals.
He definitely seems to be available right now. While he has slipped down the pecking order, his club Juventus say they want to hold onto him.
Meanwhile, his agent says there is some interest from the Premier League. Juventus would not allow him to move to another Italian club.
Sir Alex has shown interest in the past. At 27, Krasic has plenty of experience, including 46 caps for Serbia. He has often been compared to Pavel Nedved, a classy and accomplished player that Ferguson has certainly admired in the past.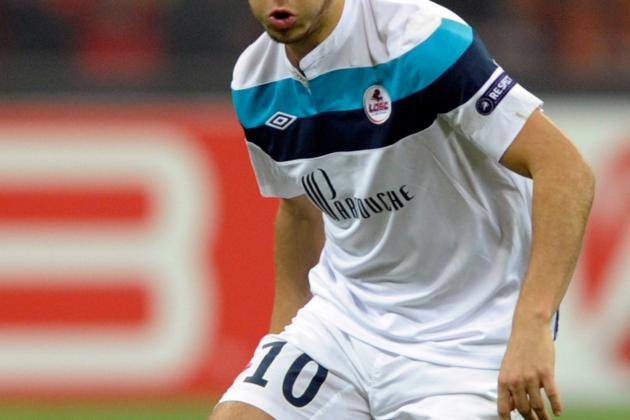 Claudio Villa/Getty Images

Eden Hazard is another attacking midfielder who has been touted at the very top of the game.
Rumours of his moving to the Premier League have been around for some time, most notably Arsenal. In this window alone, he has been linked with City, Real Madrid, Inter and Chelsea.
He also ticks the boxes. He is 21 and some rate him even more highly than Goetze.
The two key questions about these top players are:
Can their clubs hang onto them if a bid comes in?
Who has the money to persuade them to sell?
As we go forward, factors such as the FFP rules will become an increasing factor.
Sir Alex is canny enough to realise that, from this summer onwards—if not already—clubs are going to have to be much more financially astute.
Roberto Mancini has already said he will have to sell to buy. That is surely just as much about getting a high salary off the books as raising the funds to buy a top player.
Ferguson has the money and United's commercial revenues and sensible wage structure suggest they will not have the same constraints that others may.
Even Barcelona had to stick tight to their budget to buy Cesc Fabregas so, with probably Real Madrid the only serious contenders, Sir Alex may get more for his cash going forward.
But if he wants to be certain to win a 20th title, Hazard is the sort of player he needs to buy now, assuming his club are prepared to sell.
Most of the players we have mentioned are an investment for the future. Some bring years of experience and others special qualities, such as strength in defence AND the ability to score goals.
All of them would hit the ground running and either in combination with other players, such as Phil Jones, or on their own, would bring even more versatility and flexibility to the United squad.