NFL Playoff Picks 2012: 3 Players Who Will Disappoint in Divisional Round
January 11, 2012
Jonathan Daniel/Getty Images
Wild card weekend is over, and all four wild card teams have been eliminated.
Heading into the divisional round of the 2012 NFL playoffs, there will be some teams coming off of first-round byes that need to make sure they aren't rusty.
But, there will be some players who aren't prepared for their big games and end up hurting their teams.
Let's take a look at three of those players now.
James Starks/Ryan Grant, RBs, Green Bay Packers
The Packers really need to start running the ball better if they are going to win another Super Bowl.
They have home field advantage, meaning they'll have to play two playoff games on the frozen tundra before making it to the domed Super Bowl in Indianapolis.
In the cold weather, the passing game is inconsistent, so a good ground game is important. Unfortunately, James Starks and Ryan Grant have not been able to provide much in the way of productive rushing this season.
Add in the fact that they are playing a stout New York Giants defense this weekend and things really don't look good for the Green Bay duo.
The Packers are going to have to hope the wind and snow stays away from Lambeau Field this January if they want to have any shot at a Super Bowl repeat.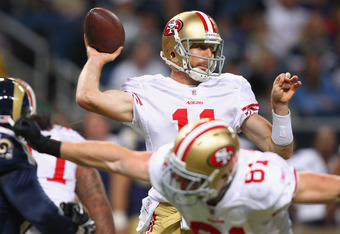 Dilip Vishwanat/Getty Images
Prediction: Packers 24, Giants 21
Alex Smith, QB, San Francisco 49ers
This will be the biggest game of Alex Smith's career. Unfortunately for the 49ers, Smith never really seems to shine in big moments.
The 49ers rely on strong running and strong defense to win ballgames. But this weekend, they'll have to score more points than usual if they want to keep pace with Drew Brees and the New Orleans Saints.
Counting on Smith to be able to pass his team to a victory is an iffy proposition, and it's doubtful he's up to the task.
He'll try too hard in key moments and will end up throwing a couple costly interceptions.
It'll be a quick playoff run for this year's 49ers squad.
Prediction: Saints 38, 49ers 20
Joe Flacco, QB, Baltimore Ravens
Joe Flacco has been an enigma for his entire NFL career so far. He's very talented, but he just hasn't put it all together yet.
He's inconsistent and hasn't been able to lead his talented Ravens teams to a Super Bowl yet.
This weekend, he'll at least have a home playoff game, something Baltimore hasn't had in a while. In fact, this will be Flacco's first playoff start at home in his career.
Which Flacco will show up? If it's the inconsistent Flacco, there's no way the Ravens will be able to hold off the surprising Houston Texans.
Whichever team takes care of the ball better will win this battle of two great defenses.
Prediction: Ravens 17, Texans 13