Kobe Bryant: Is Los Angeles Lakers Star Destined for Historic Scoring Season?
January 11, 2012
Stephen Dunn/Getty Images
Just when you thought Kobe Bryant was out of surprises, he surprised everyone with a 48-point outing versus Phoenix that reminded everyone of a younger Bryant that wore No. 8 instead of 24.
It's not a surprise given Bryant's history of scoring; it's a surprise because in a year we thought he'd show more signs of aging, he's still finding ways to be effective and efficient like the Kobe of old.
In the first 11 games, Bryant is averaging 29.5 points per game, second in the league. He has scored more than 30 points three times. He'll eventually pass former teammate/rival Shaquille O'Neal as the fifth all-time leading scorer in NBA in history.
But his 48 points versus Phoenix was a historical number many of us probably didn't think we'd see.
It's the most points he's scored since March 2011 (also against the Suns). ESPN reported that it's the highest point total anyone has scored this late in his career. The only players who scored more than 45 points in their 16th season were Kareem Abdul-Jabbar and O'Neal.
If Bryant keeps up this pace, we could be witnessing a historic season. Karl Malone has the record for highest scoring average in a 16th season with 23.2 points per game, and Bryant could shatter that.
Certainly nobody has led the league in scoring this late in his career, and while I'd doubt Bryant will pull that off, the fact he'd possibly finish in the top five to top 10 would also be historic.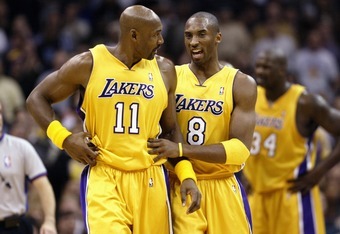 Jeff Gross/Getty Images
Even more mind-blowing? The highest average for a guard is 12.6 points per game by Reggie Miller. Bryant could possibly double that despite being far more demanding with his body than Miller.
Considering that this would happen in a compressed lockout season where playing three to four games a week and frequent travel with barely a day off would be demanding for a younger player, it would make Bryant's scoring pace defy tradition.
Sure, he is taking far more shots than anybody this late in his career, and you'd wish he'd be more economical with his shot selection. Yet if he's making them and the Lakers need it to win, it outweighs whatever complaints we have about him doing it at the wrong times.
(By the way, Bryant is also averaging just under six assists per game. If it holds, that'd be one of the best totals in his career.)
Maybe he's inspired by last offseason's ESPN ranking, where he was ranked the seventh-best player in the league. Maybe it's just him going off against Phoenix, a team he admits to hating, going back to when the Suns knocked out the Lakers in the 2006 and 2007 playoffs.
Maybe it's the desire to remind everyone that despite a torn ligament in his wrist and coming off knee surgery, he's still better with injuries than most are 100 percent healthy.
Either way, if he keeps this up, we're possibly watching one of the greatest late-career performances in not just NBA history, but sports history.
Before the season, I wondered if this would be the last year Kobe would play at an All-NBA level. With a compressed season, I felt like he'd start breaking down in more subtle ways due to constant wear and tear on his legs.
Now I wonder if Bryant will keep finding ways to prove us wrong and surprise us a few more times with his game.