San Antonio Spurs: Analysis of the Kawhi Leonard / George Hill Trade
January 11, 2012
Ethan Miller/Getty Images
With 10 games in their pocket, the San Antonio Spurs are getting a better sense of what they have in rookie Kawhi Leonard.
The 6' 7'' small forward out of San Diego State had 19 points and four steals in Tuesday's loss against the Milwaukee Bucks, giving fans a sliver of joy in an otherwise disappointing loss.
Leonard's season high in scoring is especially encouraging as it comes just two days after he notched his first career double-double in Sunday's loss to the Oklahoma City Thunder.
Gregg Popovich is no doubt concerned about his team dropping two games in a row after winning three straight without injured Manu Ginobili. But he has to be happy with what he sees out of Leonard.
Pop appears to have increased faith in the rookie who earned almost 33 minutes of playing time in the closely contested Bucks game.
Of course, the Spurs didn't get Kawhi Leonard for free. In fact, he cost them one of Popovich's favorite players in guard George Hill, who was shipped to the Indiana Pacers in a draft day trade. San Antonio rarely trades its core pieces, so Hill's departure was surprising in many respects.
Until you take a closer look at Kawhi Leonard.
Leonard is the kind of player analysts have been recommending to the Spurs for years: a strong, athletic forward who can finally replace Bruce Bowen as San Antonio's primary perimeter defender (if not as the heart and soul of the defense as well). 
Leonard put in good minutes against the un-guardable Kevin Durant and appears to feel more comfortable at the offensive end game by game.
After cementing his status as an intriguing young prospect by hitting a crucial three pointer on opening night against the Grizzlies, Leonard has continued to give fans reason to be hopeful about the future.
As Duncan and company slow down, fans can certainly use that hope.
But was all this upside worth parting ways with Hill? A closer looks suggests the move was indeed a smart one for San Antonio.
First, it was a good business move. The Spurs will have Leonard at a reasonable price through 2015. As the 15th pick in the draft, Leonard will make just under $2 million in each of his first three seasons, and only $3 million in the fourth year.
After that, the Spurs will likely make a qualifying offer to Leonard so that they can match any offers he receives on the open market. 
Hill, meanwhile, will be a restricted free agent after this season and could receive offers that net him between $6 and 8 million a year, a price Indiana should probably pay.
Keeping George Hill would likely have forced the Spurs to either trade another pricey player (perhaps Tony Parker) or otherwise forego any serious pursuit of free agents over the next two or three seasons.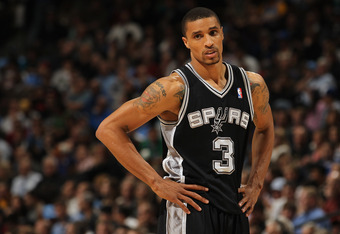 Doug Pensinger/Getty Images
Second, while Hill was a solid sixth-man and capable floor leader, he's proven to be at least somewhat replaceable.
T.J. Ford (signed by the Spurs this offseason) isn't the spot-up jump shooter that Hill is, but he's more than capable of creating plays for his teammates and running the offense while Parker rests on the bench. 
Ford certainly does not offer the same length or defensive prowess that Hill provided. But the Spurs ultimately have greater defensive needs at forward than point guard.
Among playoff-bound teams in the Western Conference, it arguably makes sense to worry more about guarding Kobe Bryant, Kevin Durant, or Rudy Gay than Chris Paul or Russell Westbrook.
Finally, this move was all about potential. George Hill has likely reached his ceiling whereas Kawhi Leonard's natural skill set suggests far more upside.
Hill's third season in San Antonio looked like a carbon copy of his second, with the slightest of dips in scoring and minutes. He appears headed for more of the same in Indiana with the speedy Darren Collison starting at point.
Put simply, it would be surprising for Hill to become much more than a solid bench stand-out.
Leonard, on the other hand, could start sooner rather than later for a San Antonio team that clearly needs him. His knack for rebounding is surpassed only by his overall hustle and defensive intensity.
Sometimes a bit overeager to shoot the ball, it's hard to come down too hard on Leonard. He always seems to be trying twice as hard as anyone else on the court and has that rare ability to use his quickness and strength to snatch offensive rebounds away from players with a clear size advantage.
As his shot comes along (and it has shown some signs of doing just that), Leonard should quickly become a fan favorite and, more importantly, the Popovich favorite that Hill once was.