Los Angeles Clippers: How to Make the Clippers Champions as General Manager
January 11, 2012
Harry How/Getty Images
Imagine that you just left your friend's house after a lengthy and heated debate over the current NBA trade rumors involving your favorite team. On your way home, you find a lamp halfway covered in dirt with a faded NBA insignia on it.
You pick it up and rub the dirt off of the logo, then smoke emits from the lamp. A genie appears above your head, not resembling Shaquille O'Neal as Kazaam, and grants you one wish: "You can be general manager for any team you desire for one day. You must turn them into a championship team. Today, you are general manager for the clippers".
The Los Angeles Clippers have always been known as that "other team" in L.A. Even though they share the same arena as the more successful and widely popular Lakers, the Staples Center is still seen as the Lakers' arena.
They have traditionally been known to be a constant in the lottery draft, which means your team has finished outside of the playoffs. They have also been known for having talented players, but not having good team chemistry. Then somehow, the talented players leave the Clippers to go on to success somewhere else. That history is about to change.
The Clippers have finally had a productive offseason, so becoming GM for the Clippers and making them into a championship contender is actually quite easy.
They traded for perennial point guard Chris Paul. They signed free agent Caron Butler, and added former All-Star and Final's MVP Chauncey Billups after he had been released from the Knicks. The Clippers now have experience, All-Star power, clutch players, and team chemistry. The bench is deep with guard talent (Mo Williams, a former All-Star, Randy Foye and Eric Bledsoe).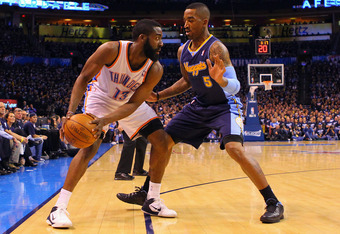 Dilip Vishwanat/Getty Images
There are two areas as general manager I would immediately address: The size in the back court and size and quality to back up Blake Griffin and DeAndre Jordan.
The Clippers start Chauncey Billups alongside Chris Paul as the shooting guard. He had previously played the position while playing for Team USA alongside reigning MVP Derek Rose. He actually did a pretty good job and scores well enough for the position.
The problem arises when he has to guard bigger shooting guards. Billups is only 6'4", which is the average size for a guard overseas. But in the NBA, that's a short shooting guard. Billups is used to using his strength to overpower his opponents. He had done that effectively while playing the point guard position. This advantage he holds is absent when playing against players like the Lakers Kobe Bryant, Manu Ginobili of the Spurs, and the Heat's Dwayne Wade. The list of shooting guards bigger than Billups is endless.
Being GM, a few people are still available that could help the Clippers in a playoff run.
Possible Help
J.R Smith: Smith is an unrestricted free agent currently playing in China. He will be available around April to join any NBA team he chooses. He is a lights out shooter from beyond the arc. He will already be in great shape from playing in China.
Mickael Pietrus: Pietrus is an athletic guard from France who can really help the Clippers defensively. The Celtics were in talks with him, but have not signed him as of yet. He would fit perfectly with an athletic young team. He can also shoot well from beyond the arc.
The Clippers have recently signed another big man in Solomon Jones. They are currently last in rebounding in the league, and can use some help on the boards. Another choice to consider: Dan Gadzuric or Ike Diogu, who played well the latter part of last season for the Clippers.