Broncos vs. Patriots: Josh McDaniels' 'Insider Information' Is Hogwash
January 10, 2012
Jamie Squire/Getty Images
Oh jeez, you guys—Josh McDaniels got hired by the New England Patriots as an assistant and now he is going to spill the beans on the team he coached last year, the Denver Broncos.
Like the Patriots need the help.
But c'mon, is McDaniels really going to be able to give the Patriots an inside scoop on anything drastic that might influence the game?
I don't think so. But Tom Brady thinks he might help. From Pro Football Talk:
"He obviously has some inside information on that team and those players, as he coached them. I haven't seen Josh yet, so I really don't know," Brady said on WEEI. "I think coach [Bill] Belichick has a pretty good idea of what he's going to want Josh to do. I talked to Josh briefly but I really haven't had a chance to sit down with him. He's a great coach and we're lucky to have him. I'm excited to get back to work with him. How that plays into this week, we'll see. We'll try to figure that out here in the next five or six days."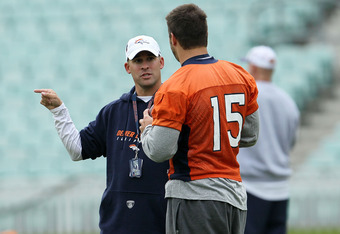 Chris McGrath/Getty Images
Listen, McDaniels has been gone a year. The Broncos restructured their front office led by chief football executive John Elway, who brought in Fox. The Broncos kept eight coaches from McDaniels' staff and brought seven new guys in, including defensive coordinator Dennis Allen.
The team is running a new offense under quarterback Tim Tebow, which is a far cry from the system McDaniels had in place last year. But don't take my word for it:
"I know Josh a little bit. It's always better to be employed as coaches than unemployed. He doesn't even know our offense. Our offense is completely different," said Fox.
Seriously, John Fox thinks this is trivial:
"When you do this for a living, you have a pretty good idea of most of the players," he said. "You [studied] them in college or coached them before and guys just move cities, that's kind of what this league is.

"I mean we're going to go play Carolina [where he was head coach from 2002-10] next year. I don't think that's going to be a huge advantage for me. Plus, their team has changed and so has ours. I don't think it's a big deal."
One last thing, just in case you aren't gathering what Fox is trying to say here.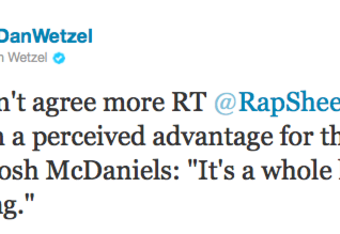 So is McDaniels familiar with the tendencies of some of the coaches and players?
Sure.
Are those coaches and players running the same system?
No.
Is this "advantage" the equivalent of a few more additions on the scouting report that will probably have little bearing on the outcome of this game?
You better believe it.
Hit me up on the Twitter—it's the best way to spend the last year of existence.