Thierry Henry's Second Coming to Arsenal Highlights the Virtue of Loyalty
January 10, 2012
Clive Mason/Getty Images
Thierry Henry scored his 227th goal for Arsenal, 10 minutes after he made his second debut.
The Emirates erupted into loud cheers and wild celebrations as Henry pumped his chest after the euphoric moment.
But perhaps the greatest moment of it all was when he ran to the bench and hugged his mentor, Arsene Wenger.
As Oliver Holt notes, when Henry hugged Wenger, both "leapt back to the days when they both were kings."
They took the crowd with them, back to the days when they were Invincibles, back to the days when Manchester United were in their thrall.

Back to the days before the drought and the doubt, back to the time when they fought for the title, not for a place in the top four. Back to a time before Manchester City had money.
But Henry hasn't returned to be a hero, he says.
 I am not here to be a hero. I am here to be another player, to help the squad and that is it to be honest. I didn't plan a comeback. 
He doesn't need to be one. He already is, having been immortalized with a statue outside the Arsenal stadium.
To talk, though, of Henry's second coming—as it's being dubbed—as a virtue, a sign of loyalty, one must take into a count a fundamental issue, the fact that Henry didn't stay at Arsenal to retire.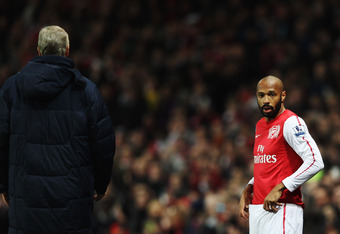 Clive Mason/Getty Images
It is an important point to note, because it has the potential to render hollow or oversimplified the question of loyalty.
As Robin Van Persie's contract issue draws close to a point where he must make an inevitable decision, what justification is there—in light of Henry's own departure—to pressure him to stay at Arsenal in order to prove his loyalty?
No doubt one can argue the point on many grounds, but using Henry as an example of loyalty has to be qualified first.
Henry left Arsenal for Barcelona after eight years. Robin Van Persie, himself, has spent an equal number of years at Arsenal, consequently, he too may like a change of environment.
One can, of course, argue that Henry left when he had already given his best years to Arsenal and was already on the decline, while the reverse is the case for Van Persie, who now is only beginning the best years of his career, and that since it is Arsenal who have groomed him, he ought to repay them with loyalty.
This may well be.
But insofar as one wants to talk about Henry's second coming as a sign of virtue, one must take into account his own sojourn away from the club he professes to love. If he loved the club so much, why did he leave? As Wenger has reiterated, it was Henry who asked to leave.
I wanted him to stay and he said, 'look, you have a young team, they will be good in three or four years and I cannot wait. I have to go to a place where I have a chance to win'.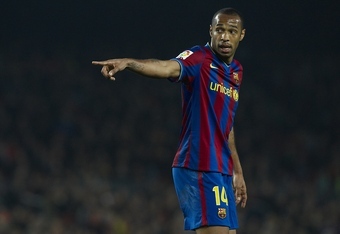 Manuel Queimadelos Alonso/Getty Images
And win Henry did at Barcelona. But at Barcelona, Henry quickly declined as a player. Michael Cox speculates why:
Why Henry hasn't reproduced that performance is uncertain. It may be a case of motivation -- in winning the European Cup with Barcelona in 2009 he essentially completed his trophy haul. That was his final target, and although he stayed another season in Spain, he never looked as determined. His subsequent move to New York was primarily a lifestyle choice rather than a football decision.
"That performance" refers to Henry's days at Arsenal as well as one of his better performances at Barcelona.
What this highlights, though, is that when players say they want to be at a club where they can win, they may, indeed, have a point, if Henry's case is anything to go by.
We should recall that Mikel Arteta took a salary cut to move from Everton to Arsenal where he has better chances at winning trophies and at playing at the highest level.
At Manchester City, Samir Nasri—to take one more example—has a better chance at winning trophies than at the current Arsenal. This we must grant, even if we may suspect that other reasons were behind his move from Arsenal to City.
One other thing to note from the foregoing is that it appears that Thierry Henry did not love Arsenal enough in 2007 to forego the desire for trophies. He therefore moved to Barcelona where he could win them.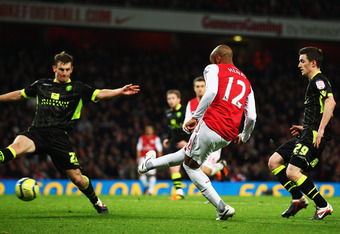 Clive Mason/Getty Images
But why has his affection remained with Arsenal? Why does he now love Arsenal more than he did five years ago? Here's what he says.
I became a fan when I left the club so now I know exactly how it feels to score for the club that you support.
Although at first glance this statement appears to be nothing more than an outline of events, nonetheless, it does hold the key to Henry's conversion from a mere player for Arsenal in 2007 to an ardent fan of Arsenal in 2012.
David Hytner of the Guardian notes:
When Henry left Arsenal for Barcelona in 2007, after eight glorious seasons in north London, the joke was that he needed an additional business-class seat for his ego. He had almost transcended the club with his personality and status, and his departure was considered by some as necessary for the younger players to blossom. Henry had become such a focal point that his team-mates would feel compelled to seek the pass to him even when it was not on.
The main point here is that Henry was the focal point of the Arsenal team in 2007, a role in which he reveled as should be expected.
Things would be different at Barcelona.
He never became the main man there as Guardiola opted to play him on the flank. That, coupled with Hytner's observation may be the reason he quickly realized his worth and value at Arsenal, as opposed to being just another star at Barcelona.
Arsenal, of course, is the place he made his name, where he was worshiped and adored.
It wasn't like that at Barcelona.
When one hears Henry speak about Arsenal these days, one almost feels like he regrets having ever left the club.
Since he did leave Arsenal for greener pastures, as it were, how then can we say that his return is a sign of loyalty, since, after all, he's not playing for free?
Loyalty can be defined in Paul Scholes answering the need of his club, Manchester United, to come out of retirement to help out.
It can be defined in Kenny Daglish's support for his club and players, even to the point of blindness.
It could be defined in supporters, who never stop supporting the club no matter its fortunes, good or bad.
Loyalty, then, in the case of Henry could be seen in his willingness to forego a two-month vacation in order to help the club he loves in its hour of need.
It is virtue when he puts his legacy on the line and bravely takes to the field once again to contribute his gifts to the progress of the club his loves.
If this is not loyalty and virtue, I don't know what it is.
Read my analysis of the United-City FA encounter here.