Manchester United Are Unimpressive in Victory over Manchester City
January 9, 2012
Alex Livesey/Getty Images
There's a near consensus among major news outlets that Manchester United exerted their revenge over archrival Manchester City.
Revenge it may have been, but it was unimpressive.
Before you whet the knife or rush to the keyboard to spew the poison the serpent in your bosom is warming, hear me out first.
Manchester United were not consistent in their display against City.
I should probably rephrase: They were consistent but not over the two halves of the match. I should have titled the article "A Game of 2 Halves," but then I thought that's too clichéd. 
Here's my analysis of the match.
United were mightily impressive in the first half. That performance should do a lot to settle nerves at Old Trafford.  
The strategy Sir Alex Ferguson deployed in that half was nothing short of brilliant.
The first eight minutes of the match seemed based on the script of the Madrid-Barcelona Clásico of last month. City were Barcelona, stroking the ball around, albeit with less finesse than that of their model.
United were Madrid, contented to cede possession in the less dangerous half of City's, waiting for the chance to counterattack.
It arrived in the ninth minute.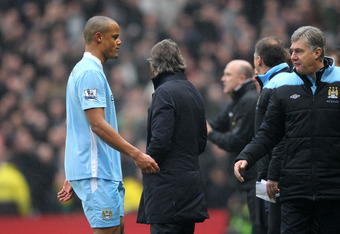 Alex Livesey/Getty Images
A clearance from Anders Lindegaard found Nani on the leftward flank of the midfield. Nani headed it back to Ryan Giggs in the center, and Giggs found a swift through pass to Wayne Rooney, which took out City's central three.
Rooney dispatched the ball wide right to Antonio Valencia, who launched the ball into City's danger zone with a single touch.
Rooney, who had advanced forward after the pass, leapt and headed it home, past the stranded Costel Pantilimon in City's goal.
One-nil to United!
That swift counterattack underscored United's structure in the first half of the game. See the diagram below: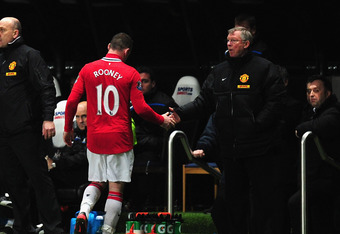 Stu Forster/Getty Images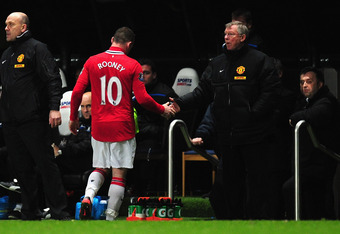 Stu Forster/Getty Images
While City opted for a 4-4-1-1 formation, United played a 4-5-1 in this half, but it wasn't a traditional 4-5-1.
With Michael Carrick and Giggs anchoring the midfield and Nani and Valencia on their flanks—left and right, respectively—Rooney was the pivot to the midfield, sliding in an out of defensive and attacking positions.
It was a brilliant strategy, precisely because Rooney became the fifth body in the middle when City pressed. In essence, Rooney was a roaming midfielder, a quasi box-to-box enforcer. In attack, the formation allowed him to be the springboard forward.
The intent of this formation was highlighted shortly before United's opening goal when Rooney picked up a loose ball deep in United's half and fed Phil Jones, who subsequently fed Valencia wide right.
The move broke down because Jones' pass was a tad overhit. It was, however, an example of United's turning a defensive situation into a dangerous attack.
United's goals and Vincent Kompany's red card were birthed from the same brilliant strategy.
United's quick pivot from defense to attack (mainly through Rooney) meant it allowed City's defense little time to adjust their shape. The pressure resulted in Kompany's wild lunge.
Was it a red card?
The manner of the tackle, even though it resulted in no harm to the player tackled, says it was. But the red card spoiled the match and detracted a little bit from United's victory.
Would United have won the match had City not been shorthanded?
The nature of United's first-half display advances a compelling argument, which, however, is called into question by the team's second-half display.
Before I touch upon the second-half display, though, I should like to highlight one more thing from United's first-half formation. (Please refer to the red arrows in the above diagram.)
The shorter arrows point away from Giggs and Carrick to Nani and Valencia, indicating that the wingers played off the two holding midfielders.
When defending, they tracked back to form a bank of five players that included Rooney.
When pushed farther deep into their own half, Patrice Evra collapsed inside, Valencia took his place and the formation became 5-4-1. It was an excellent defensive strategy, deployed to neutralize City's wide players.
It worked.
But what was more fascinating about United's formation was how it modulated from defense to attack.
It went from 4-5-1 (or 5-4-1) to 4-2-3-1, with one of either Rooney, Nani or Valencia on the ball while the other two made decoy runs forward, with the isolated Danny Welbeck causing more trouble with his off-the-ball movement in City's goal area.
City could not cope with this. It's the reason they conceded three goals in the first half.
Had the first half continued beyond the normal 45 minutes, it's a safe bet to say that United could have avenged all of their six goals.
But then the second half came, and City reshaped into a 3-5-1. 
Thinking to make use of their one-man advantage, United deployed Rooney further forward in a proper 4-4-2 formation.
It was a mistake.
For one thing, it recalled the problem that plagued United in the Newcastle match. (Please see my review of that match.)
Suffice to say that it's difficult to see a more confused side in possession. United simply did not know what to do with the ball in the second half.
When they had little of it in the first half, their well-rehearsed strategy meant they knew what to do with it immediately. It seemed to me as though United did not foresee the situation that came their way in the second half.
I could be wrong.
But here are my final thoughts.
The Manchester United of the first half can beat any team, any day. This should be reassuring to the fans. 
What the fans should pray for is never again to see the Manchester United of the second half. The second-half United are what I said in my title were unimpressive.
Finally, I hope Sir Alex Ferguson realizes that what he needs is not necessarily a new midfielder (although it won't hurt, I suppose).
What he needs is to know how to properly deploy Rooney in the United formation.
What he did with Rooney in the first half of the match is what he should explore more. What he did with him in the second half, he shouldn't repeat, because it essentially snuffs the fire out of United. 
I believe Rooney can be more effective as the midfield pivot, the role he played in the first half. If he is used in this manner, then recalling Paul Scholes from retirement should prove unnecessary.