Dallas Mavericks: Who Is to Blame for Their Early Season Struggles?
January 10, 2012
Ronald Martinez/Getty Images
Who would have thought that the defending champion Dallas Mavericks would be a sub-.500 team nine games into the regular season?
Dallas's struggles have easily been one of the biggest surprises so far this season, but who is to blame?
Mavs fans have plenty of options for who to tag as the scapegoat. 
The lockout could have a lot to do with the Mavericks' poor start; yet every team in the league suffered from this handicap, so that can't be a viable excuse.
Coach Rick Carlisle could also garner some of the blame, but really he's doing the best he can with the team that he gets handed to him.
It all comes down to Dallas's eccentric fan/owner Mark Cuban.
After his team's storied run to their first championship, Cuban made a number of questionable roster changes, that saw the departures of Tyson Chandler, J.J. Barea, and DeShawn Stevenson, all of whom played big roles in the Mavs' title run.
Cuban then went on to bring in Vince Carter and Lamar Odom as his team's biggest new additions. Both Carter and Odom are on the wrong side of 30, and have yet to perform at a high-level this season.
Plus, instead of finding a replacement for Chandler, Cuban decided that backup center Brendan Haywood was the man for the job. With a free agent pool full of quality centers, it was a surprise that the Mavs' owner decided not pursue even a single one.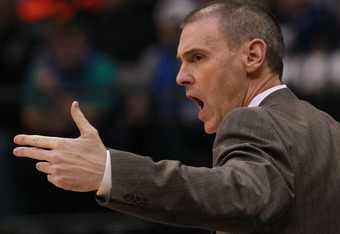 Ronald Martinez/Getty Images
Chandler was considered by many as the main reason that Dallas made it as far as they did, due to his aggressive mentality on both sides of the ball. So far this season, those people seem to know what they're talking about, as none of the Mavericks have played with any sort of that mentality so far this year, especially on defense. 
Instead of signing a new starting big man, Cuban has brought in D-League quality forwards Brandan Wright, Sean Williams and Yi Jianlian to bolster the team's weakened frontcourt. 
It's become apparent that Cuban is throwing away this season in order to bring in Deron Williams and/or Dwight Howard next season, which as a hoops fan is sad to see. NBA teams should do the best they can to make title runs year-in and year-out, both on the court and in the front office.
Cuban has refuted these acquisitions this season, but that's easy to do when your team is still a playoff-quality ball club.
Yes, Dallas's players may lack some of the motivation that the world saw last spring and summer, but I do not see Carlisle allowing that mindset to continue throughout the year.
Also, as the new Mavericks continue to grow with their teammates both on and off the court, expect their numbers to improve significantly over the course of the season.
While "D-Will" and "Superman" would look great in a Maverick uniform, that does not make it acceptable for Mark Cuban to put together a sub-par lineup this season.
Dallas fans deserve better.