Toronto Raptors: Fans Are Hopeless Romantics, Have Reason to Love Once Again
January 10, 2012
Way, way, way up in the northern most reaches of the NBA live the often forgotten and rarely respected Toronto Raptors. If you are confused, let me help: With the assistance of Vince Carter, you might remember the Raptors from the late 90′s and early 00′s.
This was a time when Vince struck fear in the hearts of opposing defenders, including that of random, French seven footers. For a time, he was the toast of the town; the pride of all of Canada. In the later portion of his tenure with the Raptors, questions regarding his heart, effort, and commitment to the team earned him the scorn of an entire city.
The decline of Vince Carter snowballed into the decline of an entire Franchise. Toronto fans would never forgive Vince, and the city resolved never to allow anyone to mislead them again. And just when they thought they were safe, Chris Bosh went and did them too—his exit was not nearly as pathetic as Carters', for what it's worth.
So fans in Toronto have been sobbing, watching chick-flicks in the dark, and eating ice cream straight out of the container ever since.
This is the plight of the Raptors' fan.
The thing is Toronto Raptors' fans are hopeless romantics at heart. They have been burnt repeatedly, but they keep coming back for more. They mourn for a time, they pick themselves up, dust themselves off, and they get right back into it.
The Raptors have some of the most passionate and dedicated following in the League, and this has been proven time and again by their blind allegiance to this team. They don't expect wins, they don't even expect high scoring, but they do expect you to give them a return on their emotional investment.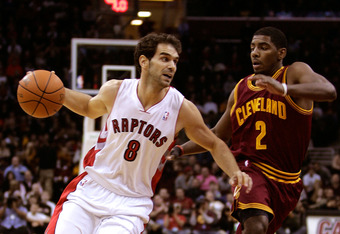 Mike Lawrie/Getty Images
They want you to battle for them, just like they will battle for you. The names Carter, Bosh, and Turkoglu will go down in Toronto infamy, as they set fire to these jerseys and dance around them in the streets. Raptors' fans are a spiteful bunch.
Well Raptors' fans, your Prince Charming is closely approaching. Prepare to let your guard down one more time.
Allow me to introduce to you the 2011-2012 Toronto Raptors, an unseemly combination of grit, resilience, and believe it or not, talent. Over the past couple of seasons this team has slowly offered up glimpses of who they could be.
Now, instead of being blown out of the gym, the Raptors are staying in games late, making shots, and playing with poise; even coming away with some wins. This team does not play like a bottom feeder, nor do they have any intentions of being treated as such.
They are scrappy, they fight for every point, and they do not go away easily. The culture of basketball in Toronto has finally shifted.
What's the reason for this shift?
Well, there are a few. The Raptor core is one year older, stronger, and more experienced of course. The ongoing development of players like Andrea Bargnani, DeMar DeRozan, and the lights out play of Jose Calderon, so far have made them competitive late in games.
And then there is the most underrated, yet most important change: Head Coach Dwane Casey, who is the defensive mind behind last years Dallas Mavericks' Championship team. A man responsible for taking a notoriously bad defensive team (sound familiar?), and turning it into an efficient, turn-over producing, well-oiled-machine. A man who helped Dirk Nowitzki with his jump from good player to great player.
Bargnani, a player who many compare to Nowitzki, has benefited tenfold from his new relationship with Casey. It is clear from his performances thus far that he wants to put this franchise on his shoulders, even if he may not exactly know how to do it yet. The assertiveness, desire to lead, aggressive takes to the hoop, and the moments of defensive engagement. Yes, the culture of basketball in Toronto has finally shifted.
The rest of the team has improved as well. While he may not be able to keep his rate of scoring up, DeMar DeRozan has drastically increased his averages. Six games into the season he is shooting a staggering 63 percent from behind the arc, sinking just under two three-pointers a game.
And while Jose Calderon may have his defensive shortcomings, he has been playing out of his mind, averaging 10 assists per game. Jerryd Bayless provides an edge off the bench that is invaluable to this team. His defense and shot-making ability down the stretch are key for their depth. Leandro Barbosa, Ed Davis, and Amir Johnson are all important pieces to the puzzle.
However, the most important and unifying components of this team are the grit, the fight, and the refusal to go down. When you watch this team, you are excited, and you root for them. You want them to win because you like them. It's really quite romantic.
Toronto has undergone a major overhaul since the Carter days. A change in general managers, in drafting philosophy, and in the whole DNA of the team has yielded some fairly mediocre-to-bad seasons. Drafting miscues have hindered them, but what has emerged from this transitional era is something to look forward to.
They will not win a championship any time soon, nor will they compete for one. But for the first time in a long time, what Raptors' fans have is a core of players that they can get behind. Not just one superstar, but a group of individuals that they can count on to represent them, win or lose.
This is a team that Torontonians can love. But that's all they have ever really wanted anyway.
Get ready Toronto. The hopeless romantic in you has been waiting.
Follow Aliyaho Pearce on Twitter