Patriots-Giants Super Bowl Prediction: A Tale of Ego, Revenge and Passion
January 29, 2012

Elsa/Getty Images
"You have to be half brilliant, and half crazy."
That's how former NFL quarterback Trent Dilfer recently described the modern NFL coach.
Or perhaps, in the case of Bill Belichick, a better description would be: half brilliant, and half egotistical.
After all, it's the people with the biggest egos who hate to lose the most. But when they're brilliant at the same time, you can usually bet they will win—if and when they are given that second chance. And the numbers don't lie for Bill Belichick. Since 2003 the Patriots' coach is 32-4 off a loss. 
Part mastermind, part ego minded, Belichick has complied a solid 72.4 percent winning percentage with the Patriots. But if it's a big ego you don't like in a coach, you better learn to like it at the betting window.
Belichick's Patriots, for the season, have finished under .500 against the spread just once in the last 10 years.
And if there's one thing about egotistical people that are consistent, it's that such people are always out for revenge when they are showed up.
But it's the smartest ones who actually win that revenge match. 
Not only will the Patriots be eager to avenge a loss at home to the Giants earlier in the season, they will do anything possible to avoid another Super Bowl loss to the team that prevented a perfect season back in 2008.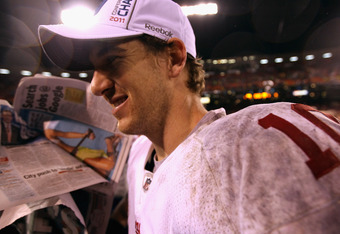 Ezra Shaw/Getty Images
That forms a dose of double revenge.
If there's one coach a team wouldn't want to face when revenge is a factor, it's Bill Belichick. 
Belichick, who is considered by many around the NFL to be one of the more intriguing masterminds of the game, is 9-2 in the last 10 years when facing a team he lost to earlier in the same season. 
So ultra competitive and always hating to lose in any situation, he will leave his starters in the game with a 40-point lead (like against the Jets in 2010 after a loss to the Jets earlier in the season) or in a game they don't really need to win, like against the Bills and Dolphins late in 2010 when they were already locked into their playoff seed (he actually pulled Tom Brady after a 31-0 lead over the Dolphins in the season finale).
In the first half of the playoff game against the Ravens, Belichick decided to have the offense take a knee with over a minute left and two timeouts inside the 15-yard line, knowing the Giants and 49ers would notice. He also used Chad Ochocinco for just one play. Don't  be surprised if there was an underlying motive for such a strategy (Ochocinco is the top value play to win the super Bowl MVP at 40/1 odds). 
So now the Patriots are just a three-point favorite over the Giants after being favored by 12 points and nine points the last two meetings. The lowest spread is a fine time to go with them out of the three choices, especially since the Patriots lost outright the first two times and will be the most motivated this time out of the three meetings.
The Giants won at New England earlier in the season 24-20, with the winning TD pass coming with 15 seconds left. The Giants were plus-2 in turnover margin and were out-gained by 70 yards. The Patriots haven't lost since. Both teams defeated just one playoff team in the regular season, but the Patriots' three losses came by a TD or less. The Giants were defeated by double digits on four occasions.
The Patriots have a bit more offensive weapons than the Giants, but their defense was often questioned at the beginning of the season, as the unit lagged in statistics. However, it was their secondary that was most vulnerable against teams that could pass. Don't expect that against the Giants, who had just 11 plays of 20 yards or more all season! 
Additionally, the Patriots defense has some major momentum, playing generally well against the Ravens and standing them up on a series of exceptional plays on their last drive, which resulted in a missed field goal.
The Patriots defense is a unit which gave up 30 points just once all season and has allowed 25 points or less in 14 of their last 15 games. If you can keep the opposition to 21-24 points, it's usually a safe bet that Tom Brady will out-score you. Even though it's been said that the Patriots' offense, and Tom Brady, can potentially buckle under blitzes and defensive pressure, expect Bill Belichick to have a fine-tuned game plan to counter such pressure with plenty of short passes and running plays.
As it happens, it was the New York Giants that Belichick helped coach to the Super Bowl in 1987 and 1991. As defensive coordinator, he coached one of the NFL's all time top defenses to a win over John Elway's Broncos following the 1986 season. Four years later, he drew up the game plan to upset the Buffalo Bills in Super Bowl XXV. That game plan is now in the pro football Hall of Fame.
Brady, who has passed for 6,220 yards this season, is coming off his poorest statistical performance of the season against the Ravens, with zero touchdown passes, two interceptions and a 57.5 percent passer rating. One thing's fairly certain: That's not likely to happen twice in a row, especially with Bill Belichick by his side and two weeks to prepare.
Belichick, who took this sixth-round draft pick out of Michigan and transformed him from fourth string quarterback into a consistent winner, has formed a legendary and record breaking duo (five Super Bowls, to start) with the star quarterback who almost didn't even make it to the NFL.
But it was more than just Bill Belichick. 
Most successful people in this world, especially professional athletes, usually have some kind of a mentor.
For Tom Brady it was football guru Tom Martinez. 
Born in San Mateo, California, Brady grew up and went to high school right near where Martinez coached at the College of San Mateo, a small but well known community college with a history of drawing top football players from around the country.
Martinez had a reputation for taking football players, notably quarterbacks, under his wing. But when he met Tom Brady, a very special bond formed between the two. 
Martinez, who has worked with quarterbacks such as John Elway, has known Brady since his early days and helps the star quarterback each offseason with his mechanics. And when Brady needs someone to go to for advice, or perhaps some words of encouragement, Martinez is there with open arms. 
But in the summer of 2011, Martinez, who is battling diabetes and cancer, announced he was given one month to live and was in dire need of a kidney transplant. He's still alive and waiting for a transplant match, and Tom Brady has been a vocal in raising awareness, even announcing it on Facebook. 
Donors have come forward, but as Martinez awaits, the Super Bowl comes first.
It could be Brady's last chance to win it all for his childhood mentor as Martinez lies in declining health, watching his protege on television against the Giants in a rematch of the biggest game of his career.
Like Rocky in the boxing ring hearing the dramatic whispers in his head from his longtime aging mentor saying "Get up you son of a bitch, 'cause Mickey loves ya,'" it's the encouragement from Martinez which could ring in Brady's head should the game come down to one of the final drives.
Combining Bill Belichick's ego, his team's appetite for revenge and Tom Brady's passion, I'll call for the result to be the recipe for the Super Bowl XLVI trophy at the end of the day.
Take New England (-3) over New York
Bookmark Mark's profile page and follow his weekly prediction write ups all next season!