Patriots' Hiring of Josh McDaniels Proves Bill Belichick Is Convincing as Ever
January 9, 2012
A. Messerschmidt/Getty Images
According to Mike Florio of NBC Sports, the New England Patriots have re-hired Josh McDaniels:
The Patriots have made it official, via a press release sent via email not long after Tebow and Thomas connected to ensure a rematch of the December 18 game between the two teams.
Florio continued about McDaniels' position:
McDaniels will be an "offensive assistant" for the balance of the season, making his debut on Saturday night when the Patriots host the Broncos.
As we know, McDaniels was the head coach of the Denver Broncos from 2009 through part of 2010 before getting fired.
That being said, McDaniels was also the guy who drafted current Broncos QB Tim Tebow and star wide receiver DeMaryius Thomas.
And now that McDaniels has rejoined New England for the divisional playoff game, proves how convincing Bill Belichick and this rare opportunity is for anyone.
According to Michael David Smith of NBC Sports, McDaniels was brought in for an interesting role:
How hands-on will McDaniels get in helping the Patriots prepare for Tebow? Ed Werder reported on SportsCenter that McDaniels may run the scout team in New England this week to help the Patriots' defense prepare for the Broncos.
Talk about a twist of event to this already hyped up AFC Divisional matchup. And to add more wood to the fire, for as convincing as Belichick can be, what about QB Tom Brady? In an article by Mike Reiss of ESPN Boston, Brady is glad to have McDaniels back:
I talked to Josh briefly, but I really haven't had a chance to sit down with him. He's a great coach and we're lucky to have him. I'm excited to get back to work with him. How that plays into this week, we'll see. We'll try to figure that out in the next five or six days.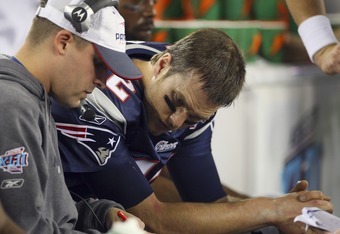 Donald Miralle/Getty Images
Being that McDaniels was in and out of Denver so fast, got axed out of St. Louis and the Broncos playing New England this week, it's obvious that everything in pro football comes full circle.
Plus, who wouldn't want another opportunity to coach under Bill Belichick and for Tom Brady?
Being that New England is the AFC's No. 1 seed, a chance to get revenge on Denver and win another Super Bowl, the opportunity really sold itself when you think about it.
Follow John Rozum on Twitter