Tim Tebow: Jerry Jones Could Learn a Thing or 2 from John Elway
January 9, 2012
Jeff Gross/Getty Images
From all accounts, it sounds like two-time Super Bowl champ and Hall of Famer John Elway took the Jerry Jones monkey off Tim Tebow's back last week.
Now, before the English teachers and hardcore NFL types among you try to parse that sentence, some explanation.
Many Cowboys fans feel the team's biggest problem isn't Tony Romo or the secondary; it's Jones.  Jones is owner, president, GM and draft organizer.
He's the checker of socks and jocks.
Jones casts a large shadow around Valley Ranch Cowboys headquarters, even looming over coach Jason Garrett on the sidelines during games.  (Can you imagine a member of the Rooney family going into the team bench area during a game?)
The man Jones fired to take over as Cowboys GM, Tex Schramm, was a very wise man.  Once, while talking about running an organization, he said, "Nobody does his best work in a climate of fear." 
If you stand over your employees' shoulder, micro-managing and second-guessing, they're going to become tentative.  They won't take the initiative; they'll hew to the middle of the road where nothing good gets done.
We used to have a saying about working for Schramm; if he asked you something and you didn't know the answer, tell him you didn't know, but that you'd have an answer for him in ten minutes. And then, make sure it was the right answer.
There are many who think Jones is looking over Garrett's shoulder so much that the young head coach is tentative, afraid to exert full authority, afraid to make mistakes.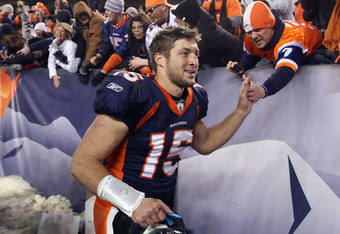 Jeff Gross/Getty Images
That same sort of fear may have been at work in Tebow's debut season in Denver.  So many people have talked about his poor passing mechanics, his desire to run too soon. 
Add to that the natural reticence felt by most young NFL quarterbacks and the result was Tebow playing scared.
Enter Elway, two time Super Bowl champ, Hall of Fame quarterback, and now Broncos personnel guy.  Elway and the staff assured Tebow he'd be the guy in 2012 after his impressive, come-from-behind wins in '11. 
But, Elway added—and this was a major but—Tim had to turn it loose in the playoffs, dial it up a notch, make his reads and throw the ball down field.  No more fearing mistakes, which will happen anyway. 
And so, what happened?  The best day of Tebow's career by far.  The 61st Minute Miracle.  A win over the defending AFC champs, the Steelers.
I admit I was very skeptical as I watched Tebow early this season.  But the kid is learning and learning fast.  And take it from an old Cowboy hand; the kid has a little Roger Staubach in him.
Will Denver beat the Pats in the divisional round?  Form says no.  But after all this, it would not surprise me one bit.
Cue up The Monkees.  I'm a believer.