Tebow Logic: The Fun and Fallacy of It All
January 9, 2012
Jeff Gross/Getty Images
The saga of Tim Tebow rolls on, and with it many of the lazy arguments of which Tebow's detractors have rightfully grown weary. A single "winner" under center does not a playoff team make, and while Tebow's game-winning touchdown pass seemed to defy his own perceived limitations, calling him a great quarterback is still a tremendous stretch.
Media can take their pick between a couple of fun Tebow narratives this morning.
One way to go would be to measure Tebow's stats against the weekend's survivors. Of the four quarterbacks to survive and advance into the NFL's divisional playoff round, Tebow's three touchdowns (two through the air and one more by land) were unsurpassed by Drew Brees, Eli Manning or T.J. Yates, who threw for three, three and one scores, respectively.
And I'm ignoring the rest of Tebow's stat line, including that eyebrow-raising 316 yards passing that suggests divine intervention at work.
Tebow's coaching staff had to work their tails off to get him that 316, which includes that 80-yard game-winning catch-and-run by Demaryius Thomas. While Tebow's production has increased, he still misses wide-open receivers on intermediate routes.
But Tebow had time to watch his receivers' deep routes develop and execute that Catfish Hunter-esque delivery of his—something he arguably wouldn't have had if Brett Keisel had stayed healthy or if James Harrison hadn't been held the entire game.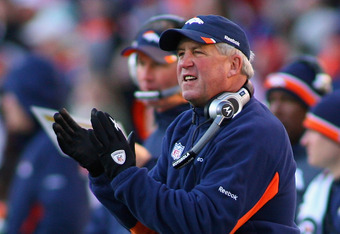 Rick Stewart/Getty Images
The Broncos coaching staff deserve more credit for how they've managed their team down the stretch. John Fox realized what limitations his quarterback had and adjusted accordingly. Dealing with that level of adversity sets the tone for the season; every other Bronco on that team knew they had to play their best for the team to succeed.
When other teams might have been pointing fingers, the Broncos rallied around their good luck charm and managed to back into a division title.
To look at other teams around the league, Ryan's coaching staff deserves blame for failing where Fox and friends succeeded. In yesterday's loss, Mike Smith and Matt Ryan were essentially shut out by the New York Giants; the only points for Atlanta came through Eli Manning intentionally grounding a pass from the end zone. The Falcons have a certain penchant for running into hot teams in January, which is little consolation for an organization that hasn't won a playoff game since 2005.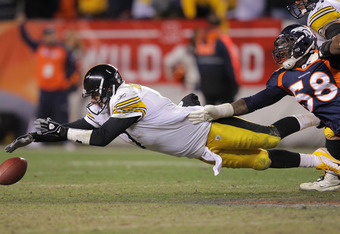 Doug Pensinger/Getty Images
Meanwhile in Denver, the Broncos enjoyed the controversial benefit of opening the playoffs at home, despite posting a worse regular-season record. But as my favorite character from Family Guy says, "Rules is rules."
Despite winning six of their last seven, the Steelers finished second and had to open the postseason on the road against the team that actually, dubiously, won their division—a scenario for which the Steelers could have made better preparations.
Instead of resting Ben Roethlisberger down the stretch, Steelers coach Mike Tomlin sent his quarterback out against the likes of St. Louis and Cleveland, two games that were surely contestable with Steelers backup Dennis Dixon under center.
Even so, a 10-6 mark still would have left the Steelers a five-seed in the AFC, ahead of the 9-7 Bengals.  Instead, Roethlisberger played for two weeks to get one week of rest that never came, and a rickety Roethlisberger was sacked five times and picked off once deep in his own territory.
To call Tebow's heroics "lucky" would be just as lazy as branding him a "winner." We don't consider Adam Sandler to be a better actor than  Morgan Freeman simply because Grown Ups had better box office numbers than Invictus. But some of us prefer fart jokes over serious storytelling, and the analogy applies to Tebow.
I'm just happy that we'll be getting a sequel to Sunday's insanity when Tebow and the Broncos head to New England, and I'll have no issue if this one ends just like the original did.