Liverpool FC: 'Dark Days' of Rafa Now Seem Like the Fondest of Memories
January 9, 2012
Ben Radford/Getty Images
I'll bet this goes down like a lead balloon...  ;)
Let me preface this article by nailing my colours to the mast—I was a Rafa super-fan and I still am.  That does not mean I am registered blind or that I don't understand what a good player is, or what good football is, so don't bother going there!
But everywhere I turn now, it all seemed better under Rafa than it does now, some 18 months after the club unceremoniously culled the man for reasons undisclosed. 
Since then, the club has seen Roy Hodgson take the hot seat for six months, and now Kenny Dalglish has seen one year in charge, and still the Liverpool fans await the new dawn.  After the sacking of Benitez it was noted by many "experts" that this was for the good of the club, that the club was aimless and the playing squad was weak, and that the manager was not able to compete. 
They also mentioned huge amounts of money that Benitez had spent, and they refused to put any stock in the "net spend" aspect of it, although it is now firmly used to defend Sir Alex Ferguson at United as they currently look at their worse squad in the best part of 20 years (in the opinion of many people).
What people conveniently forget is how well Benitez did in terms of bringing world-class players to Liverpool on relatively little money.  I say "relatively" because not once did Benitez have the chance to spend £30 million on a player. 
Ferguson has spent £30 million on a player on three occasions now, in the form of Rooney, Berbatov and Ferdinand all costing £30 million and Veron costing a shade under at £28 million. 
It's not exactly a sob story when people now complain about the club not having millions to spend anymore, they did spend lavishly in the last 10 years to equip the current team for success, but of course age catches up with us all.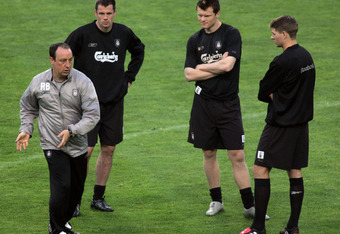 Ben Radford/Getty Images
Benitez never had more than £20 million to spend on any one player, and even then he only did it on five occasions.  I say five occasions because only Fernando Torres cost £20 million, but I'm being reasonable and factoring in Glen Johnson, Robbie Keane, Javier Mascherano and Alberto Aquilani into this as well, who cost more than £15 million each. 
Of those five signings, three were unmitigated successes.  Of the other two, we recouped £16 million by selling Robbie Keane.  Only Aquilani has blotted his copy book in terms of "wasted" money, but it was enough to hang him by the press and some of the fans.
Ferguson, using the same £15 million-plus logic, has signed around 12 players that I can recall.  Berbatov, Rooney, Ferdinand, Veron, Anderson, Van Nistelrooy, De Gea, Carrick, Nani, Hargreaves, Jones and Young—and eight of them have been since 2007. 
Some excellent players brought in, and some of them quite average, but Ferguson did not get hung out to dry. 
But that's fine. Why should he? Managers make mistakes.
What frustrates me, though, is that Dalglish is free to spend £20 million-plus on four players within 12 months—no, within six months—of starting his job, but he is not scrutinised like Benitez, who took five years to attain the same number of expensive signings. 
Is there really that much difference between £6-million Pennant and £19-million Downing?  Certainly £8-million Riera was much better than Downing. 
The same logic applies to £7-million Crouch vs. £35-million Carroll.  It's nonsense that such money was sanctioned to be spent on the big hit-man from Newcastle, who openly declared that he'd have rather stayed at Newcastle.  Not a great start. 
Rafa spent £6.7 million on the much-maligned Lucas, and it was declared a waste of money by many at the time.  Fast forward to now, and he's regarded as one of the best in the division, certainly superior to Henderson or Adam despite costing much less.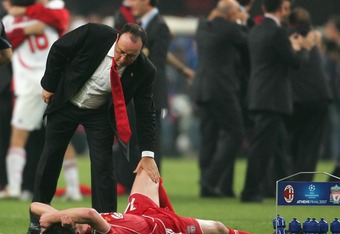 Jamie McDonald/Getty Images
Benitez also blazed a trail by buying Bellamy for £6 million, though his antics with a golf club scuppered what was set to be a great future with the club and Benitez.
The current centre-back pairing of Skrtel and Agger cost a combined £12.7 million, or a single Chris Smalling in current terms.
Yossi Benayoun was bought for £5 million. He was a revelation, and his zenith was in the 4-0 mauling of Real Madrid—another one of those amazing nights that Liverpool fans and journalists conveniently forget happened under Benitez.
Much is said of the brilliant Jose Enrique at present, and how his £8-million transfer has been the bargain of the season and a masterstroke by Dalglish.  Of course, it is, but Arbeloa's capture for £2.6 million was just as impressive, if not more.
Dirk Kuyt is now showing rustiness, but his signing for £9 million has been an unmitigated success in terms of his contributions over the years.  His 67 goals in the last six years have been important, and it's even more impressive when you see the games in which he's scored many of those goals.
Jose Reina cost £6 million.  It's just an incredible signing.
Likewise, £10.7 million for Xabi Alonso, when it seems that sort of money these days might only get some managers a Connor Wickham. 
Of course, though, there were disappointments, like Aquilani, like Keane, like Babel, like Dossena, like Morientes, like Voronin, like Degen. 
That's about £63 million worth of disappointment right there, but we did sell them on (in most cases) and recoup about £32 million.  But "wastage" like that is offset when you bring in someone like Zenden, Aurelio and Maxi on a free, or pay only £1.5 million for Shelvey. 
It is certainly offset when you sell Torres for £50 million and Alonso for £30 million.
Shaun Botterill/Getty Images
All I can do now is wonder what life would have been like if Benitez had the money that Ferguson did have and Dalglish is currently spending. 
Benitez thought he had secured the signing of Dani Alves, Nemanja Vidic, Sergio Aguero, David Silva and David Villa at various points during his six years at Anfield but was told the money was not there.  He tried to get Barry as well, but the club didn't back his vision, and now Barry has gone on to prove he wasn't the dud that was talked about. 
Rafa's tenure at Inter Milan has tarnished his copy book, and people now regard him as damaged goods. 
He took the job at Inter out of hurt and disappointment and now lives back near Liverpool.  That's now much he didn't really want to go to Inter, nevermind Moratti not spending a single Euro on new players while Rafa was there.
He's one of a kind, the anti-Mourinho, but he got the better of Mourinho on more than one occasion.  He deserves a shot at the big time once more, but I doubt that politics would ever allow him a Liverpool return, but he could shock some people with a go at one of the big clubs in Spain, who still hold him in very, very high regard.