New York Mets: 1 Bold Prediction for Each Player on the 25-Man Roster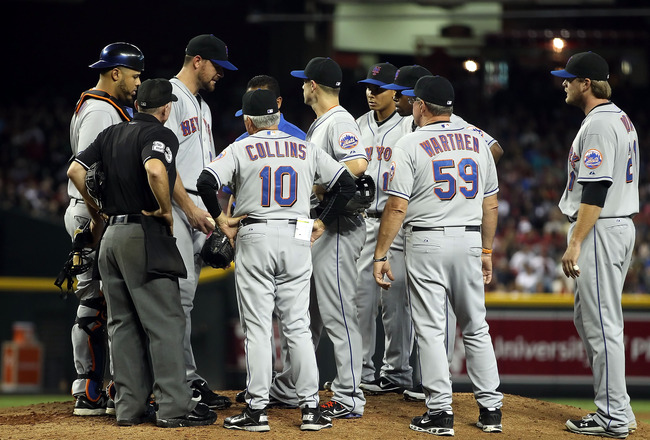 The New York Mets are a team in transition. What does 2012 have in store for the team in Queens?
Christian Petersen/Getty Images
The New York Mets are a team that has been undergoing a lot of changes. With those changes comes uncertainty. That uncertainty has fueled the speculation that this season will be a complete bust for the professional baseball team in Queens, NY.
There are a lot of questions for this franchise as they enter the 2012 season. Will Johan Santana be healthy? Will Ike Davis be healthy? Will Jason Bay return to form? Will the team trade their most beloved star David Wright?
All of these are pertinent questions to the Mets fans. Beyond these players, though, the 2012 season can hold a lot more for the rest of the roster. Both good and bad things for all 25 players.
Let's begin with the starting rotation and move on from there.
Starter Number One: Johan Santana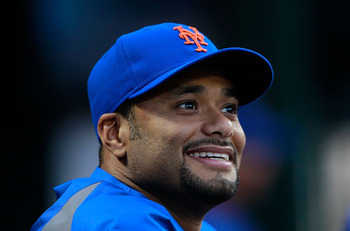 Santana has not pitched since September of 2010 due to surgery. How does 2012 look for him?
Chris Trotman/Getty Images
The last time we saw Johan Santana, he was walking off the field holding his arm in the late September shadows. That was a year-and-a-half ago. Since then, reports have been crossed. Last month, GM Sandy Alderson said he may not be ready for spring training.
Last week, he changed his tune, though. He stated the Mets will not need another starting pitcher because Santana will be ready. The average recovery time from the ACL surgery he had is usually about a year-and-a-half. It can be hit or miss though.
Players such as Chien-Ming Wang are good examples of such recovery time. Some are not so fortunate, however. Mark Prior has yet to come back from it at full strength. The question is will Santana? Yes.
Even though his age is against him here, he was an exceptional pitcher with an incredible heart before the injury. That heart still remains, and it will fuel him to a full recovery back to the pitcher he once was in Queens.
I expect a double-digit win season from Johan Santana. Optimistic? Sure. Impossible? Not really.
Starter Number Two: R.A. Dickey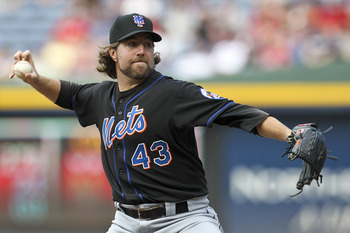 Dickey has emerged as the most consistent pitcher on the staff. How does his 2012 look?
Daniel Shirey/Getty Images
R.A. Dickey has made headlines for the right and wrong reasons this offseason.
He decided to climb Mt. Kilimanjaro for charity. He hopes to raise money for Bombay Teen Challenge—a charity that fight human trafficking.
It's a wonderful cause that could have made the Mets look good had they thrown full support his way in it. The Mets, however, decided to send a letter to him to notify him of the contractual obligation they have to release him if he gets injured in said climb.
While this is a move any team would do for a player they pay $4.5 million to, the way they did it was a bit harsh and overpublicized. They easily could have reminded him off the record and not give an "official" letter from the office of Mets administration.
The biggest question concerning him is will he OK afterwards? Yes. He's a seasoned climber, and this climb is said to be easy by most accounts. His health will not be an issue. The bullpen effectiveness will be a bigger issue, though. In 32 starts last season, he only had a decision in 21 games (8-13 record).
The bullpen cost him a decision in 11 games or a third of his season. Despite his 3.28 ERA and 134 strikeouts in 208 innings, he only posted eight wins. The Mets bullpen will be decisively better in 2012, and that will make for a better record for Dickey.
I expect him to get 15-18 wins. His ERA and WHIP will be about the same as 2011 (3.28, 1.23), and he will combine with a healthy Johan Santana for a potent duo at the top of the rotation for the Mets.
Starter Number Three: Mike Pelfrey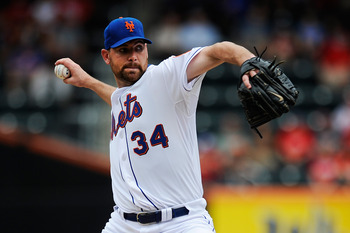 Big Pelf has been a big bust. Will he rebound in 2012?
Patrick McDermott/Getty Images
Mike Pelfrey began last season with the blessings of, then, newly appointed manager Terry Collins as the Opening Day starter and staff ace. He responded with 33 starts and a healthy season. Physically healthy anyway.
Psychologically, is a different story. Between the hand licking and sports shrink visits, he posted a 4.74 ERA with a 7-13 record in 193 innings. The bullpen blew even more games for Pelfrey than they did for Dickey.
At least Dickey had a lower ERA in more innings pitched and kept the opposition to an average lower score. Pelfrey has developed a reputation of a mental case that the Mets are losing patience with.
After a 2010 season where he posted 15 wins and a 3.66 ERA, the Mets thought he finally turned the corner, but his 2011 proved otherwise. The Mets may be at their wits end with him.
By July, his average 184 or more innings in the last four seasons will have enticing value for a team in need of a starter for a playoff push. They will offer a prospect and a young player in their minors for a gamble that Pelfrey just needs a change of scenery.
The Mets will trade him and get a good return on him. Then, they will plug Chris Schwinden, Jenrry Mejia or one of their other MLB ready starters into that spot and prepare for the futures of Matt Harvey, Zack Wheeler and Jeurys Familia with September call-ups.
Starter Number Four: Jon Niese
Niese missed a few games this past year. Will that repeat in 2012?
Denis Poroy/Getty Images
Jonathan Niese is a bit of a mystery still. He has all the makings of a dominant starting pitcher in the majors, yet he still struggles with command from time to time. In only his second full season, Niese earned 11 wins in his 26 starts.
He had the fewest no decisions (11-11 in 26 starts or four no decisions). While he was shut down in August last year due to injury, he managed to post 4.40 ERA and 138 strikeouts in 157 innings pitched. All reports in the offseason point to a healthy return to form for Niese in 2012.
The question is will he finally turn the corner? A 4.40 ERA last season and a 4.20 the year before point to him being a starter that will give up some runs in bunches. He's capable of being better than that, though.
He improved on his numbers last season in a shorter year than the one before. In seven fewer starts in 2011, he had 10 fewer strikeouts than in 2010 (148 in 2010 to 138 in 2011). The ERA comparison is nearly the same.
A 4.20 in 2010 compared to a 4.40 last year is only a few runs difference. This is something that can be worked on. The pitching coaches can help him with calling a game and help condition him to go deeper into games.
He has value to the Mets for the future. I see him getting his act together and earning 15 wins this season while posting an ERA under 3.90.
Starter Number Five: Dillon Gee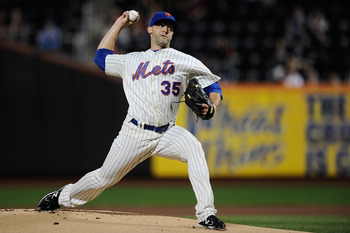 Gee surprised everyone last season. Can he build on that success in 2012?
Patrick McDermott/Getty Images
The Mets began last season with Chris Young as the fifth starter. After he went down to season-ending injury, the Mets called up Dillon Gee. Like the year before when Dickey was called up and stayed, so Gee became a permanent fixture in the Mets' rotation last season.
He made 27 starts and posted a 4.43 ERA in his opportunity. He also posted a 13-6 record to go with 160.2 innings pitched. Hitters in the second half began figuring him out, though. He had a 6.49 ERA in August and a 5.33 in September. His first half of the season had 3.48 and 2.48 ERA in May and June respectively.
He dominated every division team but Philly. He had six wins in 14 starts against the N.L. East. He had a 3.17 ERA in Citi Field and posted seven of his 13 wins at home. He had a very good season for a call-up replacement pitcher.
The questions now are will he start at the majors this year and will he be more like the first half or more like the second half? The answer is yes and both. I'll explain. He will be the fifth starter. He'll beat out players like Mejia and Schwinden for that last spot based on the experience last season.
Terry Collins really liked him. I believe that will be his saving grace. Many compared him to a Greg Maddux type last season, in that he will not overpower anyone, but he gets outs. That will continue, but the ERA will take a considerable hit.
He will have struggles in his sophomore season as hitters adjust to him like they did in the second half. He, and the coaching staff, will learn to adjust back, but it will take time.
I expect him to win 8-10 games and post an ERA over 4.50.
Reliever Number One: Tim Byrdak
Byrdak has been a good addition to the bullpen last season. Will 2012 be more of the same?
Mike Stobe/Getty Images
The first thing Mets GM Sandy Alderson did after the end of the 2011 season is to re-sign Tim Byrdak. Opposing hitters batting .222 against him was a good reason why.
In 72 appearances, he posted a 3.82 ERA, but he held left-handed hitters to a .271 OBP to go with that .222 AVG I mentioned before. He gave up only three home runs and struck out 47 in his 37.2 innings pitched.
At one point last season, he was the only lefty in the bullpen. Eventually, the Mets added another lefty in a trade for Francisco Rodriguez to the Milwaukee Brewers, named Danny Herrera..
The question on Byrdak ,though, is will he repeat his 2011 performance? Yes. He will be used in fewer bad situations, and therefore, his ERA will be a little better. He will be considered the lefty-on-lefty specialist in late innings.
This will be helpful in games against Chase Utley, Jayson Werth and other premiere left-handed hitters in the NL East. I expect him to post an ERA under 3.60 and hold opposing lefty hitters to a batting AVG under .200.
Reliever Number Two: Pedro Beato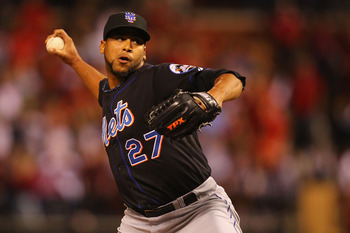 Beato was a pleasant surprise last year. How will he be in 2012?
Dilip Vishwanat/Getty Images
Pedro Beato emerged as a security blanket for Terry Collins in the bullpen. He posted a 4.30 ERA in 67innings pitched. He was overworked in an already taxed bullpen. His 5.67 ERA after the All-Star break is a testament to this.
He dominated the NL East. The highest ERA he posted against any team in the division is 4.50 versus Washington. He posted a 4.05 ERA at Citi Field and held right-handed hitters to a .228 AVG.
If he isn't overused in 2012, it wouldn't be a stretch to see him developing into a righty specialist that continues to dominate the N.L. East right handed bats.
I expect him to post an ERA under 4.00 with an opposing batting AVG under .220 while striking out at least 50 in more than 50 appearances.
Reliever Number Three: D.J. Carrasco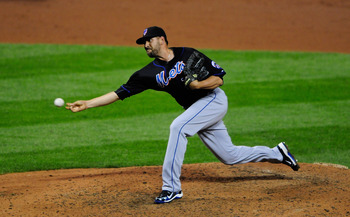 Carrasco had a very bad and very overworked 2011. Will 2012 be any better?
Jeff Curry/Getty Images
The Mets signed D.J. Carrasco last season to help the beleaguered bullpen. The Mets planned on using him as a spot starter and long reliever. He ended up making 42 appearances, including one start, in 2011 for a total of 49 innings pitched. That's the good news.
The bad news is that he gave up 35 runs on 67 hits in those innings for an ERA of 6.02. Those kind of stats would normally not be good enough to warrant keeping a player the following season. In his case, the Mets are paying him $1.2 million for 2012.
They're not going to send a pitcher that makes that type of money down to the minors (unless his name is Oliver Perez). The question is will he continue on that pace or improve in 2012?
Before the Mets signed him, he posted a 3.68 ERA in 2010 with the Arizona Diamondbacks and the Pittsburgh Pirates. Before that, he pitched for the Chicago White Sox where he posted a 3.96 ERA and a 3.76 ERA in 2008 and 2009 respectively.
Can he return to this? I believe he can to a degree. His first season was filled with a lot of first pitch base hit scenarios. Hitters jumped on him early in counts too often this year. This shows that he was predictable.
If the Mets can help him limit that, he could be effective. I expect him to have three to five spot starts (including a double-header start somewhere in the year) and post an ERA under 4.00.
It may not be completely worth $1.2 million for that type of performance, but it's better than his 2011 line.
Reliever Number Four: Ramon Ramirez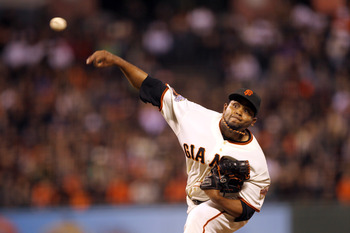 Ramirez is new to the Mets, acquired in the Pagan deal last month. Will it pay off?
Ezra Shaw/Getty Images
Last month, the Mets surprised the baseball world when they traded Angel Pagan to the San Francisco Giants for Andres Torres and a reliever named Ramon Ramirez. The key part of the trade was Torres, but the big steal in the trade was Ramirez.
Last season for the Giants, he posted a 2.62 ERA in 68.2 innings pitched. The Mets are hoping that he will continue the .203 batting AVG against right-handed hitters. The question is will he?
His track record says yes. I believe he's the answer to stability in the bullpen against righty hitters. He dominated every team in the N.L. East but the lefty-heavy Philly lineup.
If they use him against right hitters only, he will be extremely effective. The chances of this happening all the time, however, is limited, therefore, I expect him overall to post an ERA under 2.55 in around 60 innings of work.
Reliever Number Five: Bobby Parnell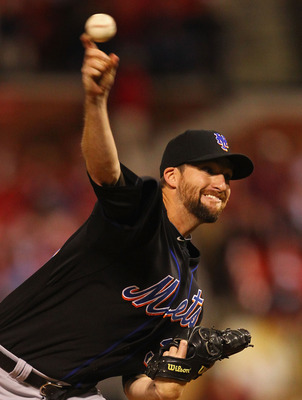 Parnell had a rough 2011. How will he do in 2012?
Dilip Vishwanat/Getty Images
The Mets entered last season with Francisco Rodriguez as the closer. After his trade in July, the Mets turned briefly to Jason Isringhausen for the closing duties. After the sentiment of Izzy wore off, they settled on what they thought would be the transition to the future of the back end of their bullpen,
Bobby Parnell. Parnell has the physical makeup of a closer. He stands at 6'4"and consistently throws 100 MPH. He seems to not have that mental edge that makes pitchers into closers. He's soft spoken and very humble. These are great attributes for a player to have, but a closer is a different breed.
He lacks the fire and intensity needed to do the job. When the Mets handed the role to him, he floundered in the spotlight. He maintained a 3.64 ERA and recorded six saves, but he also blew another six opportunities.
He had 11 holds in the set up spot in the eighth inning, but there's something about the ninth inning that seems to make his fastball more hittable. Before the All-Star Game, he had zero save chances and a 2.92 ERA.
After it, though, he had 12 saves opportunities and only converted half to the tune of a 4.15 ERA. The difference is night and day. The Mets know this. They signed two pitchers with back end bullpen experience to counter this.
Both Jon Rauch and Frankie Francisco have closing experience and should eliminate the need for Parnell to have to handle these situations. The Mets know now that he's not the answer to closing out games.
It may force them down the road to convert Jenrry Mejia to a closer, but for now, they will lean on their new acquisitions and not Parnell.
With all that said, the question on Parnell is will he bounce back from that awful second half? The answer is most decidedly yes. The Mets will use him in a seventh or eighth inning role, and he will settle in nicely to it. His ERA will drop and his strikeouts will rise.
I expect him to have an ERA lower than 3.30 and pitch 60 innings or more and 75 strikeouts or more. These are all attainable goals for him, especially now that the pressure of the spotlight is off this very humble and talented pitcher.
Reliever Number Six: Jon Rauch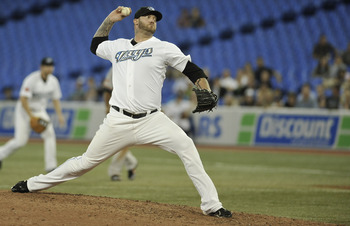 Rauch is another new acquisition. How will he do in his first year?
Brad White/Getty Images
As previously mentioned, the Mets back end of the bull pen struggled mightily last season after they traded K-Rod to Milwaukee. One remedy for that this season is the new acquisitions of Frankie Francisco (more on him in a minute) and Jon Rauch.
Both pitched for Toronto last season. The Blue Jays shut Rauch down for September due to a knee injury. He had surgery and has made a full recovery.
While pitching through the injury, he posted a 4.85 ERA with 11 saves. That's nearly double to Bobby Parnell in fewer innings pitched (52).
The 6'10" right-hander is a well-traveled veteran. He has recorded 18 saves in a season for Washington, 21 in a season for Minnesota and 11 last season in Toronto. He's very comfortable in both the eighth and ninth-inning roles.
Last season, he was the setup man to Francisco, like he will be this season. That familiarity and experience last season will help him to adjust more quickly to a new team and a new stadium.
I expect him to be healthy and post numbers closer to a setup man. Most likely around five saves and an ERA under 3.50 in around 70 innings pitched.
Reliever Number Seven: Frankie Francisco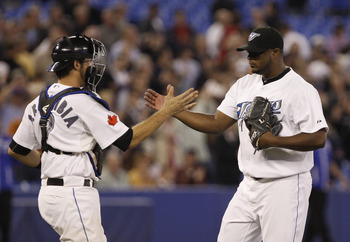 Frankie Frank is yet another new acquisition. How will he settle in?
Abelimages/Getty Images
Part of the back end bullpen tandem the Mets signed last month was Frank Francisco (who for now on will be referred to here as Frankie Frank because it's more fun). Frankie Frank has only known two teams as a MLB player—the Texas Rangers and the Toronto Blue Jays.
An interesting tidbit to Mets fans about him is that in 2003, he was involved in a trade for former Mets star Carl Everett, though the Mets were not involved in that deal. Contrary to popular belief, he has never been a starting pitcher.
The stats reveal that he has been a reliever all of his professional career. In fact, he has been a pretty good one at that. From 2008 to 2010 for the Rangers, he posted ERAs of 3.13, 3.83 and 3.76 while pitching roughly an average of 55 inning per season.
His one season that will help Mets fans gauge his 2012 would be his 2009. That season, he was the Texas closer and posted 25 saves with a 3.83 ERA in 49 innings pitched. He struck out 57 batters in those 49 innings and posted a 1.11 WHIP to go along with it.
He was reverted back to a set-up role to make room for Neftali Feliz—the current Rangers closer. He was then traded to Toronto where he shared the closing duties for the Blue Jays with the aforementioned Jon Rauch.
The question is will Frankie Frank be an effective closer in Queens? An emphatic yes! He has proven he can handle the job. In a pitcher-friendly ballpark like Citi Field,
I expect a better season than his 2009 campaign with Texas. He can post an ERA under 3.20 and collect 35 or more saves.
Bench Player Number One: Josh Satin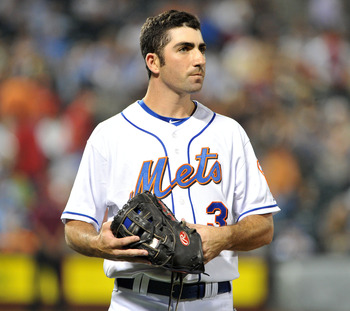 Satin was a surprise hit in his September call up. Will he continue that in 2012?
Christopher Pasatieri/Getty Images
This is the roster spot that will be the most highly contested come March. In this spot, the Mets could use an extra outfielder like a Mike Baxter or Jason Pridie. They also could go with a third catcher or a young, unproven MLB ready prospect like Reese Havens or Wilmer Flores.
If they decide not to have seven relievers (12 pitchers overall), they will go with one of these options, but I believe they will settle on Josh Satin for this roster particular spot. Three reasons why.
One, he gives them defensive flexibility. Terry Collins loves that. On a team that has been rattled by injuries so frequently over the past few years, it's nice to have players who can play multiple positions.
Satin is listed as a second baseman but played eight games at first and one at third when he was called up last September.
Two, he's a fan favorite that brings energy to the clubhouse. He's a spark-plug-type of personality. The fans like him, and the players do too. That helps make a better atmosphere for the team.
Finally, he can hit at the MLB level. Don't let his .200 AVG last season fool you. He got off to a slow start after battling those first time jitters. When he settled in and found his role, he was good in his brief stint. Against left-handed pitchers, he hit for a .300 AVG with a double and two RBI.
I know it's a small glimpse of a season to judge by, but if he repeats that type of productivity throughout a season in that role, the Mets have a very useful weapon off the bench.
I expect him to fight for a spot in spring training and win it. Then, settle into a pinch-hitter, late-inning defense role for the club. He will hit five to eight home runs and drive in 20-30 runs off the bench, all while being a serviceable backup that hits for a .290 AVG or better.
Bench Player Number Two: Ronny Cedeno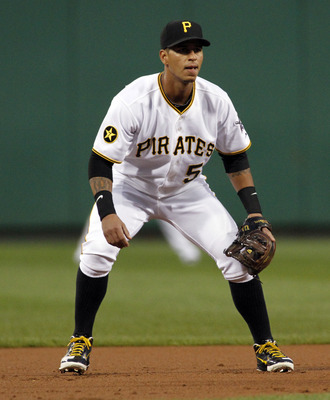 Cedeno was just signed to be a back up for Tejada. How will he do?
Justin K. Aller/Getty Images
In an attempt to have some insurance for the Ruben Tejada project, he Mets signed a backup infielder last week. His name is Ronny Cedeno. Cedeno spent the last two season or so with the Pittsburgh Pirates.
He started at least 128 games both seasons. In that time, he hit 10 home runs and 70 RBI with 14 stolen bases. Don't expect him to be the next Jose Reyes, though. He held a .256 and a .248 AVG over those two seasons.
It's primarily understood that he will take on the role of backup due to his defense. He made 13 errors in 397 chances last season and is a career .971 fielder among five different positions (SS, 2B, 3B LF and RF).
While he will not blow anyone away with blazing speed or towering fly balls, he's consistent in the field. That will help solidify the defense in late or extra innings. This is the type of free-agent pickup teams need to make but rarely get praised for.
I expect him to fill in for Tejada on a handful of occasions this season but take on the role of backup most of the other times. He will get around 80 at bats and post a .250 AVG or better. Also, he will hit three to five home runs and make fewer than five errors.
Bench Player Number Three: Justin Turner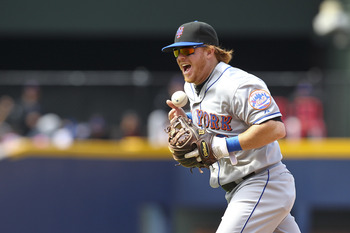 Turner has become a very popular Met in 2011. What will 2012 hold for him?
Daniel Shirey/Getty Images
Justin Turner burst onto the scene as a fan favorite almost immediately last season. He played 117 games last season at second base and third base. He even played a game at short stop.
He hit 30 doubles, 51 RBI, scored 49 runs and hit four home runs while posting a .260 AVG. He's one of the players the Mets relied heavily on last season to get through their rash of injuries.
That flexibility will make him be a strong candidate for the starting second baseman job. In the end, I believe he will take on a bench role as a backup to Daniel Murphy and David Wright.
His production off the bench in late innings as a pinch hitter and defender will be a key to the their success in 2012. He will provide much needed depth at positions that were very thin last year.
With that said, I expect him to hit five home runs as a pinch-hitter/spot starter and raise his batting AVG to over .275. He will be a vocal leader on this team.
Bench Player Number Four: Scott Hairston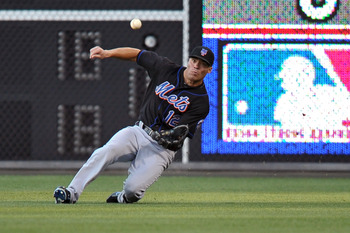 Hairston was a source of power off the bench in 2011. The Mets re-signed him for 2012.
Drew Hallowell/Getty Images
The Mets re-signed Scott Hairston last week. He was an important part of the Mets' roster last season after the trade of Carlos Beltran. He played all three outfield positions but spent most of his starts replacing Beltran.
He saw more time in right field until he went down with an injury in late August. During his season, though, he hit seven home runs and 24 RBI in 79 games played.
While the outfield this season is full with Jason Bay in left, Andres Torres in center and Lucas Duda emerging last season as the right fielder, Hairston will play an important role in bench depth.
I believe he will have a few spot starts and several pinch hits. He should improve on his .235 AVG and hit for power off the bench. I project him to hit between eight to 10 home runs this season.
Bench Player Number Five: Mike Nickeas
Mike Nickeas will take over the backup role for catcher. How will he do?
Nick Laham/Getty Images
After they signed a veteran minor league option last month, the Mets have reported they will not seek another outside option for their catching roster spots. That means that Josh Thole will be the starter (more on him in a moment) and Mike Nickeas will be his backup.
This includes the fact that they signed Rob Johnson last month to compete for the backup spot, but I believe the role will go to Nickeas. Therefore, if they keep Johnson on the roster, it will be in place of a seventh reliever or the spot that I have Josh Satin currently sitting in.
However, I don't see that panning out. The Mets bullpen woes last season will certainly be on the mind of Terry Collins, and he will want as many options there as possible. That will leave the bench a little thin. He would rather have two catchers and a few options in the field than three catchers and shuffle players around in unfamiliar positions.
With that said, I believe Nickeas will settle into the role of backup well. He's a defensive-minded catcher that can be used for late and extra innings. While his bat is nothing to write home about, .189 AVG in 21 games, he will suffice as a defensive backup and spot starter for Josh Thole—especially on days when Dickey pitches.
I predict he will play in 35 games and hit over .250. He will also be the reason that Thole becomes a better catcher as Nickeas will eventually take over as the favorite catcher for R.A. Dickey, and therefore, Thole's defensive numbers will get better as a direct result.
Starting Catcher: Josh Thole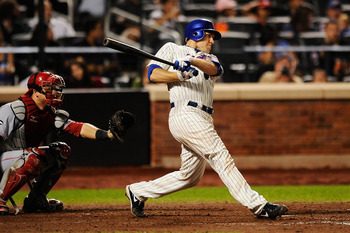 Thole will be the full-time catcher again this year. Will he finally make it work?
Patrick McDermott/Getty Images
Josh Thole is the Mets choice for the starting catcher in 2012. He did earn it. Before you think he didn't take a look at his 2011 numbers. He appeared in over 100 games for the first time in his MLB career. In that time, he had to learn to handle a pitching staff filled with veterans and rookies. He did well.
Most critics pointed out his struggles against R.A. Dickey's knuckleball. He had 16 passed balls last year and most of them came in games that he caught Dickey. The knuckleball problems aside, he did have trouble throwing out baserunners. He posted just a .207 caught stealing percentage.
These are things he can work on. The Mets can assign backup (and better defensive option) Mike Nickeas to catch R.A. Dickey's starts to help the team prevent those mistakes.
On the offensive side, Thole had a down year in 2011. I believe it was due to him focusing so much on the rest of his game: learning his staff, learning opposition, defensive work, etc. He had a .268 AVG, 40 RBI and four home runs.
This is a far cry from his .277 AVG in 2010 and his .321 AVG in his September call-up in 2009. He has proven that he can hit in the majors. The question is will he put it all together this year? I believe he will.
I expect him to have five to 10 home runs and a AVG over .280. With the walls moving in a tad and a shared duty on days where he had to catch his biggest challenge should all combine to help him get his head back on right and turn in a season the franchise is looking for.
Starting First Baseman: Ike Davis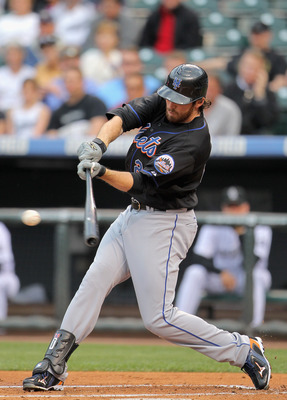 Ike Davis is healthy and ready to put 2011 behind him. Will he?
Doug Pensinger/Getty Images
Last season was suppose to be the breakout party of Ike Davis. It lasted 36 games. He was leading the team in home runs and RBI before he went down to a fluke ankle injury that eventually ended his season.
At the time of his injury, he had seven home runs and 25 RBI while batting .302 with 39 hits and 20 runs scored in 129 at bats. He was on pace for an excellent season, if not an MVP candidate-type season.
His rookie season of 2010 showed what he could do, though. In 147 games, he hit 19 home runs, 71 RBI and hit .264. With a healthy foot and some new dimensions down the lines in Citi Field, he should have the explosive season he was on pace for last season.
I expect him to bounce back healthy and productively. He will hit 30-35 home runs and 100 or more RBI, while posting a .300+ AVG. If he does this, the Mets will not have any problems with the middle of the order.
Starting Second Baseman: Daniel Murphy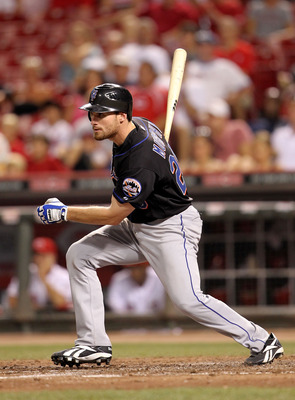 Murphy will be looking to have a 2012 that's more like his first half of 2011, not his second half.
Andy Lyons/Getty Images
The second-base position will not be as highly contested this spring training as it was last year. This time last year, we were talking about Luis Castillo, Justin Turner, Daniel Murphy, Chin-lung Hu and a few others.
Daniel Murphy and Justin Turner emerged as the clear choices. They will again this year too. Murphy will win the competition based on his offensive potential like he did last year.
Last year, he won the starting job and did well at the plate, as expected. He didn't do so well in the field, as expected as well. He played more than half of the season, until he tore his MCL and ended his season.
While healthy, he provided such a spark for the team that he kept them alive while Jose Reyes, David Wright and Ike Davis were all injured, and Carlos Beltran was traded. When he went down, it was a deflating loss to the team morale. And for good reason.
He hit for a .320 AVG, scored 49 runs, had 49 RBI and had 28 doubles. In 2010, he posted a .266 AVG with 38 doubles in his 135 hits. He improved on his AVG and maintained his hitting production across the board. He can continue to do this in 2012.
The question is will he get better defensively while hitting well? The truth is yes. He wasn't as bad as people thought. He played 1B, 2B, 3B and LF last season. At second, he committed just two errors in 93 chances.
He did have 10 total errors among these four positions, but the knock on him was his defense at second base. He was not so bad there. Did he get injured playing there last season? Yes.
Can he work on his footing and learn to play the position full-time? Yes to that too. If he puts that all together, he can be a leader and an outstanding player on this team.
I expect him to be the everyday starter at second and get it down well enough to be effective. He will limit his mistakes there and then excel at the plate. He will post an AVG over .300 and hit 45 doubles.
Starting Third Baseman: David Wright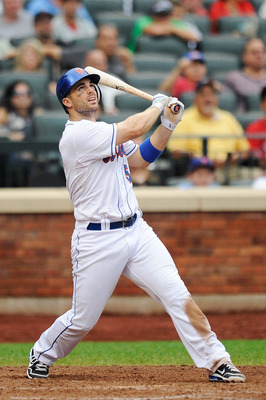 Wright struggled in 2011 with injuries and a weak lineup around him. Will 2012 be better?
Patrick McDermott/Getty Images
The 2011 season is one that David Wright would like to soon forget. He started 102 games and had the first major injury of his career. Of his 99 hits, only 14 were home runs, and he only had 61 RBI while batting .254.
He was not himself. He played most of the first half of his season injured. He hurt his back stretching to tag a runner out at third base. The Mets finally learned he was hurting and placed him on the DL on May 16th.
He returned on July 22nd and was more like his old self. Eight of his home runs and 46 of his 61 RBI were in his second half. He returned healthy and sparked the ball club early on in his return.
The question on him now is whether he's healthy and will he be his old Shea Stadium self after the new dimensions change to Citi Field?
I believe he will be. There's little doubt that the canyon known as Citi Field has gotten to his psyche and hurt his swing. A change in the dimensions can do wonders for him.
This brings us to the next big question. Will he be traded before the end of the season? There has been speculation over that all offseason. The Mets, themselves, have denied it throughout, but that doesn't stop the second guessing by the media.
Every time there's a rumor that comes along, the beat writers and bloggers eat it up. I don't expect him to be moved. In fact, I expect the Mets to end up re-signing him to a long-term deal that will most likely take him the the end of his career.
This may not happen this season or in the offseason next year, but it will happen, and the 2012 performance will be a apart of it. He will hit 30 home runs and 100 or more RBI this year, all while batting over .290 for the team he loves.
Starting Short Stop: Ruben Tejada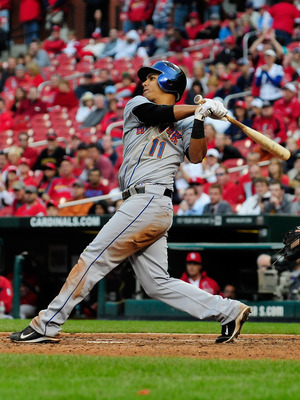 Tejada emerged last season as a solid short stop option when Reyes went down to injury. So solid in fact, that the Mets were convinced to let Reyes walk away. Will he reward them in 2012?
Jeff Curry/Getty Images
The major story of 2011 and this offseason was by far Jose Reyes. His every move or idle time was recorded with baited breath and eager pens. The only batting champion in Mets' history didn't wait long to decide on his next destination.
When he chose to sign with the new-look Miami Marlins last month, he left a void in the Mets lineup and infield that has to be carefully replaced. The mantle of shortstop will be passed onto a new face. Enter Ruben Tejada to take the baton.
He's known for his defense at second base and for being a slap hitter with decent power to the gaps. He played in 96 games, 55 at second and 41 at shortstop.
At second, he committed four errors in 245 chances, but in 181 chances at shortstop, he made twice as many errors (eight). At the plate, he hit .284 and scored 31 runs on 93 total hits.
The big question on him will be how good can he be as a full-time starter replacing a near Mets' legend? I believe he will be sufficient.
He doesn't have to be Jose Reyes. He just has to play up to his potential. I expect him to score 65 or more runs and hit over .285 while flashing a potential award-winning glove.
Starting Left Fielder: Jason Bay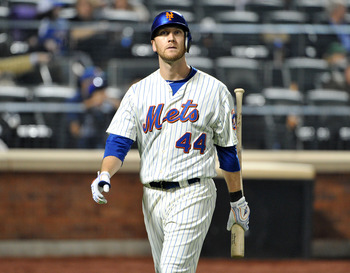 Bay had a half decent 2011, but nothing close to the numbers that earned him his contract. Will he excel in 2012?
Christopher Pasatieri/Getty Images
Meet Jason Bay. He signed a four-year contract with the Mets two years ago. Now entering his third season, he's hoping for a bigger contribution and Mets fans and the Mets brass are counting on him earning some of that enormous $66 million contract.
In two seasons in Queens, he has hit 18 home runs and 104 RBI combined. He had better single-season numbers than that in four different seasons (2005, 2006, 2008, 2009).
The Mets are changing the dimensions of their park, and Bay is hoping to benefit from it. If he does, he will be adding depth to a potentially potent lineup in 2012. The question is can he rebound in a Mets uniform?
Yes, kind of. I believe he can have a better last two seasons of his contract than his first two seasons. However, I don't expect him to be a world beater like he was in Boston in 2009 (36 home runs, 119 RBI).
I expect he gets started on that living up to that contract by posting 20 or more home runs and 85-90 RBI. Any Mets fan would take that.
Starting Center Fielder: Andres Torres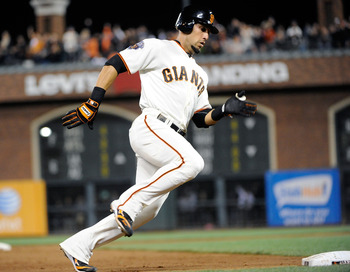 Torres came over in the Pagan trade last month. Will it be a good move in 2012?
Thearon W. Henderson/Getty Images
Last month, the Mets traded their center fielder Angel Pagan. They need a better defensive replacement and a leadoff hitter. They got both in Andres Torres. When comparing the two players, there is a minor difference.
Last season, Torres hit .221, four home runs,19 RBI and had 19 stolen bases while Pagan hit .262, seven home runs, 56 RBI and had 32 stolen bases. Clearly, Pagan was the better hitter in 2011. In 2010, however, it's a different story.
Pagan hit .290, 11 home runs, 69 RBI and had 37 stolen bases while Torres hit .268, 16 home runs, 63 RBI and had 26 stolen bases. Torres played injured last season but still did an admirable job. He produced so much better the season before when he was fully healthy.
It's that Torres whom the Mets are counting on. The question is, will he be that player or the one from last season? I believe he will be more like the 2010 Torres than the 2011 one.
In his career, when he has been healthy, he has played on pace to the 2010 stats. His only two full seasons have been one good one and one mediocre one. It's hard to judge his potential unless you look at the other seasons to see what pace he was on.
In 2009 for example, he played a little less than half of a season (75 games), and he had six home runs, 23 RBI and six stolen bases. If that was stretched out into a full season those numbers would look more like 12 home runs, 46 RBI and 12 stolen bases.
For a leadoff hitter, that's not horrible. If he keeps his walks up and his strikeouts down, while building his batting average, he will be sufficient for what the team needs.
With all of that said, I expect him to hit for over a .275 AVG, have over 30 stolen bases and 10-15 home runs as a lead off hitter. That type of production will be a perfect fit with Tejada behind him and Wright, Davis and Duda in the heart of the lineup driving him in.
Starting Right Fielder: Lucas Duda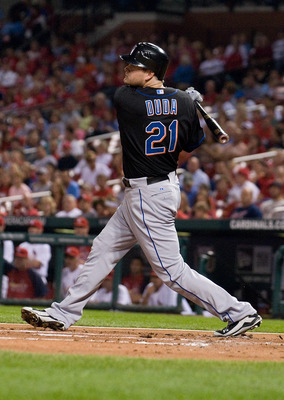 Duda emerged as a strong hitter in the heart of the order in 2011. Will he be better in 2012?
Jeff Curry/Getty Images
The Mets have a talented, young player that fits very well in the middle of the lineup. This player filled in nicely when Carlos Beltran was traded in July, and Scott Hairston went down to an injury in August. This player is Lucas Duda.
Between filling in at first base for Ike Davis and right field for Beltran, Duda was a force in the order. He hit 10 home runs, 50 RBI and had a .292 AVG. That was in 100 games between multiple positions.
Imagine if he's comfortable in one position for an entire season with new dimensions. How good can he be then? I believe he will be dominant for this team. I expect a tremendous season for all of those reasons.
The new dimensions, the ability to get comfortable in one place and a chance to play the entire season will all become factors that boost his stats for the Mets in 2012.
I predict at least 30-35 home runs, 100-plus RBI and a .300 AVG. These stats will only get better as he gets more experience. For a Mets team hungry for a legitimate source of power, they will have three (Wright, David and Duda).
That will stack up with any three, four, five in the NL East. Furthermore, I'll add a bonus bold prediction.
Forget last place, if most of these come to fruition, the Mets will be a wild-card contender.
Keep Reading

New York Mets: Like this team?