BCS Championship 2012: A.J. McCarron and Players Who Deserve More Respect
January 8, 2012
Greg McWilliams/Getty Images
You know the familiar suspects for Alabama and LSU: Trent Richardson. Tyrann "The Honey Badger" Mathieu. Dont'a Hightower. Morris Claiborne. Courtney Upshaw. Jordan Jefferson.
But which players deserve more respect and guarantee to play a huge role in Monday night's BCS National Championship Game?
The Alabama Offensive Line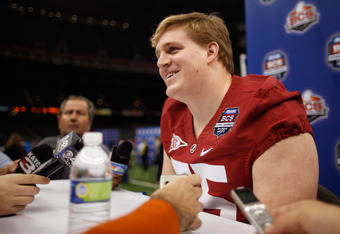 Chris Graythen/Getty Images
Sure, offensive lines barely garner respect. And Alabama's left tackle Barrett Jones did win the Outland Trophy as the nation's best lineman.
But when you hear about Alabama, you hear about Trent Richardson and the team's excellent defense.
And for good reason—Richardson is the nation's best running back, and at least statistically, Alabama is the nation's best defense.
But without Jones, Chance Warmack, William Vlachos, Alfred McCullough and D.J. Fluker on the offensive line, Richardson would have had a hard time compiling 1,583 rushing yards and 20 touchdowns.
LSU Defensive Ends Sam Montgomery and Barkevious Mingo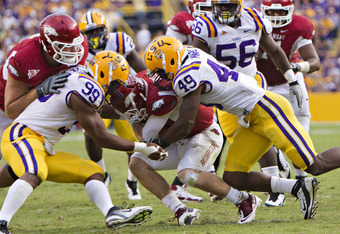 Wesley Hitt/Getty Images
Montgomery finished the season nine sacks, nine tackles for loss and a forced fumble. Mingo added eight sacks, 12 tackles for a loss and a forced fumble. The two helped lead LSU to an SEC-best 37 sacks this season.
By now, you've surely heard people note that LSU might have the best secondary in the history of college football. But the pass rush from LSU's bookends certainly made the job of that very talented secondary a whole lot easier this year.
A.J. McCarron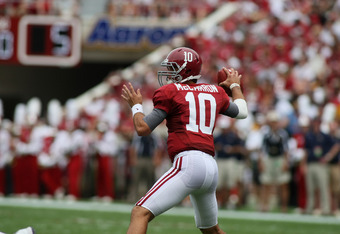 Greg McWilliams/Getty Images
No, A.J. McCarron isn't as dynamic a playmaker as the other quarterback in this game, Jordan Jefferson.
And yes, there is a reason you probably don't know a whole lot about the sophomore—Nick Saban shielded him from the media for much of the year, and the young quarterback obliged that decision.
But what you should know about McCarron is this: He is a solid quarterback who hasn't been asked to win games for the Crimson Tide, but rather to not lose them.
And he's obliged that, too.
McCarron has thrown for 2,400 yards, 16 touchdowns and only five interceptions on the season, completing 66.7 percent of his throws. And though he has dutifully played the role of game manager this year, McCarron has the potential to be one of college football's best quarterbacks in his final two seasons in Tuscaloosa.
So if he makes a few big-time plays against LSU on Monday night, don't be shocked. It isn't that he hasn't been capable of big plays this year.
He's just been expected to allow Trent Richardson and the Alabama defense to make them.
Hit me up on the Twitter—it's the best way to spend the last year of existence.