NFL Playoffs: New England Patriots' LB Rob Ninkovich Flourishes
January 8, 2012
At 27 years old and in his seventh NFL season, New England Patriots' linebacker Rob Ninkovich is certainly no newcomer.
But it's now, in his third season with the New England Patriots, that the former fifth-round selection out of the 2005 NFL draft has turned himself into a stalwart among the team's starting defensive lineup. 
It's been a long, challenge-filled journey for Ninkovich to get to this point in his career. Multiple knee injuries suffered in New Orleans led to his release from the Saints in 2008.
"I was the third d-end, behind Will Smith and Charles Grant. I was playing a lot, but unfortunately I had a knee injury where I tore my ACL and had to have that fixed. I came back the next year and tore the MCL in my same leg. It was a tough two years," explained Ninkovich.
Picked up on waivers that same season, it was the Miami Dolphins that originally transitioned Ninkovich from defensive end to linebacker, where he played predominantly inside in the 3-4 alignment.
"I was with them [for the 2008 season] on the practice squad, then New Orleans signed me to long snap for them. But it turned out to be a blessing that they released me, because I wanted to play defense."
Enter New England.
As a free agent, Ninkovich and the Patriots agreed to terms in 2009 and later extended the agreement through the 2011 season after the linebacker made the team's 53-man roster out of camp.
"Rob wasn't even with a team at the start of training camp, and he has made our team and fulfills a lot of different roles on our team," Belichick said of the signing at the time. "Guys like that, you have that player on your team, and you say 'I can't believe this guy wasn't on somebody's team.'"
Prior to 2009 the former Purdue product had zero starting experience, only managing to make an active roster for eight games.
Since the signing, Ninkovich has proved competent, valuable and versatile in nearly everything he does. He's been a model citizen in the locker room and during interactions with the media in and around Foxboro.
There's no denying, however, that his largest contributions have come on Sunday.
Ninkovich graduated from special teams to part-time starter in 2010, making 10 starts at outside linebacker. He posted career marks in games played (16), tackles (62), sacks (four), interceptions (two) and passes defended (four).
Ninkovich has used the entirety of the 2011 season to put on a clinic for anyone wondering how to take advantage of an opportunity. He again shattered his career-bests in games started (16), tackles (74), sacks (6.5), touchdowns (one) and forced fumbles (one) while tying many others.
Ninkovich put memories of Mike Vrabel and the glory days of No. 50 back squarely in the minds of New Englanders all season.
He just had a nose for the ball and a knack for coming away with the big play when it was needed most.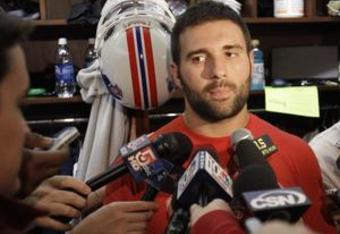 Ninkovich also provided a consistently disruptive and successful pass rush as an OLB, a position long overdue for solid production in New England. And if Ninkovich's recent production and attitude suggest anything, it's that the Patriots have themselves a high-priority contract extension scenario on their hands.
Ninkovich, who played for a base salary of $650,000 in 2011, will be a free agent at the conclusion of the season.
"I know I can compete and play well at this level", Ninkovich announced to New England media members back in 2009. "Now it's just taking the opportunity and staying healthy. That's one of the main goals in the NFL -- to stay healthy and play all 16 games, contribute on special teams, and when they put me out there, I will keep the level the same. I want them to be confident I can play."
I think it's fair to say the team and its fanbase are more than confident now, Rob.