Andrew Bynum Is the Most Overrated Player in the NBA
January 8, 2012
Harry How/Getty Images
I never knew how highly NBA fans thought of Andrew Bynum until I recently suggested the Los Angeles Lakers trade him for someone other than Dwight Howard. I've come to realize that many people think he's a top-five center, if not a top-two center.
That is a farce.
Bynum is the most overrated player in the game today because fans think he's just below Howard. He definitely isn't, and for three reasons:
1) Injury issues: You have to take them into account. A guy who plays only two out of every three games can't be counted on to produce at an elite level.
2) Pau Gasol: He isn't even the best big man on his own team.
3) The numbers don't lie: His stats say he is a very good center, not a great one.
The Injury Bug
If Greg Oden weren't around, we'd all know Andrew Bynum as the premier center who's always hurt.
He has played one full season in his six-year career, and owes many of his career-best stats to the 2006-2007 season, where he played just 35 games.
I can't gauge how well Bynum can last for an entire season because those are rare for him.
An unseen consequence of his injury history is the physical toll it takes every year on Kobe Bryant and Pau Gasol to have to carry the team during the one-third of games Bynum misses on average.
Harry How/Getty Images
Call me cynical, but could Bynum be shaving years off of Bryant's shelf life?
Let's take a look at fellow big man and 2005 NBA Draft pick David Lee.
While Bynum has missed 33 percent of his games, Lee has missed just over 10 percent. Over their careers, Lee has two more rebounds, one more assist and three more points per game than the highly touted Bynum.
Someone tell me why Bynum is second only to Howard at the center position when he can't even out-rebound a fellow '05 draftee who's three inches shorter than him!
Pau Gasol is Better
It's tough to make a case for Andrew Bynum being a premier center in the league when he's not even the best big man on his team. That title belongs to Pau Gasol.
Gasol beats Bynum in every single career stat except field goal percentage (Gasol loses by .003) and blocks per game (Gasol loses by .3).
A fellow seven-footer, Gasol is capable of playing low if needed, but why bother when he has a beautiful mid-range game? Score another point for Gasol.
They both have two championship rings with the Lakers, but let's be honest: Which one actually earned his?
Gasol was on the floor for 40 minutes per game over the two-year playoff run, while Bynum was only on for 21 minutes (and I rounded up).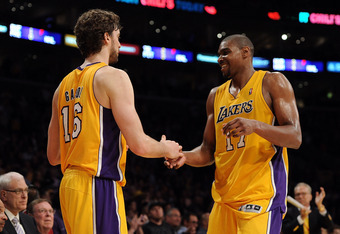 Harry How/Getty Images
Bynum's measly 7.5 points per game is dominated by Gasol's 19 over the two postseason runs.
I could list every stat, and tell you how Gasol wins in each, but it's all academic at this point. Gasol was more vital to the Lakers in both of their recent championships and should still be regarded as the best forward or center on the team.
Bynum is Very Good...Just Not Great
In order to be considered an elite center, you absolutely must average double-digit rebounds.
Andrew Bynum has achieved that feat but once his career, and that was during his 35-game 2006-2007 season. Chances are those numbers would've dropped over the course of 82 games.
In fact, the better comparison for how good Bynum is would be the other Gasol brother, Marc. Their career numbers are nearly identical!
A Memphis Grizzlies fan, I never knew that Marc Gasol was an elite center to be considered second only to Dwight Howard! Or maybe both the Bynum lovers and I are confused...
Elton Brand's season last year was extremely similar to Bynum's. The 32-year old also played in 27 more games than the 24-year-old Bynum. Is Brand still elite?
Andrew Bogut, Roy Hibbert and Al Jefferson are all clearly better—both in numbers and durability—than Bynum, and yet they get much less praise.
But why? Why is do we talk about him alongside Dwight Howard, making him so overrated?
Andrew Bynum plays in Hollywood.