Chicago Cubs Trade Rumors: Alfonso Soriano for Brian Roberts Would Be a Win
January 8, 2012
Rob Carr/Getty Images
According to Phil Rogers of the Chicago Tribune, rumors of a possible trade of the Chicago Cubs' outfielder Alfonso Soriano to the Baltimore Orioles could actually happen.
While it remains to be seen who the Cubs would take in return, his suggestion of second baseman Brian Roberts could make sense.
It should be no surprise to anyone that the Orioles are interested. It is where Cubs players go to die.
Past players include Corey Patterson, Sammy Sosa, Felix Pie, Rich Hill and one could argue Derrek Lee as well.
While Theo Epstein and Jed Hoyer have already unloaded the existence of headcase starting pitcher Carlos Zambrano, it would be difficult to imagine the club possibly paying the majority of both Z's and Soriano's contracts. Soriano more so, as he has three years and $54 million remaining on his contract.
If they were to take on Roberts, they would be bringing in a player who is being owed $10 million for each of the next two seasons.
While he isn't worth that kind of money, as he has only appeared in 98 games in the last two years, it could potentially save the Cubs from covering Soriano's hefty contract while having nothing to show for it.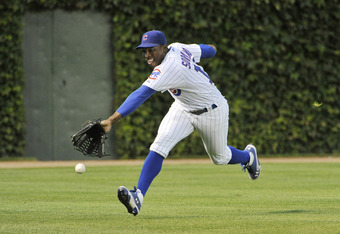 Brian Kersey/Getty Images
The last time the Oriole saw good production was back in 2009. That season, he appeared 159 games, batting .283 while having a career high in doubles—56.
Roberts just hasn't been the same since he suffered a concussion back in May of 2011, and his status for the 2012 season is still up in the air.
The Cubs would be running the risk of acquiring a guy who can't even play, but it could be a chance worth taking.
Let's be honest, the Cubs are not going to get anything special in return for the services of Soriano, so they could be best off settling for a player who could potentially add something to the team during a rebuild.
It is worth noting that Soriano has actually been much more productive than Roberts over the years, so the Cubs could actually be lucking out since they shouldn't be the ones who would have to take anything on.
The Orioles would be getting a guy who could take on their open designated hitter role, while they wouldn't have to deal with what Soriano calls defense.
This isn't the first time Roberts' name has emerged on the North Side.
The Cubs actually had a lot of interest in acquiring Roberts' services back in 2008, but as one can tell, that didn't end up happening.
While he clearly isn't the same player they looked at four years ago, attaining him would be nothing less than a wash for Soriano.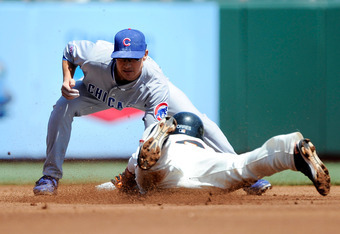 Thearon W. Henderson/Getty Images
With Roberts, manager Dale Sveum will also have some flexibility with his options around the infield.
There is no guarantee that Darwin Barney will be effective in his second full season, especially after seeing much inconsistency throughout the 2011 season.
The addition of Ian Stewart from the Colorado Rockies will also give them options, but it wouldn't hurt to have a guy like Roberts there.
Could the Cubs live without Roberts? Definitely.
But if they would be eating up all that money on Soriano's contract, wouldn't it make sense for them to at least get something in return? One would have to think so.
The main thing that Epstein and Hoyer would have to swing in this deal is dumping Soriano's third year.
They don't want to get caught covering his $18 million down the line, especially since that will be around the time that the Cubs are starting to move into the direction that they are heading for.
Roberts may end up being just as pointless as Soriano, but at least they would be freeing themselves up from a player that has been nothing but an example of how much Jim Hendry messed things up.
It will remain to be seen if they will be able to pull off anything to free themselves of Soriano and his bad contract, but Epstein may ultimately have to settle on another bad contract just to free themselves of this migraine.
Jeff Chase is a Featured Columnist for the Chicago Cubs and Arizona State Football.