Roloson's Poor Play May Lead GM Yzerman to Consider His Goaltending Options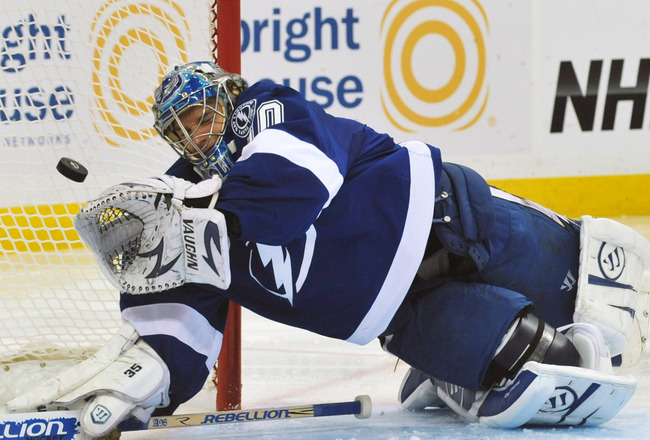 Al Messerschmidt/Getty Images
Dwayne Roloson's poor play to kick off the 2011-2012 NHL season may indicate that age is finally catching up to the 42-year-old netminder. The impending UFA is currently being weighed down by his .881 SVP and 3.76 GAA—both career worsts. This is perhaps the biggest reason why the Tampa Bay Lightning have sunk to a disappointing 17-19-3 this season. Regardless of the Lightning's struggles on the blue line this season, Roloson looks a long way away from the goalie that backstopped the Edmonton Oilers to the Stanley Cup Finals in 2006.
Mathieu Garon, the backup goaltender for the Lightning out of training camp, seems to have taken over the No. 1 job in the meantime. Garon has a respectable .904 SVP and 2.84 GAA. However, Garon is far from a legitimate starting goalie and it is unlikely that he would be capable of righting the ship in Tampa en route to a position in the playoffs.
If Lightning general manager Steve Yzerman is interested in making the playoffs, and there is absolutely no reason why he wouldn't be, he will need to address his team's weakness between now and the trade deadline. The Lightning currently sit in 12th place in the Eastern Conference—eight points behind the eighth place Maple Leafs. Due to this, Yzerman would have to hurry to make any move he deemed necessary to build a contender this season. Here are some viable options Yzerman could look to in order to address the under-performance occurring in the Lightning crease.
Minor League Call-Up
One option available to Yzerman is a call-up from one of the Tampa Bay Lightning's minor league affiliates, namely the Norfolk Admirals of the American Hockey League.
Admirals starting goaltender Dustin Tokarski currently boasts an impressive 14-8-0 record to go along with .902 SVP and 2.45 GAA. Tokarski has yet to play a meaningful game at the NHL level, but has excelled in junior—both in the WHL and internationally. His best WHL season came with the Spokane Chiefs in 2008-2009, when he posted a 38-18-2 record along with a .937 SVP and 1.97 GAA. He then added a strong playoff performance, recording a .947 SVP in the playoffs.
If Tokarski is called up, it could be on a tryout basis with no commitment, which could be appealing to Yzerman as opposed to taking on a one-way contract with the possibility that the Lightning would still miss the playoffs. Also, if Tokarski proves to need more development at the AHL level, the Bolts could still make a move for a proven NHL netminder.
Free Agency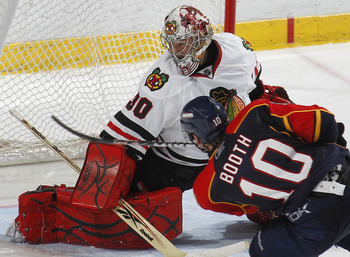 Joel Auerbach/Getty Images
The Tampa Bay Lightning need a starting goaltender. If Steve Yzerman decides to look to free agency to address his team's goaltending woes, it will not be in the form of signing a backup such as former Minnesota Wild goalie Wade Dubielewicz.
The only goalie on the open market who could potentially be the starting goalie in Tampa this season is longtime Dallas Star and NHL veteran Marty Turco.
Turco, a veteran of more than 500 NHL games, could provide a veteran presence in the same way Dwayne Roloson did one year ago. Bolts forward Ryan Malone described last year's addition of Roloson via trade from the New York Islanders a "cool, calming presence" and another veteran netminder could be just that in the home locker room of the St. Pete Times Forum.
Turco also boasts a solid playoff history, putting up a .914 SVP and 2.17 GAA in 47 postseason appearances, so he could not only help the Lightning to a playoff spot, but could also help them do some damage after April 7th.
Trade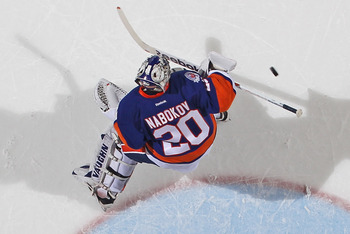 Bruce Bennett/Getty Images
A trade is perhaps the most likely solution to Tampa Bay's goaltending troubles. It is also the path that presents the most options to the Lightning.
First of all, there are several goaltenders of No. 1 quality being shopped throughout the league. Second of all, not all of these goaltenders are being shopped due to poor play, but rather due to organizational depth at the position.
Take the San Jose Sharks' Antero Niittymaki, who played for the Lightning during the 2009-2010 season. The Sharks are currently carrying three NHL goaltenders, including Stanley Cup winner Antti Niemi and young, but talented, Thomas Greiss. It appears Niittymaki is the odd man out, and could be acquired for a reasonable price.
The same goes for Minnesota's Josh Harding, who is sharing the Wild's goaltending duties with star Niklas Backstrom and rookie Matthew Hackett.
Some teams have impending unrestricted free agents on their roster which they will possibly move in an effort to acquire assets such as draft picks or prospects. One of these goaltenders is the New York Islanders' Evgeni Nabokov, who refused to report to the Isles last season and would, in all likelihood, walk away on July 1 in seek of a role on a contending team.
Another UFA who could be moved is Maple Leafs goalie Jonas Gustavsson, although it is unlikely given that he has seemingly taken over the No. 1 job from James Reimer for the time being.
Anaheim Ducks goaltender Jonas Hiller could also be moved before the February 27 trade deadline. However, Ducks GM Bob Murray has stated he is not looking to rebuild and would likely request roster players of equal value in return. Hiller is in the midst of his worst season to date, which shows in his career-low .898 SVP, which some speculate is due to the lingering effects of vertigo.
Keep Reading

Tampa Bay Lightning: Like this team?