New England Patriots: Signs Point Towards Josh McDaniels Replacing Bill O'Brien
January 7, 2012
A. Messerschmidt/Getty Images
Bill O'Brien may not fully understand what he's getting himself into by taking the Penn State job. Former Nittany Lions players may not like the hiring, but like it or not, he is on his way to State College when the New England Patriots finish out their season.
As for his upcoming offensive coordinator vacancy, the Patriots are heavily considering former offensive coordinator Josh McDaniels, according to Shalise Manza Young of Boston.com.
Update: McDaniels will likely succeed O'Brien as offensive coordinator next season, but will work as offensive assistant immediately for the rest of this season, according to Adam Schefter of ESPN. 
McDaniels was the head coach of the Denver Broncos and offensive coordinator of the St. Louis Rams since departing from New England in 2008. He spent a total of eight seasons under Bill Belichick, and their relationship seems to be strong.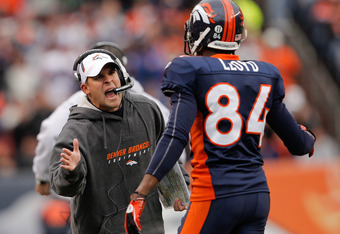 Justin Edmonds/Getty Images
He was their personal assistant in 2001, defensive coaching assistant in 2002-03, quarterbacks coach from 2004-08 and offensive coordinator from 2006-08. The track record he has produced is great and his relationship with the entire organization is solid.
As for his relationship with Tom Brady, that's also strong. One of Brady's best statistical seasons was in 2007 when he passed for 50 touchdowns to just eight interceptions. McDaniels played a large role with his production as the offensive coordinator and quarterbacks coach.
Since McDaniels left New England, the Patriots have yet to win a playoff game. Maybe it's coincidence seeing how lousy their defense has been, but there has to be something there.
He is a fantastic offensive-minded football coach who can pull the correct strings. In 2008, McDaniels turned Matt Cassel into a starting quarterback in the NFL. Cassel and the Patriots went 11-5 that season, which is truly amazing given that Cassel was starting in football games for the first time since high school.
Maybe bringing McDaniels back into the fold will finally bring the Patriots another Super Bowl appearance. He has a solid foundation with the organization and a great relationship with the franchise's best player, so a return would make sense.