Steelers vs Broncos: Why Tim Tebow Can Make Huge Statement Against Pittsburgh
January 7, 2012
Justin Edmonds/Getty Images
Tim Tebow and the Denver Broncos are underdogs again.
Week after week they enter their games playing for an upset.
They've been favored in only one game this season, and that was before Tebow took the helm.
But in the games that Tebow has been the starter, 11 so far, the Broncos are 7-4.
A total of seven times this season the Broncos and Tebow have overcome the odds and won the games. Just enough games to squeak into the playoffs and make a run for the ultimate showdown in Indy.
What this team needs the most right now—after dropping three consecutive games to end the regular season—is a statement. Not just by the defense that had carried them through their six-game winning streak, but by their front-man Tebow.
How does Tebow make a statement after playing like a junior varsity quarterback for three straight weeks?
Step One: Keep Quinn Out of the Game
Quinn has been sharing some of the first-team reps this week in practice.
The team and Quinn have said via interviews with ESPN reporters that the reps are merely so their backup is fresh if there's an injury in the game.
What's clear to everyone that has watched the last eleven games in Denver is that this team would do well to have a true pocket passer to take on the long completions needed for converting critical third downs.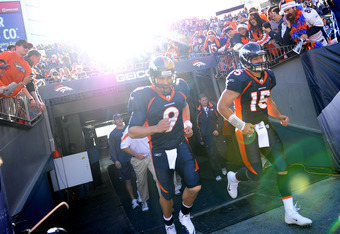 Patrick Smith/Getty Images
Quinn is a more polished QB when it comes to the fundamentals of passing a football. Tebow owns claim to all the intangibles that make him a worthy starter without having the characteristics of a true pocket passing player.
Tebow needs to prove to his coaching staff early-on that he can do the things necessary to move the chains when it matters most.
As great as it may sound to have a passer available to convert the longer downs, a quarterback carousel in the playoffs is something no team should want to consider.
The starter is the starter for a reason. Tebow needs to step up his play and finish what he started in 2011 by keeping a clipboard in Quinn's hands.
Step Two: Eliminate the Mistakes
Tebow's best stat during his magical 2011 run was his turnover ratio.
For most of the run, turnovers were virtually non-existent.
Much has changed over the course of the year, and Tebow is under much scrutiny for his fumbles, and now his interceptions.
Out of Tebow's six interceptions, four of them are as a result of an under-thrown or over-thrown pass.
He's also lost the football by fumbling in each of Denver's last five games.
Simply put, turnovers lose games. It's the other end of the common phrase "defense wins championships."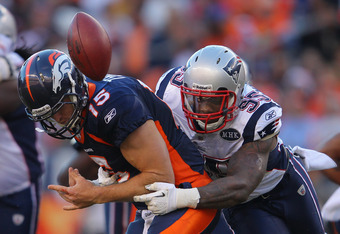 Doug Pensinger/Getty Images
If Denver and Tebow continue to give the ball to their opponents, they are destined for a very short playoff run.
Tebow needs to return to the style of play he started the year with. Run the ball well and hang onto it.
Step Three: Return to a Winning Tradition
The very best way to make a statement in the NFL is by winning a game.
What Tebow needs to do is make sure that this win—if it is one—is finished by way of his talents, and not just the defense's.
Every win of this season for Tebow's Broncos, aside from their victories against Oakland and Minnesota, can be attributed greatly to Denver's defense.
They've played well enough to keep this team in games, and have even put points on the board in close matches.
Tebow can make his biggest statement yet by finding a way to win a game against the best defense in the league and doing it without a huge amount of help from his defense.
If Tebow and his offense can accrue a large lead—which would be the first time doing so this year—and hang onto it for the whole 60 minutes, Tebow can actually leave the field knowing that this win would have been the first one rightfully credited to him.
And what better a place to do so than on a national stage in a win-or-go-home Wild Card game.