Fantasy Football: 6 Fantasy Busts Who Should Bounce Back in 2012
January 6, 2012
Thomas B. Shea/Getty Images
Fantasy football owners have to be forgiving and willing to give certain players second chances, even if those players cost them fantasy titles and hundreds of dollars in prize winnings.  
There were plenty of players who gave fantasy owners ulcers and heart palpitations in 2011. I cannot remember a season where so many highly-drafted superstars faltered due to injuries, poor play, bad luck or extraordinary circumstances. 
But you cannot normally keep a great player down, especially not for two years in a row. That is why fantasy owners need to remember to rank the following players in the right places on their draft lists next year, because many of their fellow fantasy owners might write these guys off or forget about them completely.  
So here are six fantasy busts from this season who are primed for bounce-back years next season: 
Peyton Hillis, Free Agent (RB)
First off, Hillis' fantasy value (and luck) will undoubtedly be better in 2012 for the simple fact that he will not be the cover boy of Madden '13, so his season cannot be ruined by the dreaded "Madden Jinx." 
2011 was the nightmare of all nightmares for Hillis. Hamstring strains, strep throat and having his teammates turn on him all led to Hillis ending up with a paltry 587 rushing yards after barreling for 1,177 yards and 11 touchdowns on the ground the year before.
Hillis will not be with Cleveland next year. That divorce is about as final as Russell Brand and Katy Perry's. Wherever he goes he will likely not be the sole No. 1 RB per say, but should be at worst a No. 1-A or No. 1-B option who splits time with another tailback.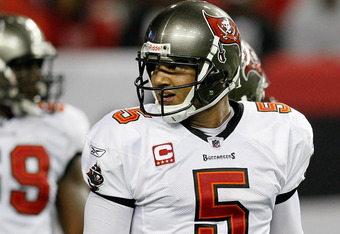 Kevin C. Cox/Getty Images
I can picture Hillis having a 900-yard, nine-TD season with the New York Giants after they kick Brandon Jacobs' big mouth and slow feet to the curb. Teaming Hillis with Ahmad Bradshaw would give the Giants one of the best two-headed rushing attacks in the NFL.
Fantasy owners know Hillis has the tools and the talent to be a fantasy force. If he can do it in Cleveland, he can definitely do it again on another team where he is surrounded by more talented teammates.   
Andre Johnson, Houston Texans (WR)
What are the chances that Johnson injures both hamstrings two years in a row?  What are the chances that this gifted, top-5 fantasy receiver will fail to top the 1,000-yard mark two years in a row? On both counts, slimmer than a guitar pick. 
Johnson was the numero uno receiver heading into the season on many draft boards. A couple freak hamstring injuries should not change that going into next year, but while Detroit's Calvin Johnson and New York's Victor Cruz might get slotted ahead of him on cheat sheets thanks to their sick seasons, Johnson might fall a round and be a better buy when others in your league dismiss the 4,360 receiving yards he piled up between 2008-2010.  
Johnson will be 31 years old by the start of next season, I know. Age is not a problem (Wes Welker and Steve Smith showing any of signs of slowing down?). Plus, Matt Schaub will be back rifling passes to him while Arian Foster keeps defenses distracted. Johnson should have a 1,300-yard year with no problem.     
Josh Freeman, Tampa Bay Buccaneers (QB)
How does a quarterback go from having a 25-to-6 touchdown-to-interception ratio one year to having a 16-to-22 ratio the next? Can stitches in his thumb cause him to make the poorest decisions in the NFL? 
It is hard to figure Freeman's free fall. He sprained the thumb on his throwing hand in a game and then further damaged it at a shooting range during the season. Yet if you watched him play that doesn't explain why he threw into double coverage on countless occasions.  
Freeman has too much talent to fail. Young quarterbacks who have early success hit brick walls and have brain cramps in their second or third seasons. Just ask owners of Joe Flacco, Matt Ryan and Mark Sanchez. But eventually they figure out their problems if they have the right makeup and skill.
Under a new coaching regime, Freeman should turn things around. He has a big arm, a big body and can make plays with his feet. He has the ability to throw 20-25 touchdown passes and run for another five scores in 2012 without a doubt.  
Sam Bradford, St. Louis Rams (QB)
Just write off 2011 as a figment of your imagination when it concerns Bradford. Never happened. It was all a terrible dream, like the one that ruined the 1985-86 season of the nighttime soap opera "Dallas" when Pam woke up and found Bobby in the shower. 
Bradford was the first pick overall in the NFL draft just two short years ago, and his rookie campaign was solid as he threw for 3,512 yards and 18 touchdowns. But he dealt with a sophomore slump this season which was only partly his fault.
Bradford only managed 2,164 passing yards and six TD tosses, and there was blame to be heaped on several different factions. To say his offensive line was porous is like saying Lady Gaga makes interesting fashion choices.
Bradford was battered throughout the season and looked gun-shy at times like David Carr did when he was regularly pummeled as a young quarterback with the Houston Texans. 
Bradford missed a half-dozen games thanks to a high ankle sprain, and the injury hampered him in parts of the games he suited up for, too. He also had arguably the worst receiving corps in the NFL until St. Louis traded for Brandon Lloyd, and even then his pass catchers were below-average.
A new coaching staff, an upgrade at receiver and along the offensive line and some time to heal up physically and mentally should do wonders across the board for Bradford. I am not banking on a Matthew Stafford-like breakout season, but a career-high 20 touchdown passes and 3,700 yards in 2012 is well within reason.      
Miles Austin, Dallas Cowboys (WR)
Call me biased because I am also a Monmouth University alum like Austin. In fact, I own an Austin bobblehead doll in which he is decked out in Monmouth's traditional blue and white colors. I bobble his head when I am unsure of which tight end to use, and he normally does not lead me astray, although he made the wrong choice when he told me to sit Jared Cook for Dustin Keller in Week 17.  
Austin suffered through a hamstrung season like Johnson thanks to his hamstring. He was limited to 579 yards and seven touchdowns in 10 games after posting back-to-back 1,000-yard seasons. He also averaged a career-low 13.5 yards per reception and had no 60-yard catches for the first time since 2007.
Austin will return to fantasy prominence next season. He has a top-notch quarterback in Tony Romo passing to him, he has Jason Witten and Dez Bryant on the field with him to make sure he gets plenty of single coverage and he has the hands and the legs of a Pro Bowl player. As long as Austin stretches out his hammies before games he should once again be a member of the 1,000-yard club.
Josh Brown, St. Louis Rams (K)
A kicker can only make the kicks he lines up for. He cannot create his own scoring opportunities. Brown's fantasy owners know that all too well.
Brown's Rams were the lowest-scoring team in the NFL. The New York Giants scored twice the points the Rams did, and the Green Bay Packers almost tripled the Rams' scoring output. So Brown was not exactly rolling in the field goal and extra point attempts. 
Brown finished with a measly 81 points. He missed seven of his 28 FG tries, so he could have conceivably gotten up to 90 points, but that is still far below what a fantasy owners wants out of his/her kicker. And Brown scored 125 points the prior season, so he was probably picked as one of the first kickers in many fantasy drafts.  
Brown's fantasy worth is tied directly to how Bradford and rest of the Rams offense fares in 2012. As you just read, I think Bradford and Co. will turn things around and bring the offense from horrible to average with some retooling. That would mean more FG and XP opportunities for Brown and hopefully another 110-120 points out of his powerful right leg.