San Antonio Spurs Top Warriors and Mavericks with No Manu Ginobili
January 6, 2012
Doug Pensinger/Getty Images
Even the most faithful of San Antonio Spurs fans shouldn't get too excited about the team's two wins since Manu Ginobili smashed his hand on Anthony Tolliver Monday night in Minnesota. Wednesday's inspiring come-from-behind victory against the Golden State Warriors was largely inspired by Stephen Curry re-aggravating a right ankle sprain in the second half (he had 20 points and eight assists prior to that).  
Meanwhile, Thursday's lopsided win over the reigning NBA champion Dallas Mavericks had mostly to with...well, the Dallas Mavericks.  
Nevertheless, there are a few reasons to remain optimistic about the Spurs' Manu-less outlook, and we shouldn't be too quick to dismiss the recent success. After all, even without Curry, the Warriors put up a fight (or at least Monta Ellis and his 38 points did). And, while the closest thing to chemistry you'll find in Dallas right now is Khloe Kardashian watching Lamar Odom from the stands, the Mavs did hand the Oklahoma City Thunder one of its only two losses thus far. 

Coach Popovich isn't one to pat his team on the back, but here are three reasons he should after the team's first two games games without Manu.
The youngsters are buying in to Spurs basketball
At the end of the day, it's not hard to find young, talented players in the NBA. The trick for teams like the San Antonio Spurs (who rely so heavily on extensive play books and "corporate knowledge") is finding talent that fits the system.

That's where Gary Neal and Danny Green come in. In only his second game back after an appendectomy, Neal started in place of Ginobili at shooting guard against the Mavericks and hit four three-pointers in just over 20 minutes of action. Perhaps more importantly, the second-year guard hustled his way to a couple of steals and kept a hand in the face of a Dallas squad content with perimeter jump shots.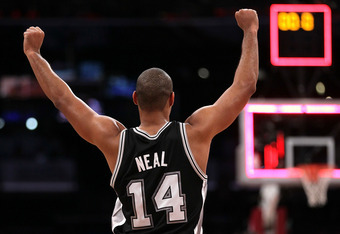 Jeff Gross/Getty Images
A night earlier against the Golden State Warriors, Danny Green posted a modest eight points (and two blocks) in just under 16 minutes. One of those blocks came against Monta Ellis's baseline jumper at a crucial juncture in the closing minutes, and he scored three of his eight points from the opposite baseline in an equally critical sequence. 

Green was rewarded the next night with nearly 24 minutes of play, and he responded with another eight points to go along with six rebounds, two steals and a block.  In just his third season out of North Carolina, Green is making his name with hustle and defense. 

No, he and Gary Neal are no Manu. But they may very well be the heirs to his throne, and that might not be such a bad thing. If you don't know who either of these guys are, you probably aren't alone, but the same could be said for Manu once upon a time (a second-round pick, lest we forget).
Who needs Manu when you have T.J. Ford?  
Alright, a bit of hyperbole, but don't tell Ford that. Ford was instrumental in running down the Warriors with nine points and eight assists, all coming mostly in the fourth quarter. He was playing so well that Popovich left him in to finish the game and slid Tony Parker over to play the two. A former Texas Longhorn star, Ford put up another seven points and five assists against the Mavericks on Thursday. 

At around 20 minutes a game, nobody is looking for Ford to replace Ginobili's productivity. However, he is certainly doing his part to give the Spurs a desperately needed playmaker for a perimeter patrolled by catch-and-shoot wings like Jefferson, Anderson and Neal. 

Like Ginobili, he's the kind of catalyst who can make role players look like great players, and that's essential to San Antonio's ensemble brand of basketball. Thanks to his quickness and dribble penetration, Ford is the difference between Tiago Splitter happening upon a wide open dunk on the one hand and struggling through his still nascent post game on the other. Enough said.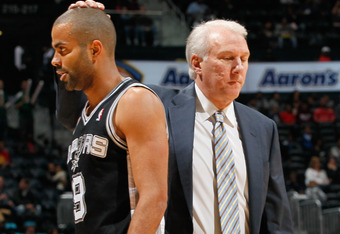 Kevin C. Cox/Getty Images
Is that Tony Parker showing some heart?  
Perhaps eager to escape the list of the NBA's most disliked players, Parker showed some guts Wednesday night as the Spurs clawed back against the Warriors. And if there is one thing the Spurs need while the team's finest fifth metacarpal is on the mend, it's guts. 

After incurring Pop's wrath by slowing the game down in the midst of a momentous run, Parker pushed the ball down the court on the next possession and capped it off with his signature tear-drop in the lane, getting penetration before the Warriors had a chance to set up on defense.  And, while he failed to register more than 15 points in any of his previous five games (most of them blowouts), Parker scored 10 of his 21 points in the last six minutes of the game.  That's guts. 

Popovich was so pleased with the about-face that he grabbed Parker by the head during a Warriors timeout in what can only be described as an apparent fit of uncharacteristic euphoria. If that doesn't sound like the Popovich you know, nor does this Parker resemble the point guard most Spurs fans remember from the last three seasons.  
It is far too early to make much out these two wins, but you can't argue with a good start. And, after the news that Ginobili will miss at least six weeks after surgery, fans on the River Walk will take every win they can get. The Spurs are at their best when they're underdogs. They thrive under the radar of a media mesmerized by the the sparkle of South Beach. 

And, as we learned from the 2011 playoffs, going into April as the Western Conference first seed may not be the best of omens. Sure, it hardly qualifies as silver lining when the Spurs' hottest player won't be suiting up again until February—for now, maybe we'll just have to call that lining "silver and black."