Penn State Football: Nittany Lions Reportedly Set to Hire Bill O'Brien
January 6, 2012
Elsa/Getty Images
Penn State has finally found its man to replace Joe Paterno.
According to ESPN NFL insider Chris Mortensen, the Nittany Lions will introduce New England Patriots offensive coordinator Bill O'Brien as their new head coach on Saturday.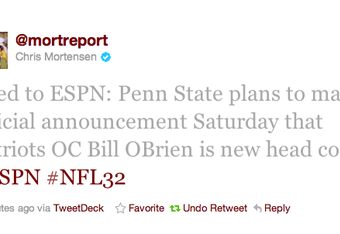 O'Brien will be the 16th head coach in the school's 125-year football history. O'Brien has been with the Patriots since 2007 and previously spent time as a college assistant, coaching at Brown, Georgia Tech, Maryland and Duke.
He'll take the reins of a program that was rocked by the Jerry Sandusky child sex abuse scandal in November and is still dealing with the harrowing fallout from the shocking revelations. The fiasco forced JoePa out in the midst of his 45th season on the job while also resulting in the termination of athletic director Tim Curley, vice president Gary Schultz and president Graham Spanier.
O'Brien's Pats currently rank second in the NFL in total offense behind only the New Orleans Saints, thanks in large part to yet another spectacular season from Hall-of-Fame-bound quarterback Tom Brady. O'Brien is best known for getting into a heated argument with Brady on the sidelines during New England's 34-27 win over the Washington Redskins in Week 14.
O'Brien will be the third new head coach to debut in the Big Ten Leaders Division in 2012, joining Urban Meyer at Ohio State and Tim Beckman at Illinois.