BYU Ends on a Winning Note, but Where in the World Was Ross Apo?
January 6, 2012
Ronald Martinez/Getty Images
Freshman wide receiver Ross Apo played in BYU's 24-21 win over Tulsa in the Armed Forces Bowl, but was he really there? He might as well have been in the booster section considering how little he figured into the Cougars' offensive game plan.
Apo was the team's second-leading receiver in catches and yards, and the team leader in touchdown receptions heading into the bowl game.  But, he was a non-factor in the Cougars' 344-yard total offensive output against the Golden Hurricane.
Apo accounted for minus 11 yards of total offense, all of which came on a rushing play early in the second quarter. Apo had no catches and was only thrown to three times.
You might expect this little offensive consideration for a redshirt freshman in a bowl game if the receiving corps was packed with high-performing graduating seniors or All-American talent, but that was not the case.
Cody Hoffman, who was thrown to 12 times, is a sophomore and seniors JJ Di Luigi, Bryan Kariya and McKay Jacobson combined for fewer receptions and yards than Hoffman.
Hoffman's eight catches for 122 yards and three touchdowns were the highlights of the game.
Well, that and Nelson's fake spike and touchdown pass. And Matt Reynolds' helmetless block. Oh, and the Cougars' last-minute score to win the game.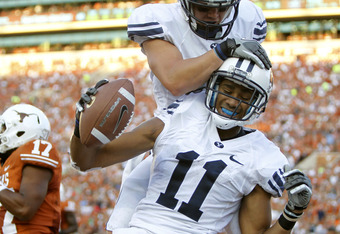 Erich Schlegel/Getty Images
So what's going on with Apo? Was he sick? Was he hurt?
No official word has hit the media—none that I could find, at least—but one has to wonder if he was not part of the Cougars' game plan for reasons that have yet to be divulged.
Apo has used a season of redshirt eligibility, so transferring at this point would cost him a season. But can he really be happy with the situation he's in right now?
He's on record as saying he has no plans to leave BYU, but would it be worth it for him to stay put with an offense that has little intention of using him?
Most BYU fans probably think he won't transfer, and maybe he won't. But you've got to admit it was awfully peculiar that the team's No. 2 receiver was such a non-factor in the team's final game of the season.
Time may prove that Apo's figurative absence from BYU's season-closing win was a glitch or merely a speed bump on the road to huge numbers in 2012 and beyond. However, I'm convinced that the thought of transferring has to have crossed Apo's mind at least a few times since Jake Heaps packed his bags for Kansas.
Of further intrigue in an already-intriguing situation is the fact that Apo hails from The Oakridge School in Arlington, Texas, which is just miles away from Gerald J. Ford Stadium where the Armed Forces Bowl was played.
Why wasn't Apo given more of a chance to shine for the hometown folks? Surely there must've been family, former teammates and coaches in the stands.
Call me off my rocker, tell me I don't know what I'm talking about, but all I'm saying is that Apo's situation is not as rosy as he may want us to think.
Sacrificing a season of eligibility for a bigger role in a more potent offense at another school might be a leap Apo is willing to take—and one that could increase his NFL value.
Stranger things have happened.