All Hail the King: Why LeBron James, Miami Heat Will Dominate the Association
January 5, 2012
Mike Ehrmann/Getty Images
The King is back, and he appears to be bigger than ever. If you are unaware, the man we speak of is LeBron James of the Miami Heat, and he looks to be taking his team to new heights this season.
After being eliminated from NBA Finals by the Dallas Mavericks in last season's playoffs, many wondered how the Heat would bounce back. Well, they have certainly responded to their critics by getting off to a dominating 6-1 start. Over this current span, they are outscoring their opponents 758-670.
Most of that can be attributed to the play of James, who is killing it right now, putting up nearly 30 points per game with 7.4 assists and 7.7 rebounds per outing. While this remains to be just a small sample size of what the season can be, one has to think James is going to have one of his best seasons yet.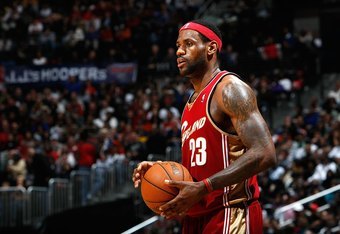 Kevin C. Cox/Getty Images
The last time James put up 30 PPG, he took his team to the top spot in the entire NBA. That was during the 2009-10 season with the Cleveland Cavaliers, where they finished with a record 61-21.
With Dwyane Wade, Chris Bosh and Udonis Haslem, James has a much better supporting class around him. If he can continue to put up numbers like this, his supporting cast should be able to pick up the pieces even better than they did back when he was with the Cavaliers.
In the early parts of this season, James has already eclipsed 30 points four times. Last season, he didn't hit this mark until 18 games had already passed.
So what does this mean for the rest of the league? It means this team is in sync and ready to put up big numbers consistently each night.
The only cause for concern is that Wade has taken a step back in terms of his performance night in and night out. After averaging 25.5 PPG last season, he has only eclipsed that mark once this season with a 26-point performance against the Mavericks back in the first game of the season.
Now, Wade has been sidelined with a sore foot, and it will be interesting to see how James does without Wade in the lineup. This was the biggest question mark surrounding this team, as many wondered how it would deal with depth if one of the three star players went down.
Well, it hasn't seemed to faze the Heat. In their last game, they were without Wade, but that didn't slow them down.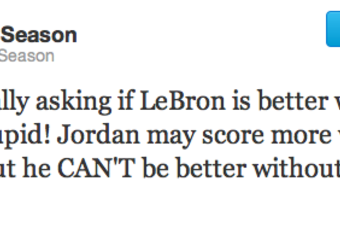 James went off with 33 points in 38 minutes, while leading the team to a 118-83 victory. Convincing? One even would have to wonder if James is better off with this supporting cast versus having Wade in the lineup with him as well.
Well, it certainly doesn't hurt to have both, but it will be interesting to see how the Heat fare if Wade were to miss some significant time.
The main concern, though, is what does the team do if both stars go down. Right now, James is dealing with an ankle sprain he sustained in the game against the Pacers. He remains questionable for the team's next game against the Atlanta Hawks.
This could be the true test for the Heat and their ability to win this season. Clearly, with James in the lineup they can dominate just about any team. Wade provides that second threat, but it looks like James has taken over South Beach.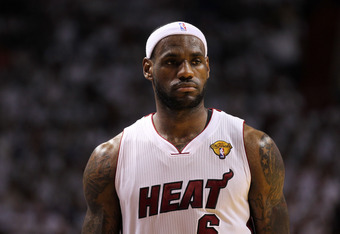 Mike Ehrmann/Getty Images
James still has one big monkey to get off his back, and that is claiming a championship. With already two trips to the Finals, James has yet to get a ring on one of his digits. With him shooting nearly 60 percent, it doesn't look as if James is having a problem sinking his shots.
Right now, no team is looking scarier. Some would argue the Heat have yet to be really tested, but with dominating performances over the Boston Celtics and Mavericks, people should be ready to be convinced this team is the real deal.
The shortened schedule also doesn't hurt a team that is considered to be short on depth. While every team will be playing less, the Heat will be more rested and one could argue will be playing like they were towards the end of regular season last year. That could be dangerous for any team taking them on in the playoffs.
The Heat will still have to take on teams like the Chicago Bulls, Oklahoma City Thunder and the Orlando Magic. James will be tested, but can any one really stop this train?
For the time being, it doesn't look like it.
At the end of this season, we will once again be hailing to the king.