Carlos Zambrano Adds Another Volatile Piece to Miami Marlins' Clubhouse
January 5, 2012
Mike Zarrilli/Getty Images
Ozzie Guillen better know what he's doing because the Miami Marlins are going to be one heck of a roller coaster ride in 2012.
On Thursday Carlos Zambrano was officially traded to the Marlins in exchange for former first-round pick Chris Volstad and cash. The Marlins will only have to pay $2.5M of Zambrano's $18M salary, so it's not the riskiest financial move.
But it's a huge risk chemistry-wise. No team has the mixture of wacky and outlandish personalities like the Marlins do.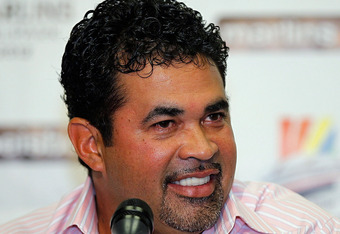 Mike Ehrmann/Getty Images
Zambrano has been suspended multiple times in his 11-year tenure for calling out teammates, umpires and coaches. He has even had physical altercations with teammates during games.
He is as volatile of a personality as there is in a sport that is littered with even-keeled personalities. Well, on every team except the Marlins.
It's no secret that Hanley Ramirez isn't the easiest player to get along with and is capable of a blowup at any point in time this season, as he begrudgingly shifts from shortstop to third base.
He'll be watching the new $100M man Jose Reyes take his spot and glory at the top of the Marlins' lineup. Reyes himself has had character and effort issues in the past.
Then there's outfielder Logan Morrison. The 24-year-old wannabe comedian has used his Twitter account as a virtual comedy show, tossing a wide assortment of jokes to his followers that range from dirty to just plain bizarre.
Last but not least there's Guillen. No manager in sports today speaks his mind quite like Ozzie. Some find it refreshing while others find it insulting. He is the one that signed off on the players and now it's his job to make sure that everybody meshes.
Who's next for the Marlins? Manny Ramirez?
It's a huge gamble that will ultimately determine Guillen's legacy as a manager. If he can keep this team under control and focused, there's no reason to think that this team can't make the playoffs. Talent is not an issue.
But if players start blowing up on the field or to the media…you can label this experiment a bust in a hurry, while questioning Guillen in the process.